November 23, 2007
by IsaChandra
I was pretty much thanksed out from cooking at Woodstock Sanctuary last weekend. I ended up at my mom's, where she cooked up two of my Veganomicon favorites, Cholent and Pumpkin Ziti with Sage Breadcrumbs. They don't officially go together, but off the record – who cares? The best part about writing cookbooks is that you can be sure that you'll like the food your mom makes. Unless your mom is a jerk and doesn't cook from your books.
But it looks like everyone else did a metric buttload of cooking and baking!
Susie's Turkey Loaf
It's not on her blog yet, only on the PPK forums. It's a sculpted loaf of bread filled with a savory stuffing.
Amy's Double Layer Pumpkin Cheesecake
Actually, it's Susan's from FatFreeVegan, but Amy at Stranger in the Alps vouches for its deliciousness in 4,000 words.
Mike and Liz's Thanksgiving Plate con Ravioli
You know the food is slammin when I start to wonder if maybe I should move to Ohio. Those lollipops are cider and maple syrup glazed tofu smoked with hickory wood. What The Hell Does a Vegan Eat always goes the extra mile or 600.
Michelle's Bryanna's Soy and Seitan Roast
I always want to try this and I'm always too lazy. Michelle at My Zoetrope isn't!
Abby's Stuffed Breast Of Tofu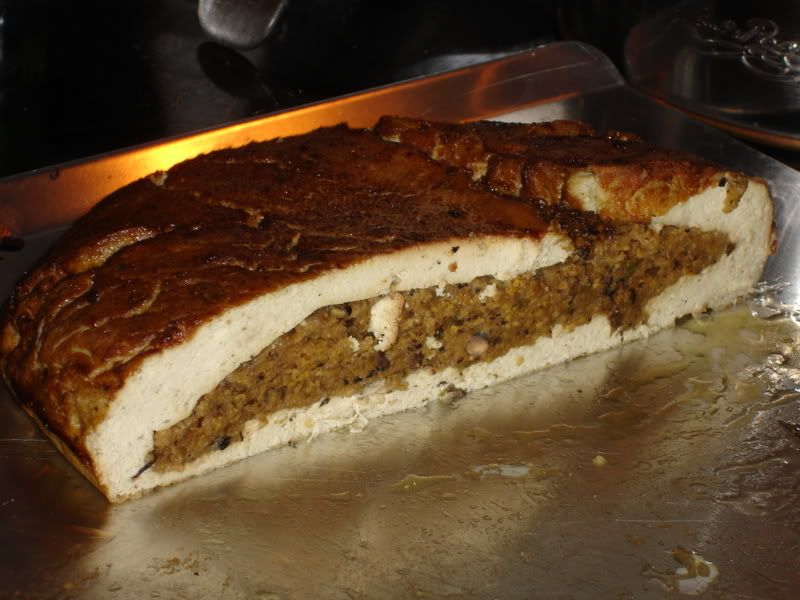 Originally a blog post from 2005, which is like 500 internet years ago, SweetlyVegan rocks the Tofu Roast With Cornbread Dressing from What Do I Know? on the PPK forums. Correct me if I'm wrong, but I think this may have been a Sarah Kramer recipe originally.
And people wonder why vegans think they're better than everyone else.