Serves 6 – 8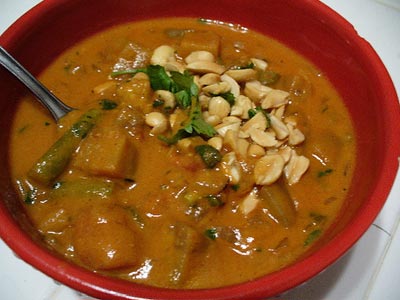 This soup is very rich and comforting. Just imagine a tawny bowl brimming with eggplant, tomato bits and green bean goodness. I made it for my boyfriend/husband guy, since his favorite soup place stopped carrying his beloved chicken peanut soup. I've never had it but I suspect mine is even better, without the bird to boot.
Ingredients
1 lb. Eggplant, peeled, chopped in 1/2 inch cubes
1 tsp salt
4 oz. Shallots, peeled and sliced very thin
1/4 cup peanut oil
1 medium yellow onion, diced
1 hot chili, seeded and minced
1" cube of ginger, peeled and minced
1 tsp ground cumin
1/8-1/4 tsp ground cayenne pepper (optional)
1 tsp ground coriander
1/4 tsp ground tumeric
1/3 cup tomato paste
1 16 oz. Can roasted diced tomatoes w/ juice
5 cups water or light veggie broth
1/2 cup creamy or chunky natural peanut butter
6 oz green beans, trimmed and cut into 2 inch pieces
2 T fresh lemon juice
1/3 cup coarsely chopped cilantro, lightly packed
chopped roasted peanuts and cilantro leaves for garnish
Directions
In a large bowl or colander toss eggplant cubes with salt. Allow to sit of 30 minutes to soften, then gently rinse eggplant chunks with cold running water. Drain and set aside.
In a large stock pot heat 2 T peanut oil over medium high heat. Add shallots and fry, occasionally stirring, for about 20 minutes until very soft, browned and slightly caramelized. Scoop shallots out of pot and set aside.
Add 1 T of oil to pot and add eggplant, stirring to coat with oil. Stir and cook eggplant for 12-15 minutes until slightly tender. Remove eggplant from heat and set aside (I toss it in the same bowl with the shallots).
Add remaining 1 T of oil to the pot again, then add ginger and chile and fry for 30 seconds. Add ground cumin, coriander, tumeric and fry for another 30 second then add onion. Stir and fry till onion is just slightly soft and translucent, about 5-6 minutes. Add tomato paste, stir and fry mixture for 1 minute.
Pour diced tomatoes, water or broth, eggplant, string beans and shallots into pot with frying onion/spice mixture. Stir to combined and raise heat to medium high. Bring to a boil for 5 minutes, then reduce heat.
In a separate bowl stir peanut butter to combine any separated oils. Pour a ladleful of hot soup onto peanut butter. Stir peanut butter with soup till creamy and peanut butter is completely emulsified. Scrape peanut butter mixture into rest of simmering soup, stirring to combine.
Simmer soup on medium-low heat, covered, for 35-45 minutes or until eggplant is very tender. Remove from heat and stir in cilantro and lemon juice. Salt to taste after soup has cooled for at least half an hour. True to soup form, the taste improves when heated up the next day.