Makes 12 cupcakes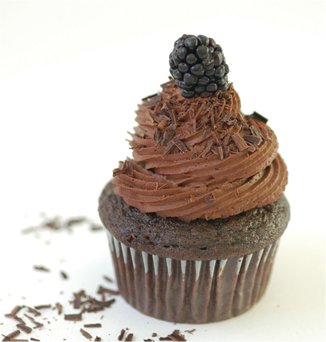 A rich chocolate cake with a creamy mousse topping, this is a classic cupcake combo for chocolate lovers. Of course, you can use this cupcake without the mousse for all your basic chocolate cupcake needs. Prepare the mousse first so that it has time to set, and garnish the cupcake with a berry and chocolate shavings, if you like! This recipe is modified from Vegan Cupcakes Take Over The World.
For the mousse:
12 oz semi-sweet chocolate chips (one package is usually 12 ounces)
12 oz extra firm silken tofu (the vacuum packed kind)
1/4 cup plain soy milk
2 tablespoons agave syrup or maple syrup
1 teaspoon pure vanilla extract
For the cupcakes:
1 cup soy milk
1 teaspoon apple cider vinegar
3/4 cup granulated sugar
1/3 cup canola oil
1 teaspoon vanilla extract
1/2 teaspoon almond extract, chocolate extract, or more vanilla extract
1 cup all-purpose flour
1/3 cup cocoa powder, Dutch-processed or regular
3/4 teaspoon baking soda
1/2 teaspoon baking powder
1/4 teaspoon salt
Cooking spray
Prepare the Mousse:
Crumble the tofu into a blender. Add the soy milk, agave and vanilla extract. Puree until completely smooth. Set aside.
In a double boiler, melt the chocolate chips. Obviously you don't have a double boiler so take a small sauce pan and fill half way with water. On top of that place a small sauté pan. Fill the sauté pan with chocolate chips and bring the water to a boil. Use a rubber spatula to mix the chocolate as it melts. Once melted, remove from heat and let cool for 5 more minutes, stirring occasionally.
Add the chocolate to the tofu and blend until well combined, use the spatula to scrape down the sides of the blender every so often.
Transfer the mousse to an air tight container or a bowl covered in saran wrap and let chill for an hour.
Prepare the cupcakes:
Preheat oven to 350°F and line a muffin pan with paper liners.
Whisk together the soy milk and vinegar in a large bowl, and set aside for a few minutes to curdle. Add the sugar, oil, vanilla extract, and other extract, if using, to the soy milk mixture and beat until foamy. In a separate bowl, sift together the flour, cocoa powder, baking soda, baking powder, and salt. Add in two batches to wet ingredients and beat until no large lumps remain (a few tiny lumps are OK).
Lightly spray the liners with cooking spray and pour batter into liners, filling 3/4 of the way. Bake 18 to 20 minutes, until a toothpick inserted into the center comes out clean. Transfer to a cooling rack and let cool completely.
To assemble:
Once the mousse is chilled and set and the cupcakes have cooled, remove from the refrigerator and stir with a fork to a spreadable consistency. Fit a pastry bag with a wide decorating tip. Fill the bag with mousse and pipe it onto the cupcake in a spiral, starting from the outside in or in. Add chocolate chips or chocolate shavings if you are feeling especially fancy pants.
Chill the cupcakes or a half hour to let the mousse set again and serve cold.