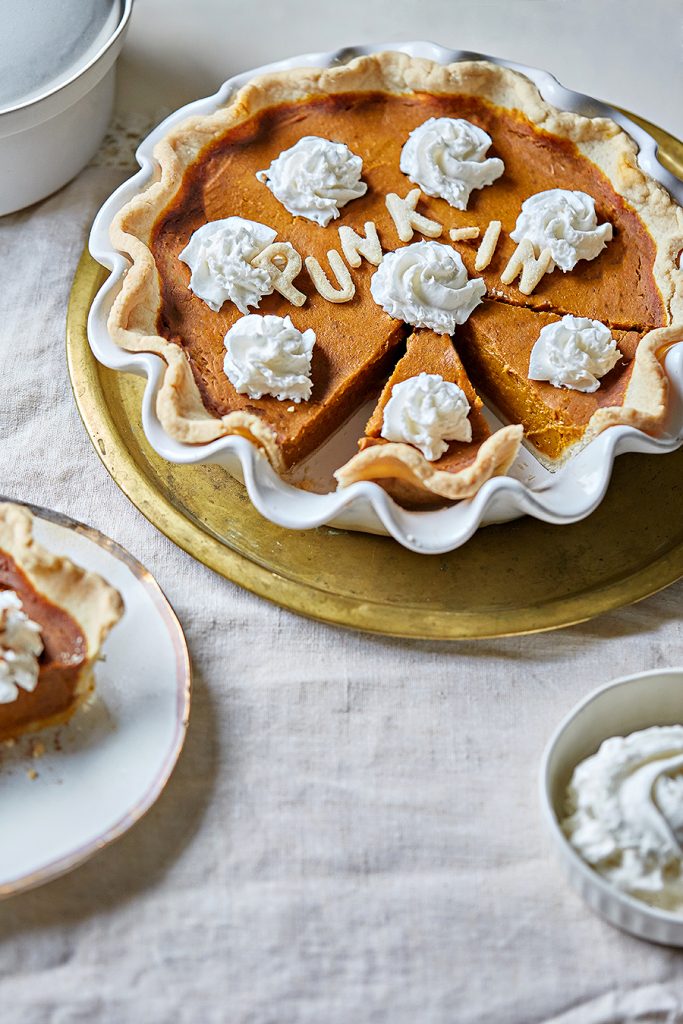 Makes a 9-inch Pie
Pumpkin Pie just got lighter, airier and way, way easier! Aquafaba (that's cooked chickpea liquid) fluffs up as you puree literally every single ingredient together in the blender. So while it works, you can lean against the kitchen counter scrolling through Instagram and giggling at all the sillyheads that are still using eggs. Come on, it's 2020, get with the program.
But anyway, this pie is full of ginger and spice and everything nice; simply put it tastes the exact way you want pumpkin pie to taste. It also sets beautifully as you can see from those luscious fork marks. Long story short: cancel any other pies and get this on your table.
Notes
~You will need 1/2 a cup of aquafaba. I highly recommend aquafaba from an organic can of chickpeas. That is what we tested it with and it worked beautifully! Homemade aquafaba will give you varying results in flavor and texture so experiment some time but if you're new to this just buy the can. I am sure you will figure out some way to use those chickpeas.
~More about that can! I would suggest a 28 oz can because then you won't need to scrape the bottom of a small can to make sure you get that full 1/2 cup.
~For crusts, you can use one off this site, or a storebought one, or a gluten-free crumb crust or whatever you want. No need to parbake.
~If you are using a high-speed blender (like Vitamix) then put it on a low setting. 2 sounds good. If it's a regular old blender, do a 5 or 6.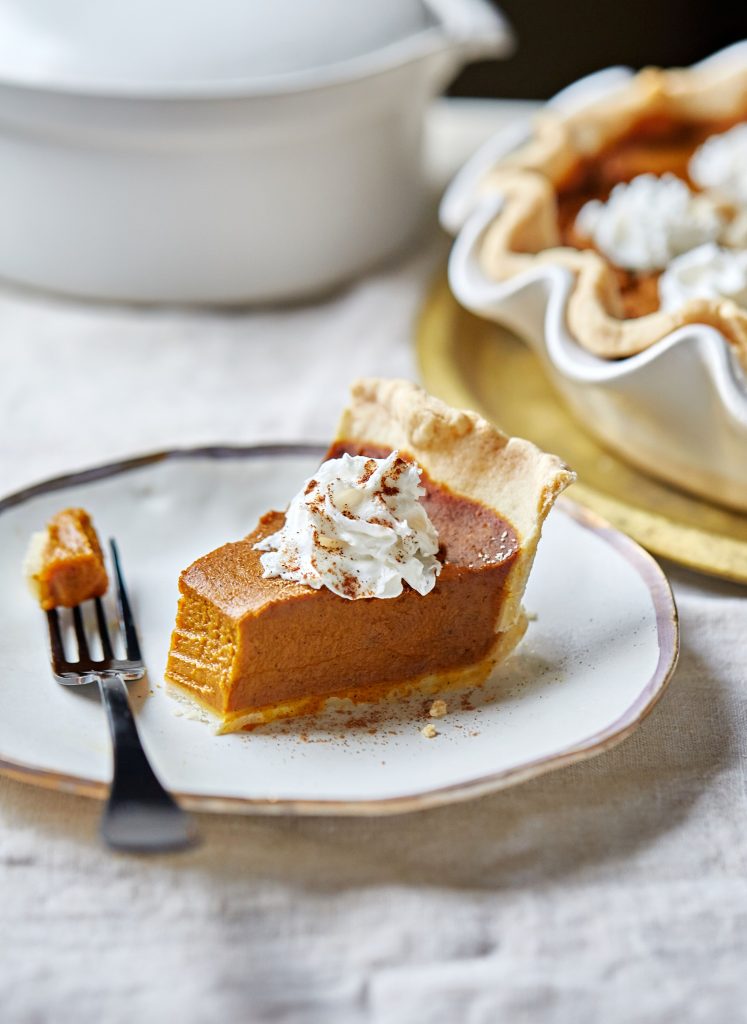 Ingredients
3 cups pumpkin purée
1/2 cup pure maple syrup
1/2 cup aquafaba (see notes)
2 tablespoons coconut oil at room temp
2 tablespoons organic cornstarch
1 teaspoon ground cinnamon
1 teaspoon ground ginger
1/4 teaspoon ground nutmeg
Pinch of ground cloves
1/2 teaspoon sea salt
1 (9-inch) pie crust, unbaked and chilled
Directions
Preheat oven to 350 degrees. Add the pumpkin, maple syrup, aquafaba, coconut oil, cornstarch, cinnamon, ginger, nutmeg, cloves and salt to a blender. Blend for about 3 minutes (less if using a high-speed blender), until light and fluffy. It should increase by 20 percent to 25 percent in volume.
Pour into prepared pie crust. Bake for about an hour, until the top is crackly, the filling is a little jiggly in the center and pulling away from the sides slightly.
Let cool for about 30 minutes at room temperature, then refrigerate for at least 3 hours. Slice and serve with whipped cream!