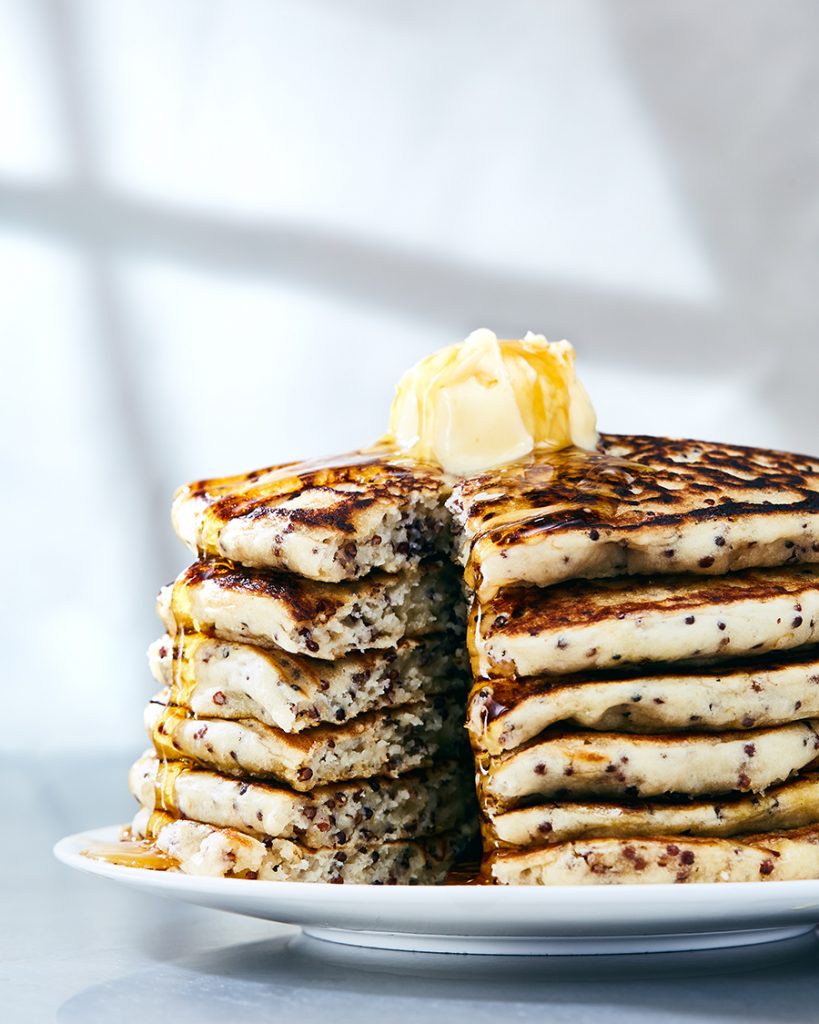 Makes 8 pancakes
I put this recipe on Instagram awhile ago so maybe you've already made them and know that they are AWESOME! The only reason I put quinoa in my pancakes is for the crunch. Not for the extra protein, I get plenty of that elsewhere, and not just to level up my vegan, I'm already level 10. The crunch just gives me life. It also makes the pancakes so very pretty. The quinoa should be cooked al dente for the best experience. And I like red quinoa for the prettiest contrast. First make sure your quinoa is cooked according to package directions and then fully cooled. Maybe do that the night before so you're ready to go in the morning? Wow, you planned that well. This recipe is from I Can Cook Vegan.
Notes
~ To cool quinoa quickly without overcooking it, spread onto a baking sheet and place in the refrigerator.
~ Don't use an electric mixer for the batter. Overmixed pancakes tend to result in a dense pancake. I use a dinner fork to get everything mixed.
~ You have to let the batter rest for ten minutes or so. The vinegar and the baking powder need to react with each other and the gluten needs to settle in and rest.
~Don't crowd the pan. Even in my big cast iron, I don't make more than two pancakes at once.
~ Don't use too much oil in the pan. It will result in a tough exterior. A very thin layer of oil is what you want and a spray can of organic coconut oil works perfectly for this.
~ Preheat the pan for a good ten minutes. I use cast iron and put it on moderate low heat (right around 3 on my stovetop), but you will probably need to adjust a little to get the temp just right. Remember, the temp is not set in stone. Lower and raise in tiny increments as needed. Even turning the dial 1/4 inch can result in big changes.
~ Use a measuring cup (with a rounded bottom if possible) to scoop out the batter. And remember to always spray the cup between pancakes, to prevent sticking.
1 cup cooked red quinoa, cooled completely
1 1/2 cups all purpose flour
1 tablespoon baking powder
2 tablespoons granulated sugar
1 teaspoon salt
1 1/4 cup unsweetened almond milk (or fave non-dairy milk)
2 teaspoons apple cider vinegar
1/2 cup water
3 tablespoons canola oil
1/2 teaspoon pure vanilla extract
Directions
First make sure your quinoa is cooked al dente according to package directions and cooled. Then proceed with the recipe.
In a large mixing bowl, sift together flour, baking powder, salt and sugar. Make a well in the center of the dry ingredients.
Measure the milk into a measuring cup. Add the milk, vinegar, water, oil and vanilla to the well in the dry ingredients. Stir with a fork until a thick, lumpy batter forms. That should take about a minute. It doesn't need to be smooth, just make sure you get all the ingredients incorporated. Fold in the quinoa.
Preheat the pan over medium-low heat and let the batter rest for 10 minutes.
Lightly coat the pan in oil. Add 1/3 cup of batter for each pancake, and cook for about 4 minutes, until puffy. Flip the pancakes, adding a new coat of oil to the pan, and cook for another 3 minutes or so. Pancake should be puffed up, and golden brown.
Rest pancakes on a large plate loosely covered with tin foil until ready to serve with lots of maple syrup and butter! To reheat, place pancakes in on a baking sheet covered with tin foil in a 300 F degree oven for 5 minutes or so.