Makes 24 eggs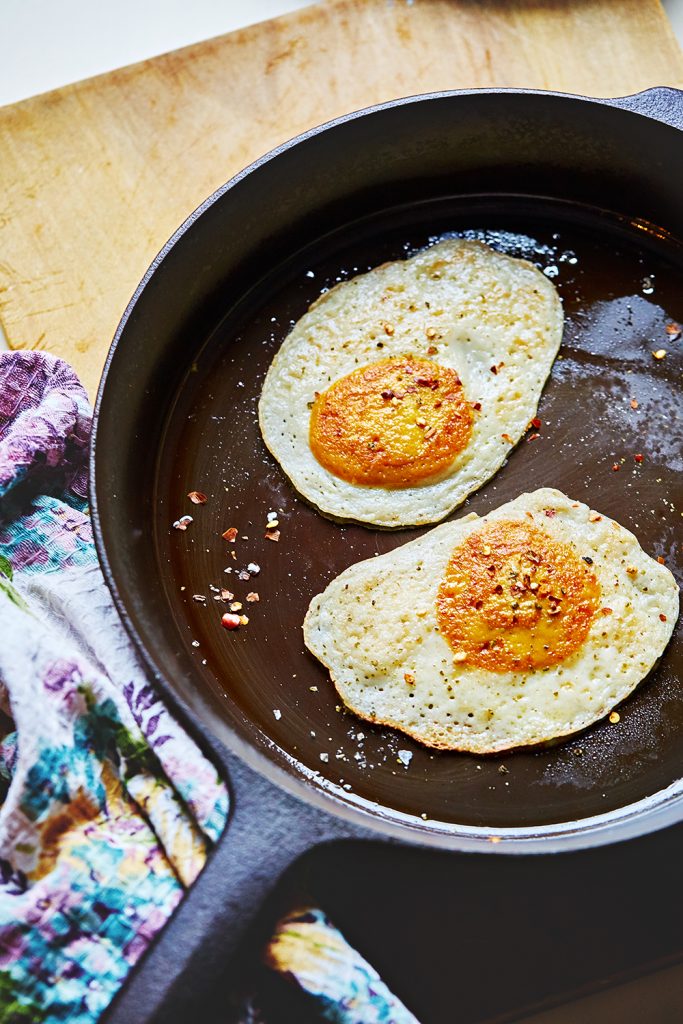 Sometimes an egg just completes the look. But jeez are chicken eggs a cruel business (don't worry, I'm not gonna' describe it, but google if you're curious). And please don't with "not all eggs…" Ok, speech is finished, now let's get down to business and honor some chickens by leaving them alone and making delicious eggs out of tofu!
These have been out in the world for awhile via my Instagram and it looks like youse love them as much as I do! They do take a little finesse and practice, so if yours look more like a hashtag Pinterest fail than a golden centered morsel of deliciousness, don't worry, it will still taste yummy, just keep practicing kids!

The recipe was inspired by two things that I love to cook: my tofu omelet recipe and bánh xèo, the Vietnamese rice flour pancake. I have made it with and without the agar powder and it works both ways but the agar gives it a little more of the slickness you might be looking for in an egg.

The yolk isn't runny, it has more of a medium cooked yolkiness to it. But it definitely sets itself apart from the rest of the egg in a convincing way. I hope you love it and put it on everything from avocado toast to ramen to pasta to a brekkie sandwich! And I have a pasta recipe coming up this week that is calling out for this egg so watch for it.
Oh, also, there's a video buried in my Instagram of my friend Abou (ok employee, I have no friends) making eggs. See if it helps you get the idea!
Recipes Notes
~Please make the recipe as stated or if you want to experiment go off and do that and let us know the results! I can't tell you what will happen if you replace the tofu with carrots or whatever so you're on your own there, don't ask me.
~I think they taste best if you make all the eggs, then let them rest for 10 minutes or so. Gently reheat in the pan on low for a minute or so. You can make these a day ahead, if you like!
~You may need to thin the batter once it's sitting. Don't add a lot of water, just a tablespoon at a time if needed to make it pourable. The more water you add the more fragile it becomes.
Ingredients
For the egg white:
2 14 oz package extra firm silken tofu (vacuum packed Mori Nu brand)
2 tablespoons melted refined coconut oil
1 cup rice flour
2 tablespoon cornstarch
1 teaspoon kala namak
1 cup cold water
1/8 teaspoon agar powder
For the yolk:
1 cup of the egg white mix
1/4 cup nutritional yeast
1/2 teaspoon turmeric
1/4 teaspoon paprika
3/4 teaspoons kala namak
1 tablespoon melted refined coconut oil
2 teaspoons tomato paste
Directions
In a blender, combine all of the egg white ingredients and blend until smooth. Transfer to a mixing bowl using a rubber spatula to scrape the sides.

Now on to the yolk. Take one cup of egg white mix and add it back to the blender. Add in nutritional yeast, turmeric, paprika, the additional kala namak, additional tablespoon of coconut oil and the tomato paste. Blend until smooth. Transfer mixture to a smaller mixing bowl.

Preheat a well seasoned cast iron over medium heat. Spray with a little cooking spray (I like coconut). Do a tablespoon test of the egg white. It should cook in about 2 minutes and be matte on top, golden underneath. If it burns, lower the heat, if it takes too long, raise it a little.

Ok now make the eggs. Spray the pan with cooking spray. Use a 1/4 cup measuring cup filled about 3/4 of the way and pour into the pan in a circle, leaving a hole in the middle. Fill the hole with about a tablespoon of yolk. Depending on the side of the pan you can do 3 to 5 eggs per round.

Let it cook for 2 to 3 minutes, until matte on top. Spray with more cooking spray, use a thin metal spatula to flip and cook on the other side for 30 seconds to a minute. Transfer to parchment as you continue with the others.