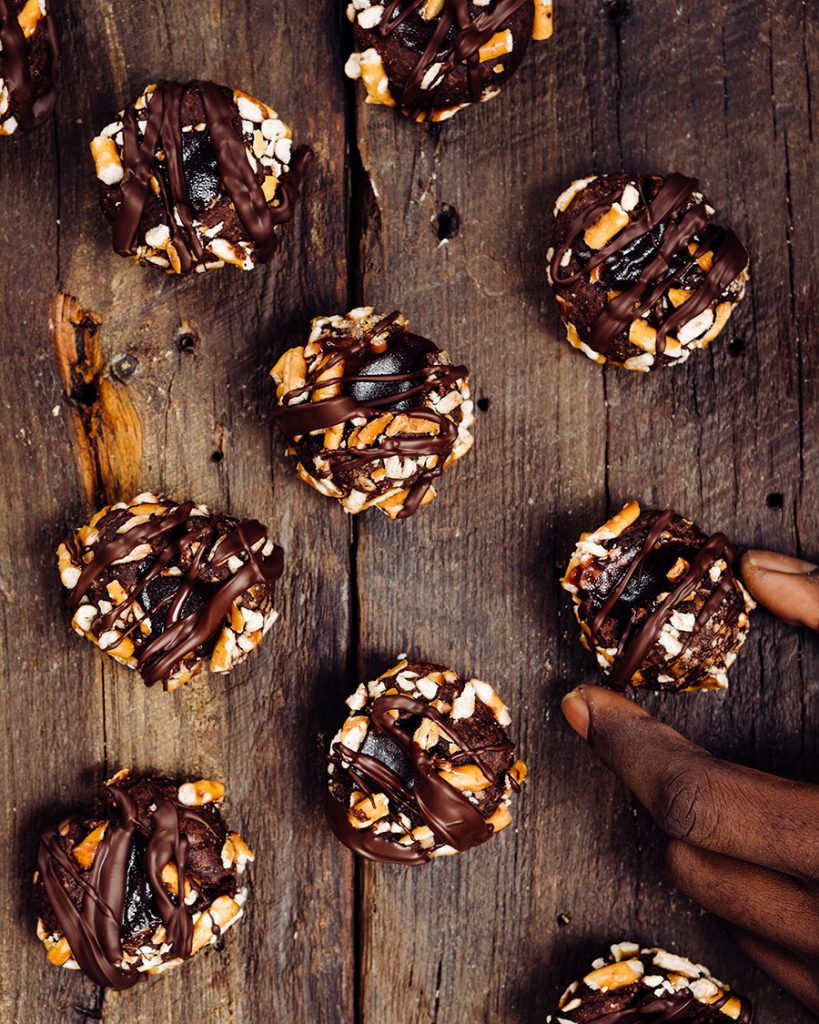 Makes 2 dozen
These cookies will satisfy all of your cravings: sweet, salty, chocolatey, fruity and the desire to spend an hour making cookies. No, it really isn't that complicated. A little extra work will get you this super special unforgettable little baby angel of a cookie. They're basically a holiday treat no matter what time of year you make them! These are called thumbprint but secret: it's actually a pinkyprint. This recipe is from I Can Cook Vegan.
---
Ingredients
1/2 cup canola oil
3/4 cup granulated sugar
1/3 cup brown sugar
1/4 cup unsweetened non-dairy milk
1 1/2 teaspoons vanilla extract
1 2/3 cup all purpose flour
3 tablespoons cornstarch
1 teaspoon baking powder
1/4 teaspoon salt
1 cup thin pretzel sticks
3/4 cup seedless raspberry jam
1/2 cup chocolate chips
Directions
1 – Preheat oven to 350 F. Lightly grease two large baking sheets.

2 – In a large bowl beat together oil, sugar, brown sugar, milk and vanilla. Sift in flour, cornstarch, baking powder and salt. Stir to form a thick, stiff dough.

3 – Spread pretzels onto a large cutting board and cover with parchment paper. Roll a rolling pin over them to crush them into bits and pieces.
4 – Scoop walnut sized pieces, moisten your hands and roll into a ball. Then place them into the pretzel pieces, rolling around so that the pretzels pieces adhere. Place on prepared cookie sheets about 1 1/2 inches apart.

5 – Use your pinky to make a deep indent in the center of each cookie. Use a teaspoon to fill each indent with about a teaspoon of jam. Bake for 14 to 16 minutes, until golden on the edges and lightly browned on the bottoms.

6 – Place cookies on a cooling rack to cool. Wait until completely cool to proceed.

7 – Place cooling rack of cookies over the sink. Using a microwave or double boiler, melt chocolate chips. Let melted chocolate cool a bit, then drizzle over cooled cookies while they are still on the cooling rack, and let the excess fall into the sink for easy cleaning. Let the chocolate set in a cool room or in the fridge for 30 minutes or so.