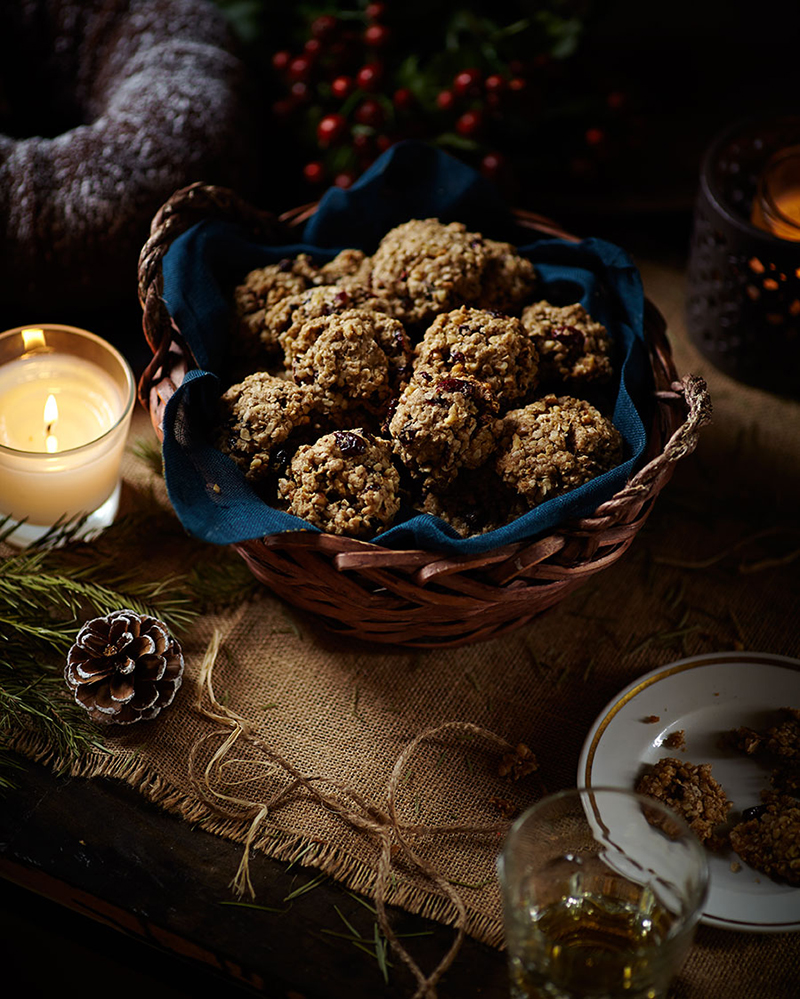 Makes 2 dozen
Oatmeal cookies just remind you of home. If you come from a home that deprived you of chocolate chip cookies. Just kidding! These are gorgeous little clusters of oats studded with ruby cranberries. Crispy on the edges, chewy inside with a hint of spice.  Just the perfect thing for the holidays if you can forget about the war on Christmas and enjoy a cookie for a minute.
This recipe is from Superfun Times.
Notes
~ If you don't have pumpkin pie spice, 3/4 teaspoon ground ginger, 3/4 teaspoon ground cinnamon and a pinch of cloves oughta' do it!

---
Ingredients
1/3 cup refined coconut oil, softened at room temp
1/3 cup packed brown sugar
1/3 cup granulated sugar
3 tablespoons unsweetened almond milk or your fave non-dairy milk
1 tablespoon organic cornstarch
2 teaspoons pure vanilla extract

1/2 cup all-purpose flour
1/2 teaspoon baking soda
1 1/2 teaspoons pumpkin pie spice
1/2 teaspoon salt

1 1/2 cups rolled oats
1/2 cup dried sweetened cranberries
1/2 cup chopped walnuts

Directions
Preheat oven to 350 F. Lightly grease 2 large baking sheets.

In a large mixing bowl, use a handmixer or strong fork to cream together oil and sugars. Mix in the vanilla. Add the cornstarch and milk, and mix until the cornstarch is dissolved.

Sift in the flour, baking soda, spices and salt and mix to combine. Add the oats, cranberries and nuts, and use your hands to form a stiff dough.

Scoop cookies out with a tablespoon or server, using about two tablespoons of dough per cookie. Place about 2 inches apart. Flatten a little with your hand. Bake for 10 to 12 minutes, until edges are lightly browned.

Remove from oven and cool for about 5 minutes then transfer to cooling rack to cool completely.