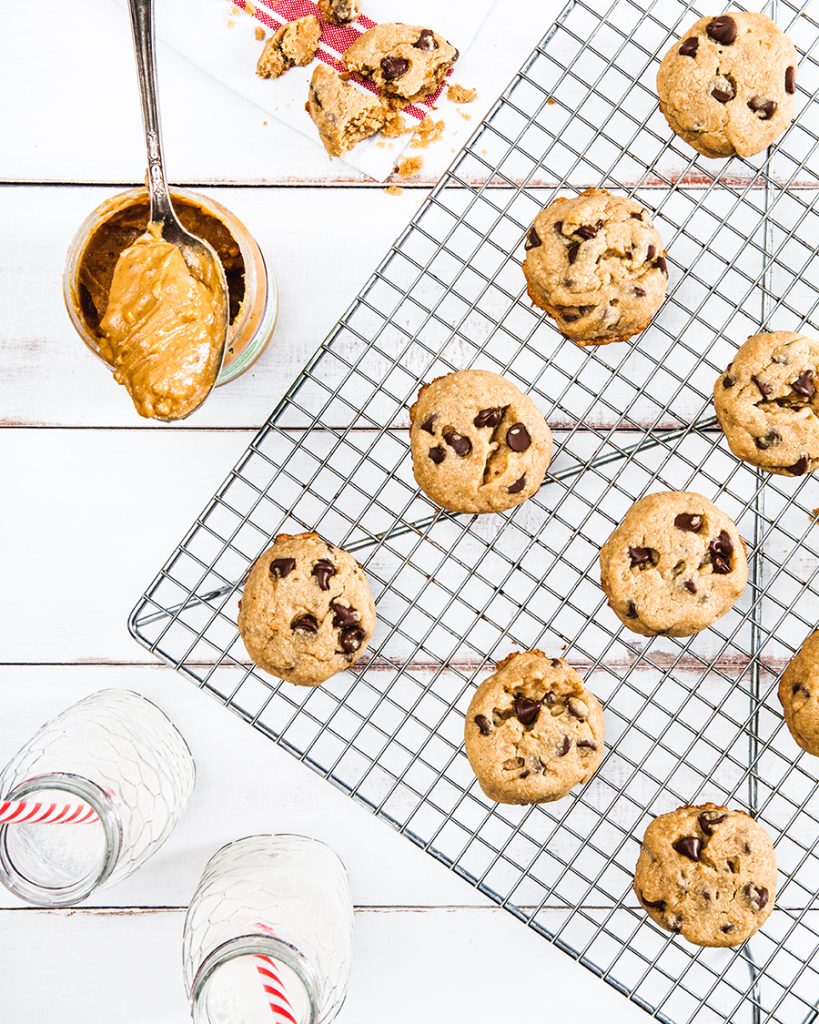 Makes 2 dozen
Just like most 8 year olds, peanut butter chocolate chip has always been my comfort cookie. It takes only about 10 of these to make all my problems go away. These are about as peanutbuttery (yes that's a word) that I could get them without them turning into a big old spoonful of peanut butter. This recipe is from Superfun Times. But it had a different pic!
Notes
~Use creamy natural peanut butter for these. The only ingredients should be peanut butter and salt. If you use something else I bet they'd still be good, but I can't guarantee it, so just listen to me and follow the directions for once in your life.

---
Ingredients
3/4 cup refined coconut oil softened at room temperature
3/4 cup creamy natural peanut butter
1/2 cup granulated sugar
1/2 cup packed brown sugar
1/4 cup unsweetened almond milk, or preferred non-dairy milk
2 teaspoons pure vanilla extract
1 1/2 cups all-purpose flour
1 tablespoon cornstarch
1 teaspoon baking powder
1/4 teaspoon salt
1 cup semisweet chocolate chips
Directions
Preheat oven to 350 F. Line two cookie sheets with parchment paper.

In a large mixing bowl, use electric mixers to beat together oil and peanut butters. Beat in the sugars until fluffy. Add the milk and vanilla.

Sift in 3/4 cup of the flour along with the cornstarch, baking powder and salt. Beat until smooth. Add the chocolate chips then use your hand to mix the batter the rest of the way. Sift in the remaining flour and mix until well combined.

Place about 2 tablespoons of batter on the trays, a few inches apart. Lightly flatten with your hand. Bake for about 10 minutes, until golden on the edges. Let cool on baking sheets for a few minutes, then transfer to a cooling rack to cool completely.