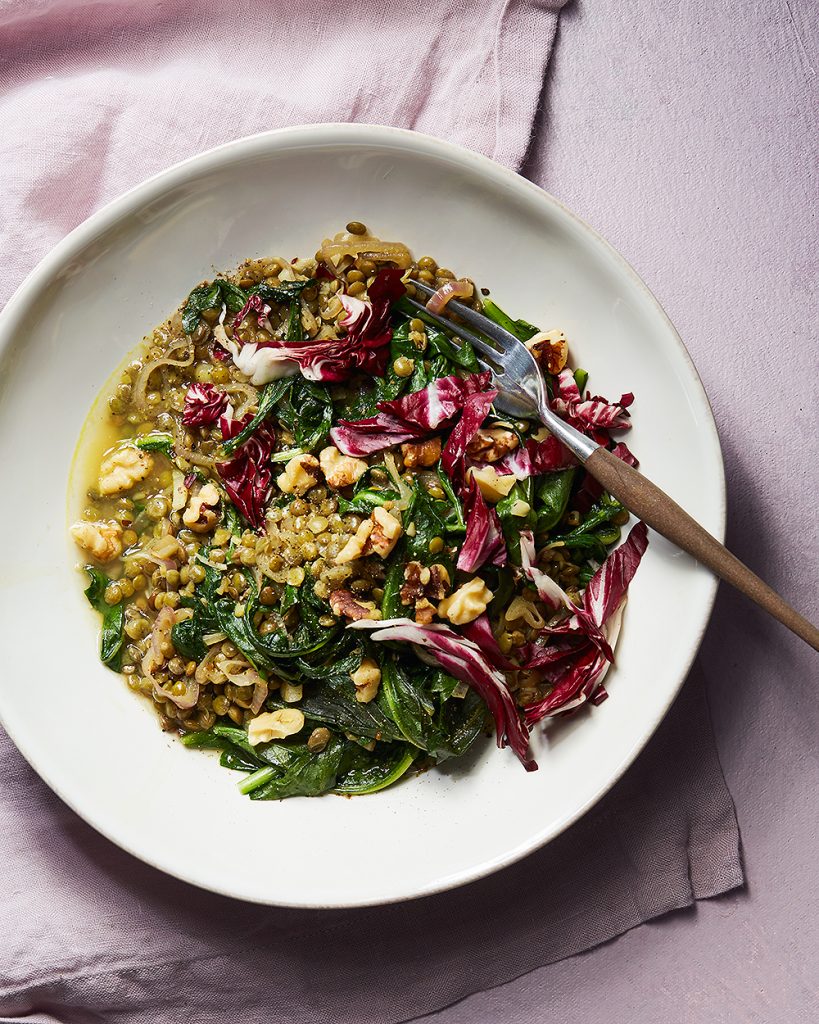 Serves 4
If there aren't delicious aromatics wafting through the air, have you even cooked? Shallot, onion, olive oil.. now that's dinner! This method is what I use time and time again with whatever I picked up at the anarchist co-op (ok fine Whole Foods) and whatever beans I have burning a hole in my cupboard. So try it with spinach, arugula or chard. Or just go ahead and try it with dandelion greens like the goddam recipe says. It takes only 15 minutes or so (if your lentils are cooked ahead of time or from a can) and it tastes like it took 20. At least. This recipe is from I Can Cook Vegan.
Notes
There's a hidden gem to be learned in this simple recipe. If you cook the nutritional yeast for a minute with the shallot and stuff it gets a deep toasty flavor like a roux! It makes it taste extra special and thickens the sauce, too. So much winning.

---
Ingredients
1/2 cup walnuts
2 tablespoons olive oil
1 cup thinly sliced shallot
2 cloves garlic, minced
1/2 teaspoon dried tarragon
Fresh black pepper
2 tablespoons nutritional yeast
1/4 cup dry white wine
1/2 cup vegetable broth
1 large bunch dandelion greens
1 1/2 cups cooked brown or green lentils
2 cups thinly sliced radicchio
Directions
1 – Preheat oven to 350 F. Spread walnuts onto a small baking tray and toast for about 10 minutes. Remove from oven, let cool, and roughly chop. In the meantime, proceed with the rest of the recipe.

2 – Preheat a large pan over medium heat. Saute shallots in olive oil with a pinch of salt until lightly browned, about 5 minutes. Add garlic, tarragon and black pepper and saute another minute.

3 – Add nutritional yeast and stir with a wooden spatula to toast for about 1 minute. Add white wine and to deglaze the pan. Let cook for about 3 minutes.

4 – Add vegetable broth and bring to a boil. Add the greens and cook down for about 5 minutes. Add the lentils and toss to heat through. Serve topped with walnuts!