Makes about 1 1/2 quarts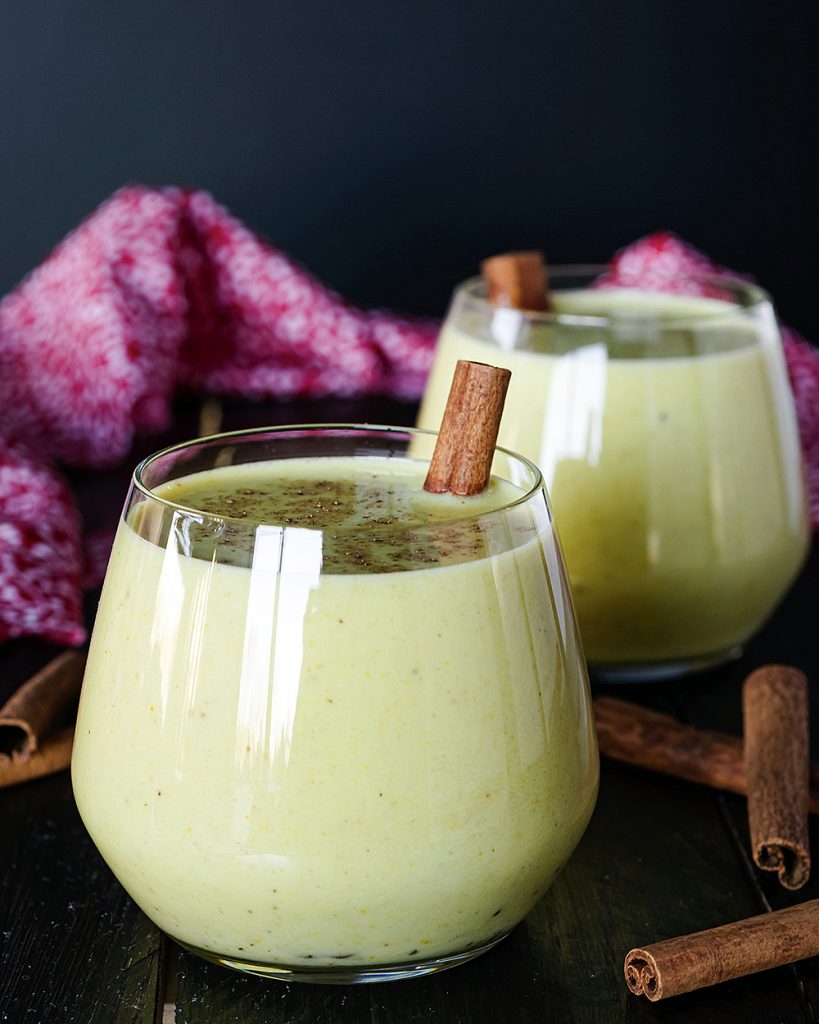 I love this recipe because it's thick without any thickeners, has lots of warming spice and the secret ingredient – apple cider vinegar – lends just the slightest tang that vegan nogs are sometimes missing. The turmeric is there to give that telltale eggy glow but also adds a little flavor. If you have a vanilla bean, definitely scrape it in here instead of the extract. And if you don't want to grate fresh nutmeg no prob, just use pre-ground. No one is judging. But I find it very satisfying to have that little dose of aromatherapy while grating a fresh nutmeg pod. Serve warm or cold, with about 2 ounces rum per each cup of nog if you're feeling boozy.
Ingredients
2 1/2 cups plain oatmilk
1/2 teaspoon ground turmeric
1/4 teaspoon ground cinnamon
1/4 teaspoon ground ginger
1 teaspoon fresh ground nutmeg
1/2 cup sugar
2 14 oz cans coconut milk
1 tablespoon apple cider vinegar
1 teaspoon pure vanilla extract
Cinnamon sticks for garnish

Directions
Combine oat milk, turmeric, cinnamon, ginger and sugar in a small pot and bring to a simmer stirring occasionally. Use a microplane to grate in the nutmeg, pretty much just eyeball it, but it's about 1/2 a pod. Simmer just until hot.
If serving warm, add the coconut milk, apple cider vinegar and vanilla and simmer again until warm. Taste for sweetness, you might want a little extra sugar. If serving cold, you can just add those ingredients, gently mix and cool down. Then refrigerate until cold!
Serve with a cinnamon stick and more grated nutmeg just for show.