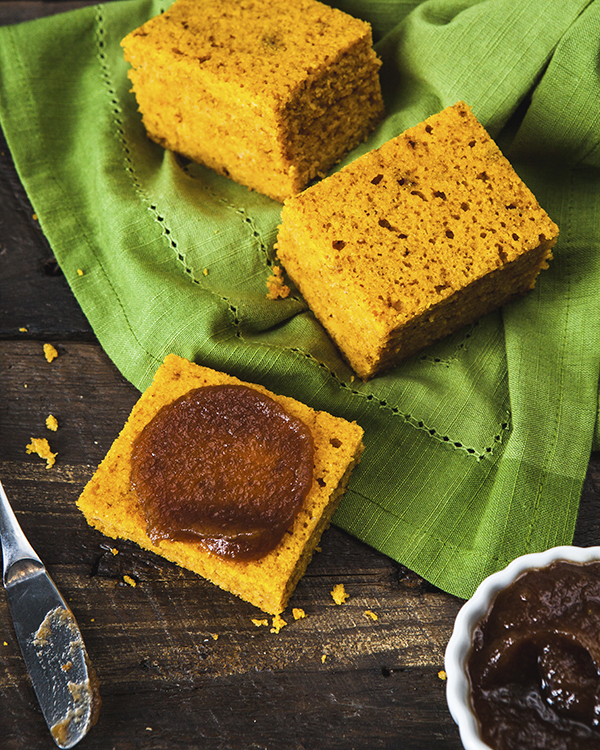 Plain old cornbread…sure, people love it. But pumpkin cornbread is next-level awesome, with its beautiful orange hue, moist crumb, and hint of spice. Put it out in batches so that greedy people don't snag three pieces at once. Spread on some apple butter and your heart will feel like fluttering autumn leaves. This recipe is from my latest cookbook, The Superfun Times Vegan Holiday Cookbook.
---
Notes
~You can use homemade pumpkin puree (or any winter squash, really) for this recipe. Slice your squash in half and remove the seeds. Roast at 350 F with a little oil until very tender. Scoop out the flesh and puree! I especially love butternut and red kuri for this recipe.
~If you want to make your own pumpkin pie spice, combine 1/2 teaspoon each ground cinnamon, nutmeg, ginger and allspice with a pinch of cloves.
Ingredients
1 cup unsweetened almond milk (or your favorite nondairy milk)
1 tablespoon apple cider vinegar
1 cup pumpkin puree (homemade or from a can—but not pumpkin pie filling)
1⁄2 cup pure maple syrup
1⁄4 cup refined coconut oil, melted
1 1⁄4 cups cornmeal
1 cup all-purpose flour
2 teaspoons baking powder
2 teaspoons pumpkin pie spice
1⁄2 teaspoon salt
Directions
Preheat the oven to 350°F. Lightly grease a 8-inch square baking pan.
Measure the almond milk into a liquid measuring cup and add the apple cider vinegar. Set aside to curdle.
In a large mixing bowl, mix the pumpkin puree, maple syrup and coconut oil. Mix in the almond milk and beat until well incorporated.
Sift in the cornmeal, flour, baking powder, pumpkin pie spice, and salt. Stir just until combined.
Transfer the batter to your prepared baking pan. Bake until the top is golden and firm to the touch, 30 to 35 minutes. Let cool slightly before slicing.