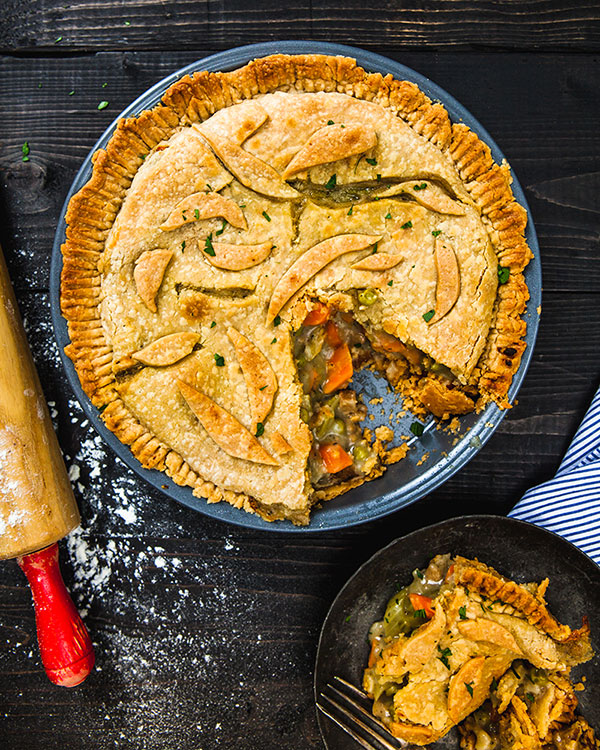 In need of a little comfort this weekend? Or maybe just a fabulous centerpiece? Pot Pie will get you there.
You know what to expect out of a pot pie, and this one will never in a million years disappoint. Flaky pastry, creamy béchamel, peas, carrots, and toothsome seitan. It's a downright necessity at the holiday table and, fine, I've been known to eat it for breakfast, too. So what, I'm an adult, and I can do as I please.
If you don't want to use seitan, then two cups of cooked chickpeas work great, too! This recipe is from The Superfun Times Vegan Holiday Cookbook, out 11/15/16!
---
Notes
~ There's nothing truly scary about pie dough, but I can't make you not scared of it. So, if you'd rather by two frozen ones, then go for it! The trick to making them look homemade is to let it thaw and then put one in a different pie plate, pressing it down and flattening the edges along the rim. Cut off any excess dough to use for cute scraps on top.
After filling it, take the other thawed dough, and tuck it over the filling, again cutting off any excess dough for scraps. Pinch the edges together and use a fork to seal the rim (as shown). Brush with a little milk and place the scraps on top in cute autumnal leaf shapes. NO ONE WILL KNOW. Maybe I even did that for this photo, hmmm?
~ There's a great olive oil pastry crust recipe here if you'd like to try it! There are also a few great ones in my Pie Book (and I'm sure they're searchable online, too.)
Ingredients
Double pastry crust, storebought or homemade
4 tablespoons olive oil
2 cups seitan, thinly sliced
1 medium yellow onion, diced medium
1 cup small-diced peeled carrots
1 1⁄2 teaspoons salt
1 cup frozen green peas (no need to thaw)
3 celery ribs, thinly sliced
1 teaspoon dried thyme
1 teaspoon dried sage
Freshly ground black pepper
1⁄3 cup all-purpose flour
1 3⁄4 cups vegetable broth, purchased or homemade
2⁄3 cup unsweetened almond milk (or your favorite nondairy milk)
Directions
Preheat the oven to 425°F. Line a 9-inch pie plate with the bottom crust. Roll out the top crust and put in the fridge until you're ready to use it.
Preheat a cast iron pan over medium heat. Heat 1 tablespoon of the oil, then sauté the seitan until lightly browned, about 3 minutes. Transfer the seitan to a plate.
In the same pan, heat another 1 tablespoon oil and sauté the onion and carrot with a pinch of salt until the onion is translucent and the carrot is slightly softened, about 5 minutes. Add the peas, celery, thyme, sage, remaining 11⁄2 teaspoons salt, and a few grinds of black pepper and sauté until the celery is softened, about 2 minutes.
Add the remaining 2 tablespoons oil and, using a slanted wooden spatula, stir constantly as you sprinkle in the flour. Keep stirring to toast the flour, adding up to another tablespoon of oil if necessary. Toast just until the flour is a shade darker, about 3 minutes.
Stream in the vegetable broth and mix until there are no clumps, then add the almond milk. Let cook until thickened, about 5 minutes.
Layer the seitan in the bottom pie crust. Pour in the filling mixture. Place the top crust over the filling and seal the edges. Make a few slits in the top crust to let steam escape.
Bake until golden brown and bubbly, about 35 minutes. Let cool for 30 minutes before slicing and serving.