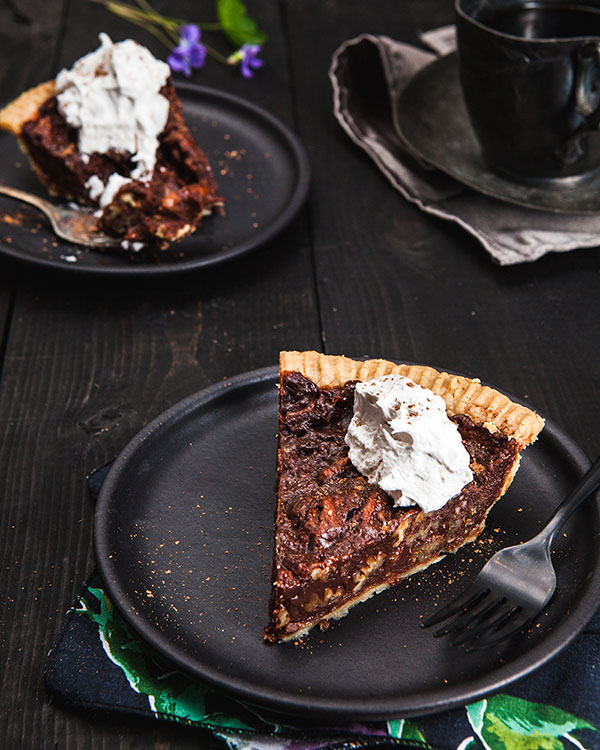 This is elbow-your-Great-Aunt-Dora-out-of-the-way-to-get-the-last-slice delicious! Chocolate should most certainly be represented at the Thanksgiving table, and pecans are the ideal plus-one to get it into the party. This pie is really rich and caramelly, with all that toasty pecan nuttiness studded throughout. Don't worry, once you share a bite of your slice with Great Aunt Dora, she will totally understand all that elbowing.
---
Notes
There are some tips on making your storebought crust look homemade right here!
Ingredients
1 recipe single pastry crust (storebought or homemade)
1⁄2 cup brown sugar
1⁄3 cup granulated sugar
1⁄4 cup agave
3 tablespoons refined coconut oil
1 cup semisweet chocolate chips
6 ounces extra-firm silken tofu (half of a 12-ounce package)
1⁄4 cup unsweetened almond milk (or your favorite nondairy milk), cold
2 tablespoons cornstarch
1⁄2 teaspoon salt
1 teaspoon pure vanilla extract
2 cups pecan halves
Your fave whipped topping for garnish
Directions
Preheat the oven to 350°F. Press the pastry crust into a 9-inch pie plate and set aside.
In a 2-quart saucepan, mix the sugars and agave. Heat over medium heat, stirring often with a whisk. Once small bubbles start rapidly forming, stir constantly for about 10 minutes. The mixture should become thick and syrupy, but it shouldn't be boiling too fiercely. If it starts climbing the walls of the pan in big bubbles, lower the heat a bit.
Add the coconut oil and chocolate chips and stir to melt. Turn off the heat, transfer the mixture to a mixing bowl, and cover it to keep warm. In the meantime, prepare the rest of the filling, working quickly so that the caramel doesn't completely set.
Crumble the tofu into a blender or food processor, along with the milk, cornstarch, and salt. Puree until completely smooth, scraping down the sides of the blender to make sure you get everything.
Add the tofu mixture and the vanilla to the warm caramel in the mixing bowl and mix well. Fold in the pecans to incorporate.
Transfer the filling to the pie crust and bake for 40 minutes. The pie is going to be somewhat jiggly, but it should appear to be set.
Let cool at room temperature, then chill in the refrigerator to completely set for a few hours or overnight. Slice and serve!