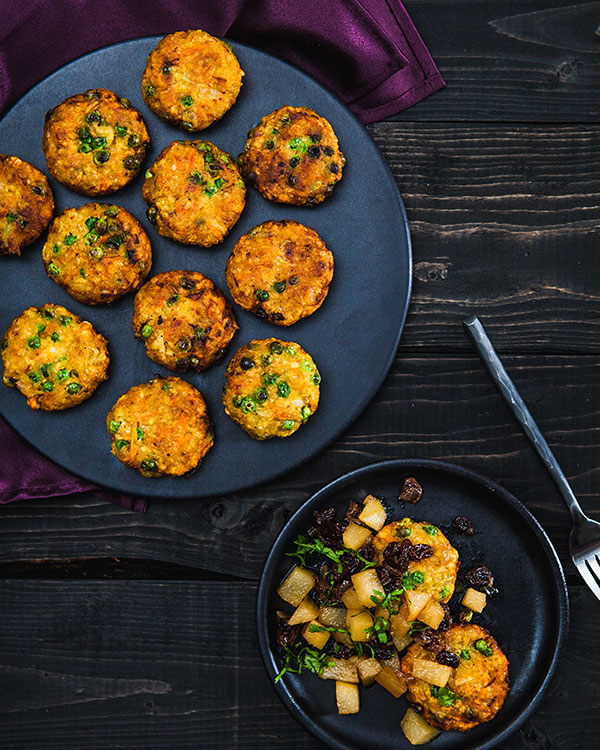 Worlds collide! My two favorite fried finger foods combine into one sublime bite. Curry powder, carrot, and peas give these potato pancakes a samosa flair, and some pear chutney seals the deal. You've got eight days of Hanukkah, so use one of them to break from the pack and serve these fun treats. The chutney recipe will make you want to start an artisanal chutney company in a formerly industrial area of Portland, Oregon! But if you don't feel like making it, then apple sauce will do.
This recipe is from The Superfun Times Vegan Holiday Cookbook, along with 5 other latke recipes and a whole Hanukkah section.
---
Notes
~You don't need a deep fryer to fry like a pro. A dutch oven or deep cast iron pan works jus as well.
~Make the chutney a day ahead. It's even more flavorful if it has time to sit.
Ingredients
For the latkes:
2 pounds russet potatoes, peeled
2 carrots, peeled
1 large yellow onion
2 tablespoons grated fresh ginger
1⁄4 cup potato starch
2 teaspoons curry powder
1 teaspoon ground cumin
1 teaspoon salt, plus extra for sprinkling
1⁄2 teaspoon crushed red pepper flakes
2 cups peas, fresh or frozen (mostly thawed if frozen)
2 cups matzoh meal
Lots of canola oil, for frying
For the chutney:
1 tablespoon refined coconut oil
1 large yellow onion, diced small
1⁄4 teaspoon salt
1 1⁄4 cups rice wine vinegar
1 1⁄2 cups packed light brown sugar
2 tablespoons minced fresh ginger
1 teaspoon crushed red pepper flakes
1⁄2 teaspoon ground cinnamon
2 whole star anise
4 Bosc pears, peeled and cut into 1⁄2-inch dice
1⁄4 cup fresh lime juice
1 cup raisins
Directions
For the latkes:
If you're using a food processor, use the grating blade to shred the potatoes, carrots, and onion, and transfer to a large mixing bowl. This may be done in two or three batches, depending on the size of your machine.
If you're shredding by hand, use a box grater to shred the potatoes and carrots. Dice the onion as finely as possible. Transfer to a large mixing bowl.
Add the ginger, potato starch, curry, cumin, salt, and red pepper flakes to the mixing bowl. Use your hands to mix everything in with the potatoes, carrots, and onion. Keep mixing until the potatoes have released some moisture and the starch is dissolved, about 2 minutes.
Fold in the peas. Add the matzoh meal and mix well. Set aside for about 10 minutes. The mixture should be somewhat loose but hold together if pinched. If it seems excessively wet, add a little extra matzoh meal.
In the meantime, preheat a large cast iron pan over medium-high heat. Have ready some brown paper bags or a baking sheet lined with paper towels for draining the oil from the latkes. Add about 1⁄2 inch of oil to the pan. While the oil heats, form some latkes.
With wet hands (so that the mixture doesn't stick), roll the dough into golf balls, then flatten into thin patties. Get about six ready before you start frying.
The oil is hot enough when you drop in a pinch of batter and bubbles rapidly form around it. If it immediately smokes, then the heat is too high and you should lower it a bit. If the bubbles are really lazy, just give it a few more minutes or turn up the heat a bit.
Working in batches, fry the latkes until golden brown on one side, about 4 minutes. Flip over and fry for another 3 minutes.
Transfer the latkes to the lined pan to drain, sprinkle with a little salt, flip, and sprinkle with salt again, then proceed with the remaining latkes. Serve warm, with the chutney.
For the chutney:
Preheat a 4-quart pot over medium heat. Add the coconut oil. When the oil is hot, sauté the onion with the salt just until a little softened, about 5 minutes.
Add the vinegar, brown sugar, ginger, red pepper flakes, cinnamon, and star anise and stir to combine. Stir in the pears.
Cover the pot and bring to a low boil. Lower the heat and simmer, stirring often, until the mixture is thick, about 30 minutes. The pears should still hold their shape.
Add the lime juice and raisins and cook for 5 more minutes. Let cool and remove the star anise pods. Transfer the chutney to a sealed container and refrigerate until ready to use.