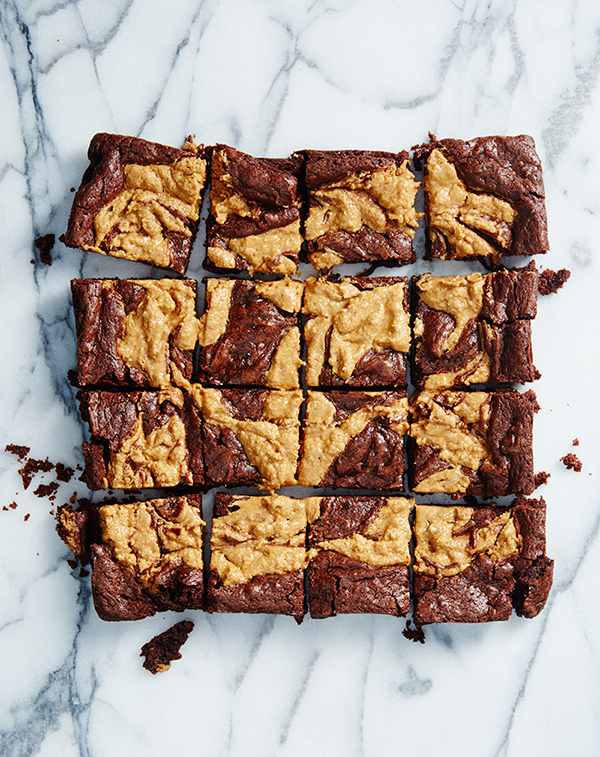 When you're, like, four years old, your first favorite dessert flavor is bound to
be chocolate and peanut butter. And when you're forty…not much changes. In between you might want to toy around with other favorites (matcha? chai?), but come now, you will always come back to your first. These brownies are deep and rich and have a satisfying, addictive peanut butter swirl that looks as neato as it tastes. What's more, today is National Brownie Day! And I know it's late, but go ahead and make a batch anyway.
---
Notes
If you want to make these gluten-free, use about 1/4 cup more of your favorite gluten-free flour mix. My favorite brand is Pamela's.
Ingredients
FOR THE PEANUT BUTTER SWIRL:
1⁄2 cup creamy natural peanut butter
1⁄3 cup powdered sugar, sifted
1 tablespoon refined coconut oil,melted
1⁄2 teaspoon pure vanilla extract
Pinch salt
FOR THE BROWNIES:
3 ounces semisweet chocolate chips
1⁄4 cup refined coconut oil
1⁄3 cup unsweetened almond milk (or your favorite nondairy milk), at room temperature
1 teaspoon pure vanilla extract
1 tablespoon cornstarch
2⁄3 cup granulated sugar
3⁄4 cup plus 2 tablespoons all-purpose flour
3 tablespoons Dutch-process cocoa powder
1⁄2 teaspoon baking powder
1⁄8 teaspoon salt
Directions
MAKE THE PEANUT BUTTER SWIRL:
In a mixing bowl, stir together all the ingredients until smooth. Set aside.
MAKE THE BROWNIES: Preheat the oven to 350°F. Line an 8-inch square metal pan with aluminum foil, then coat the foil with nonstick cooking spray.
In a large metal bowl set over a saucepan of simmering water, melt the chocolate with the coconut oil, stirring with a rubber spatula, until smooth. Remove from the heat.
In a mixing bowl, whisk together the milk, vanilla, and cornstarch. Add the warm chocolate mixture to the mixing bowl and whisk until well combined. Add the sugar and mix well.
Sift in the flour, cocoa, baking powder, and salt and fold until combined (a few lumps are okay). Pour the batter into the prepared pan and spread it to the edges.
Drop spoonfuls of the peanut butter mixture onto the brownie batter in the pan, then use a butter knife to swirl it in. Bake until a toothpick inserted in the center comes out mostly clean, 18 to 20 minutes.
When cool enough to handle, lift the foil out of the pan, slice the brownies, and serve!