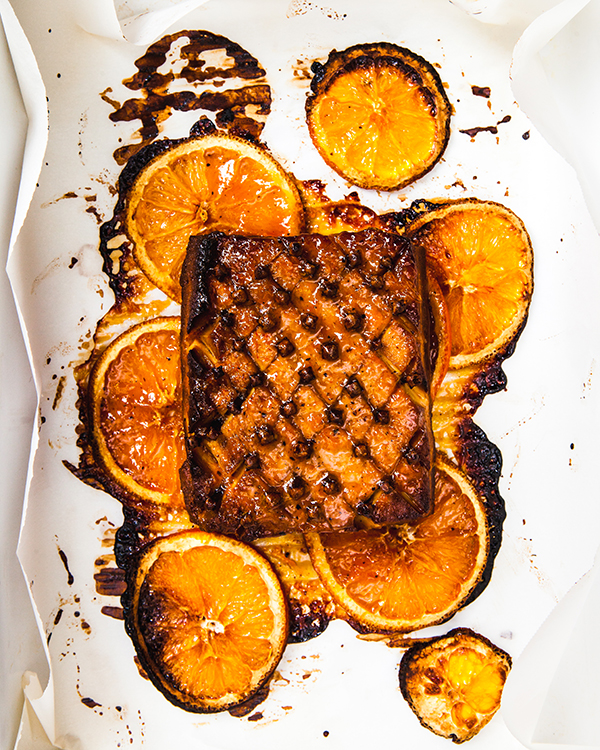 Have you gone mad? Don't put an adorable pig at the center of your table! Put an adorable block of tofu instead! This is a sassy take on ham that will definitely bring smiles (or at least curious side glances) to your guests' faces. It's also, as the title suggests, sweet and smoky and elegant in a '70s kind of way, with notes of orange and maple. It's easy to double the recipe, or even triple, if this will be your main course.
There were a couple of times when writing Superfun Times Vegan Holiday Cookbook that I had to call on friends for help, and this recipe was one of them. Since I didn't grow up eating ham (you guys, I'm JEWISH!), I wanted to make sure I got it right. Luckily, Joni Newman was able to help develop this little guy into a real crowd pleaser. Thanks, Joni!
This is in the Easter section of the cookbook, but it would be great as a Christmas centerpiece, or even Hannukah!
---
Notes
To press tofu, simply wrap in a paper towel, then a kitchen towel. Put a heavy book on top, and a few cans of beans on top of that. Flip over after 30 minutes and press the other side for another 30. You do this so that it gets nice and firm and absorbs plenty of marinade!
Ingredients
FOR THE MARINADE:
1⁄4 cup olive oil
1⁄4 cup tamari or soy sauce
1⁄4 cup pure maple syrup
2 tablespoons liquid smoke
1⁄4 cup packed brown sugar
2 teaspoons garlic powder
2 teaspoons onion powder
1 teaspoon smoked paprika
FOR THE TOFU:
1 (14-ounce) package extra-firm tofu, pressed
8 thin orange slices
20 to 25 whole cloves
FOR THE GLAZE:
1⁄2 cup fresh orange juice
2 tablespoons smooth apricot jam
1 tablespoon whiskey
2 tablespoons packed brown sugar
1⁄4 teaspoon ground ginger
1⁄4 teaspoon smoked salt
1⁄4 teaspoon freshly ground black pepper
Directions
MAKE THE TOFU: In a shallow dish, whisk together all the marinade ingredients. Place the block of tofu in the marinade, turn to coat, and marinate in the refrigerator for at least 4 hours, and up to overnight.
Preheat the oven to 375°F. Line a 9-by-13-inch baking pan with parchment paper.
Arrange the orange slices in an even layer in the center of the parchment. Place the marinated tofu block on the bed of oranges.
Carefully score the top of the tofu block with a sharp knife in a diamond pattern, about 1⁄4 inch deep. Press the whole cloves into the intersections of the cuts (at the corners of the diamonds). Bake for 1 hour.
IN THE MEANTIME, MAKE THE GLAZE: Combine all the glaze ingredients in a small saucepot and bring to a boil over medium-high heat. Reduce the heat to low and simmer until reduced by half and thickened, about 20 minutes. Remove from the heat and set aside.
After the tofu has baked for 1 hour, remove it from the oven and pour the glaze evenly all over the top. Bake for an additional 30 minutes.
Allow the tofu to cool for about 5 minutes before slicing to serve.