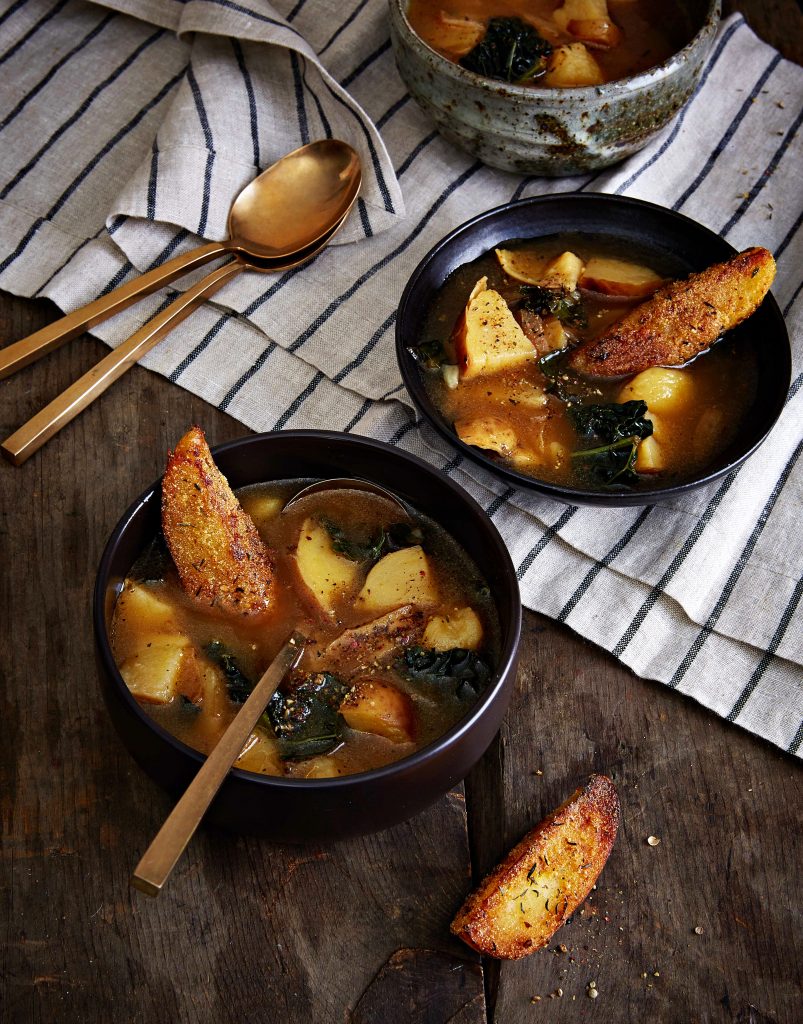 OMG. It's been TEN years. Well, we do enough OMG-ing in the new intro, so I'll leave it at that for now. But the Veganomicon 10th Anniversary Edition is out this month, and it's made me excited enough to update my blog! The book has been tidied up, made a little easier, and most importantly, a lot of photos have been added, all by Kate Lewis. There are also 25 new recipes! I'll be posting some classics over the next few weeks to get you excited. Order the book on Amazon or where ever you like to support, thank you thank you thank you.
Let's start with this favorite: a potato soup with giant french fry in it! That is, a potato wedge that's been dredged in cornmeal and lightly fried. As for the healthy part, we use kale here, but escarole or spinach would be good, too. Make the baked potatoes the night before so that you can have this soup ready in thirty minutes.
---
Ingredients
6 to 8 baking potatoes (3 1/2 pounds), baked and cooled
2 tablespoons olive oil
1 large yellow onion, sliced into short strips
3 cloves garlic, minced
1/2 teaspoon fennel seeds, crushed
1 teaspoon dried thyme
1/2 teaspoon rubbed dried sage
Plenty of freshly ground black pepper
1 teaspoon salt
1/4 cup dry white wine (or just more broth if you prefer)
4 cups vegetable broth, purchased or homemade (page 223)
4 cups torn kale (bite-size pieces; about 6 leaves, rough stems removed)
1/4 cup unsweetened nondairy milk
For the potato wedges:
2 heaping tablespoons coarse cornmeal
1/4 teaspoon dried thyme
1/2 teaspoon paprika
Generous pinch of salt
2 cloves garlic, minced
Olive oil in a spray bottle (or enough for light frying)
Directions
Once your potatoes are baked and cool enough to handle, preheat a soup pot and sauté the onion in the oil over medium-high heat until good and brown, about 10 to 12 minutes.
While the onion cooks, prep the potatoes: Slice the baked potatoes in half length-wise. Reserve three of the halves to make the potato wedges. Slice the rest into 3/4-inch chunks.
Once the onion is browned, add the garlic, fennel, thyme, sage, pepper, and salt. Cook for 2 more minutes, then add the wine to deglaze the pan. Add the chunks of potatoes and the broth, cover, and lower the heat a bit to bring to a low boil. Mix in the kale. Cover and cook for 15 to 20 more minutes.
Meanwhile, prepare the potato wedges:
Slice the reserved potato halves in half lengthwise so you have six pieces. Preheat a heavy-bottomed skillet over medium-high heat. Combine all the ingredients for the wedges, except for the oil, on a plate. Wet the potato wedges with a little bit of water and dredge the two cut sides in the cornmeal mixture.
Lightly coat the skillet with oil. Cook the potatoes on each cut side for about 4 minutes, or until golden and crispy. Spray with oil as you alternate cooking sides.The soup should be done by this point. Use a potato masher to mush up about half of the soup (for once, don't use an immersion blender; it will make the potatoes pasty and yucky), add the milk, and mix. If it's too thick, add a little water or vegetable broth. Ladle into bowls and top with a potato wedge crouton.