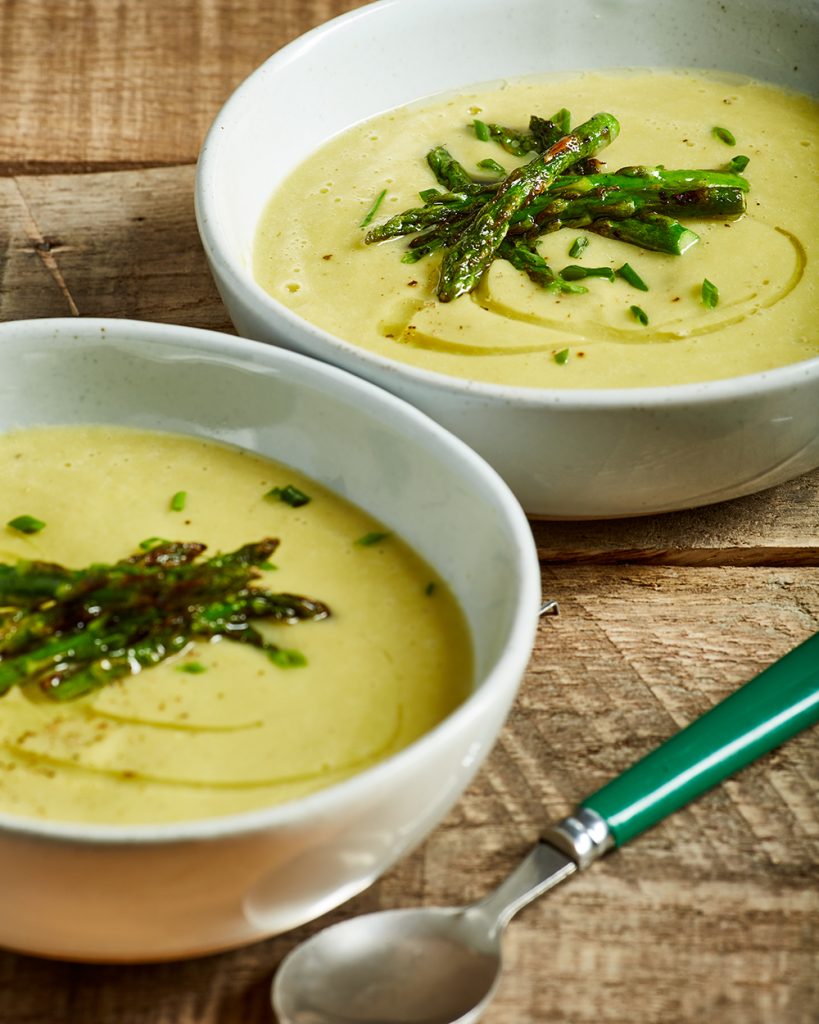 Sometimes it snows in April. And sometimes it's 17 degrees in April. And sometimes the trees aren't even thinking of budding even though it's April. 2018 is one of those times. But you know, why wait for the weather to comply? I am ready for Spring, and so bring on the asparagus! But make it hot and in a bowl because I can still see my breath outside.
One bite and your surroundings transform into springtime. Birds start singing, bunnies start hopping around, you know the drill. It's a magical stalk and pureeing with white beans brings out the fresh flavor even more! This soup manages to be simple and also impressively elegant.
This recipe is for a new cookbook I'm working on of easy recipes, for January 2019! Photos by Vanessa Rees, styling by meeeee.
---
Ingredients
1 tablespoon olive oil
1 bunch asparagus, rough bottoms removed, tips trimmed (about 2 inches), stems thinly sliced
6 cloves garlic, chopped
1 medium yellow onion, medium dice
1/2 teaspoon dried tarragon
1/2 teaspoon salt
Fresh black pepper
1/4 cup chopped fresh chives, plus extra for garnish
4 cups vegetable broth
15 oz can navy beans, drained and rinsed (about 1 1/2 cups)
1 tablespoon fresh lemon juice
Directions
Preheat a 4 quart soup pot over medium heat. Saute asparagus tips in oil with a pinch of salt for about 3 minutes. Remove about 10 tips for garnish and set aside.Turn the heat up a bit, add the asparagus stems, onion, garlic, tarragon, salt and pepper and saute for about 5 minutes, until onion is soft and garlic is golden.
Add chives, broth, beans and lemon juice and bring to a boil for 3 minutes.
Transfer to a blender and puree until completely smooth. The soup will be very hot so turn off the blender and remove the lid every 10 seconds or so to let steam escape. Serve into bowls and garnish with asparagus tips, extra chives and a swoosh of olive oil, if desired.