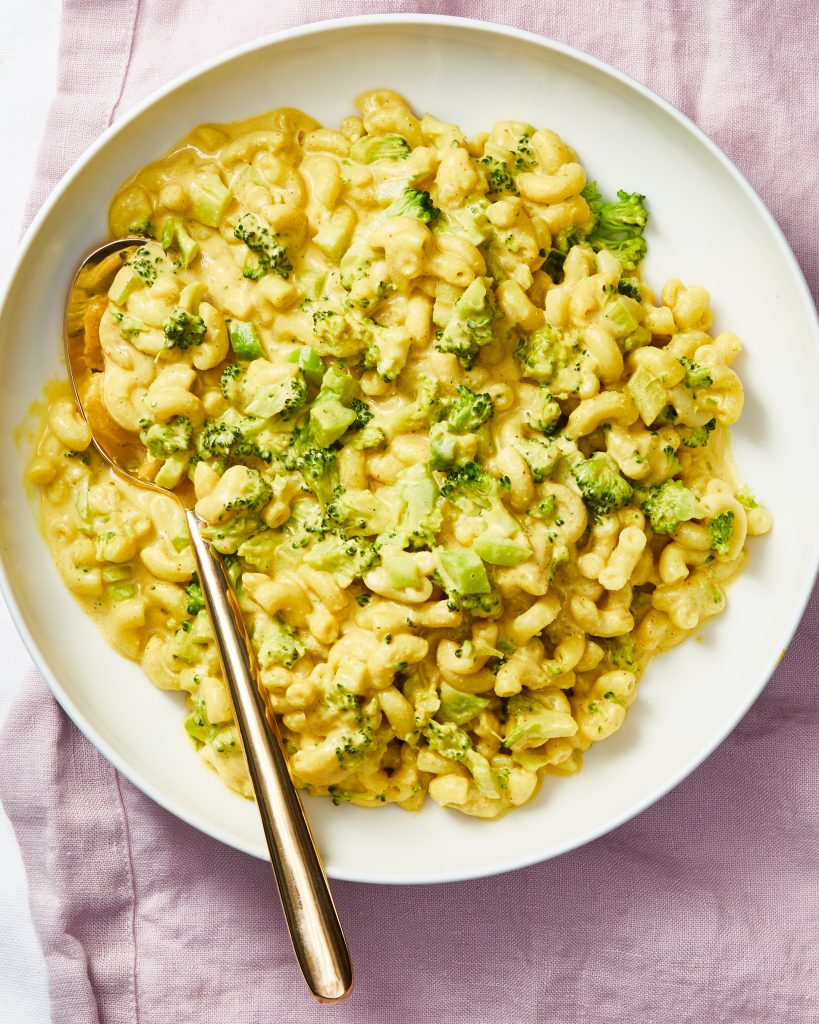 Photo by VK Rees
There are a lot of vegan mac and cheese recipes in this world. But like kitten rescue, Joy Division T-shirts and Beyonce videos, you can never have enough.
I'm working on a cookbook for beginners (out Fall 2019) and this will probably be the first recipe in the first chapter. I love this particular recipe for new cooks because the most important part (the sauce, duh) needs no cooking and takes about two minutes to pull together. It also has my favorite vegetable built it: broccoli! (Yes, I am that basic.) It's chopped into small small pieces and available in every creamy, dreamy bite. The method is also really easy and contains every cook's favorite words: "one pot." You simply add the broccoli to the pasta in the last few minutes of cooking. So yah, this is a great place to start.
---
Notes
~If you don't have a Vitamix or highspeed blender, boil the cashews for 20 minutes, then drain. You can also soak them for at least 2 hours, or overnight. Then just use your regular blender, but it might take up to 5 minutes to get smooth enough.
~I like a little smoky heat, but if you aren't down with that, try smoked paprika instead of chipotle powder. And if you are not even down with a little smoke, try regular paprika. Or try to live a little.
~The broccoli should be chopped pretty small, somewhere around the size of a pea to maybe at largest the size of a raspberry. It doesn't have to be uniform.
Ingredients:
1 lb small pasta (chiocolle or small shells or, ya know, macaroni)
6 cups finely chopped broccoli
For the sauce:
1 cup whole unroasted cashews
1 cup vegetable broth
1/4 cup nutritional yeast flakes
1/4 teaspoon turmeric
1 tablespoon fresh lemon juice
3/4 teaspoon chipotle power
1 tablespoon onion powder
1/4 teaspoon salt
Directions
Bring 6 quarts of salted water to a boil in a large pot.
While the water is coming to a boil, make the sauce. Place all sauce ingredients in a high-speed blender and blend for about a minute or two, or until completely smooth, using a rubber spatula to scrape down the sides every 20 seconds or so. (If you don't have a high-speed blender, see tip above)
Cook pasta in boiling water for about 5 minutes, then add the chopped broccoli. Boil until pasta is cooked, 3 to 5 minutes.
Drain pasta in a large colander and add immediately back to the pot. It should still be piping hot and wet with pasta water. Do not rinse and do not wait. This part is important because you need the wet, hot pasta to get the sauce creamy and awesome and clinging to the pasta.
Add the sauce to the pasta pot and use the rubber spatula to mix. Turn the heat on low and stir for about 2 minutes to get everything warmed through. Taste for salt and seasoning and serve.