Makes 2 8×4 Loaves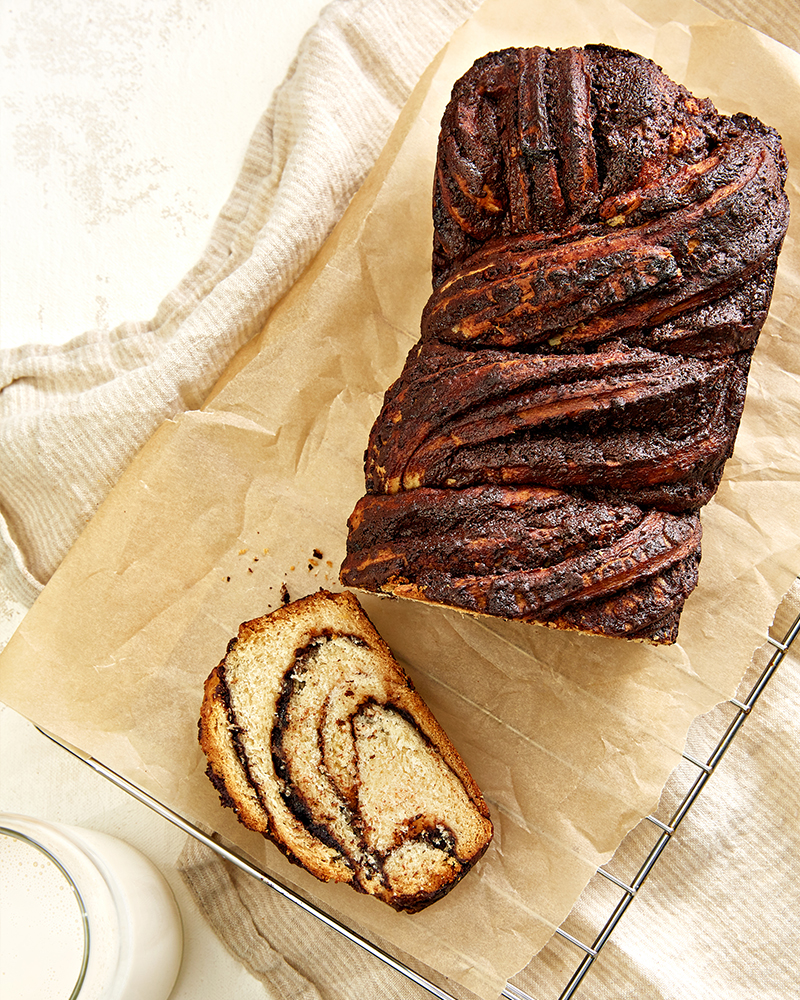 Everyone's making sourdough. But what they are NOT telling you is that there is no chocolate in sourdough. I KNOW. So all that work for nothing. How about make babka instead?
The great thing about babka is that it will take you all day, you will wonder the whole time if you're doing it right and you will need a lot of bowls and ingredients. Doesn't that sound awesome!
OK if not then listen: It's doughy. And golden. And chocolate. And cinnamon. And you get to twist stuff. And you should make it because even if it riddles you with insecurity I promise you are doing it right. This recipe is originally from The Superfun Times Vegan Holiday Cookbook. Please buy it, I need money.
Recipes Notes
~This recipe calls for chocolate cookie crumbs. The crumbs are totally necessary! But if you can find chocolate cookies, then actually any type of chocolate crumb could work. Well, not any. But let's say graham or vanilla. Just something wafery and crisp. Don't leave them out, they are there for texture and structure.
~I've been using soymilk for my babka these days. I think it comes out better than almond milk (although I said almond milk in the cookbook, I think?
~You need two 8×4 loaf pans for this recipes. But if you don't have that you can google freeform babka and see if you can't get some good directions. I've also done it in one loaf pan and the other inangel food cake pan and that is kinda fun! Other options: half the recipe or reserve the other half to make at a later time.
~If the directions sound confusing, please look at tutorial on youtube because the twisting is probably easier to understand if you see it!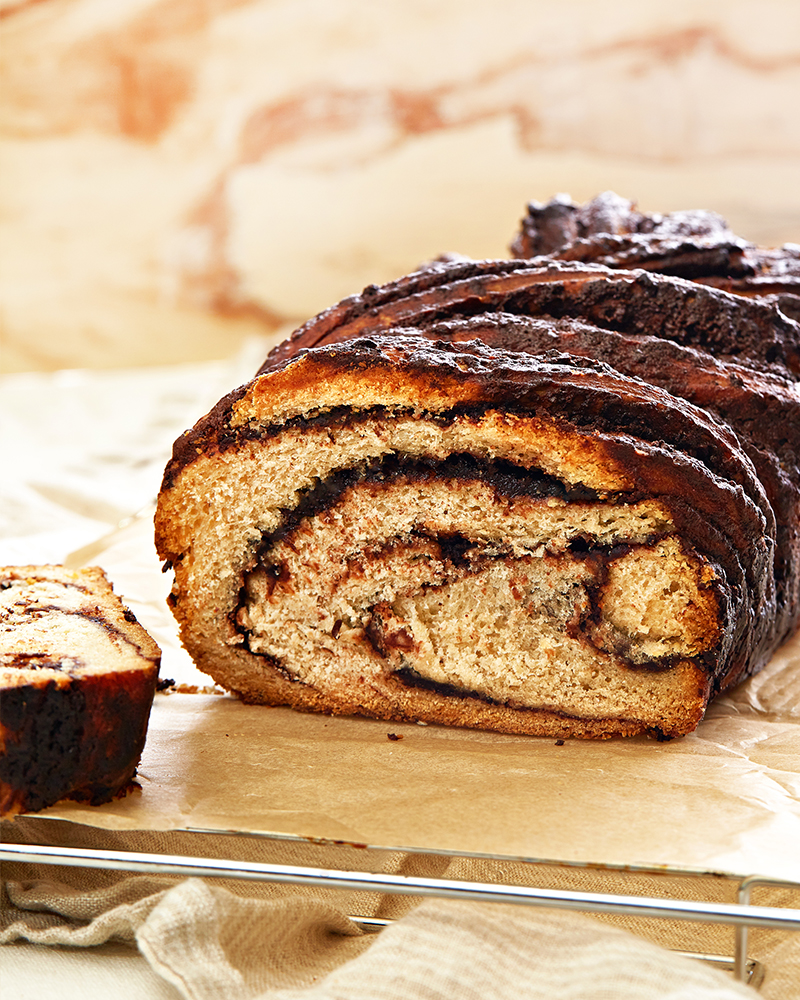 Ingredients
4 cups all purpose flour
1/3 cup plus 2 tablespoons sugar, divided
2 teaspoons salt
1 cup unsweetened vegan milk, warmed (not hot, wrist temp)
1 packet dry active yeast
1/3 cup mashed very ripe banana
1/2 cup refined coconut oil, softened
For the filling:
12 ounces semi, finely chopped
3/4 cups refined coconut oil
1 1/2 cups finely ground chocolate cookies (see tip)
3 tablespoons agave
2 teaspoon ground cinnamon
Additional milk for brushing
Directions
Make the dough:
In a large mixing bowl, whisk the flour with the 2/3 cups sugar and salt. In a separate large mixing bowl, combine the warm milk with the yeast and 2 tablespoons sugar. Let it sit and get foamy.
Mix the banana in with the milk mixture. Add the dry ingredients in batches, mixing well, until all ingredients are incorporated. Add the softened coconut oil. Turn out onto a floured surface and knead for a good 10 minutes until smooth and elastic.
Clean the mixing bowl, and lightly grease it with some canola oil. Add the ball of dough, spinning it into the bowl to get it lightly coated in oil. Cover with plastic wrap or a towel, and set aside in a warm place to rise for about an hour and a half. It should double in size.
Line a large baking sheet with parchment paper and lightly coat parchment with oil. Divide the dough in two, and form into two rough squares on the parchment. Let rise in the refrigerator for about 30 minutes.
Make the filling:
In a large metal bowl set over a saucepan of simmering water, melt the chocolate with the coconut oil, stirring with a rubber spatula, until smooth. Let cool to room temperature, then stir in the cookie crumbs and agave.
Form and bake:
Lightly grease two 8×4 loaf pans. with nonstick baking spray and line with parchment paper, allowing 2 inches of overhang on each of the long sides. Roll out each square of dough to a 16-inch square. Using an offset spatula, spread all but 1/2 cup of the filling in an even layer over the dough squares to within 1/2 inch of the edges. Starting at the long edge nearest you, tightly roll up each dough square jelly roll–style into a tight log.
Using a sharp knife, cut the logs in half widthwise. Using an offset spatula, spread 1/4 cup of the reserved filling on the top and sides of 2 of the halves. Set the other halves on top in the opposite direction so you have two crosses. Twist each cross to form spirals and transfer each to the prepared pans. Cover the loaves with a towel and let stand in a warm place until doubled in size, about 2 hours.
Preheat the oven to 375°. Brush each loaf with a little milk. Bake the loaves in the center of the oven for about 45 minutes, until puffed and well browned. Let cool slightly, then use the parchment paper to lift the babkas out of the pans and onto a rack set over a baking sheet. Discard the paper. Enjoy and instagram like crazy because you just made babka you rockstar!