Makes 1 dozen cupcakes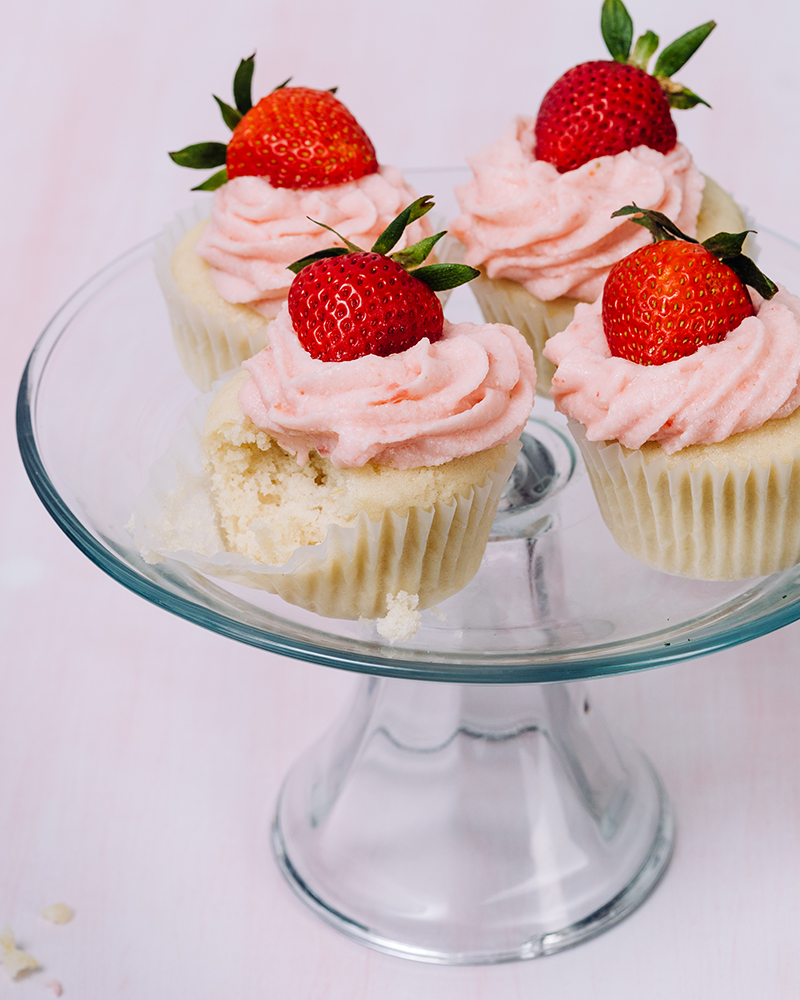 Maybe you have some strawberries burning a hole in your pocket? And maybe you desperately need cupcakes? And something bright and pink? Well, I got you. Lemony cake with the most strawberriest (that's a word) fruitiest buttercream. And it's pretty easy, too! Also, maybe a nice mother's day treat.
These are originally from I Can Cook Vegan. If you buy that book I promise to do only good things with the money.
Recipes Notes
~ Make sure you use refined coconut oil for this because otherwise it will taste coocnutty. You can also use vegan butter, if you prefer. You may need to play with the ratios a little, though.
~ I've only done these with fresh strawberries. I would imagine that frozen would retain too much moisture so if you are experimenting, thaw and drain them first, maybe? But again, I haven't tried it.
Ingredients
For the cake:
3/4 cups granulated sugar
1 cup vegan milk at room temperature (or favorite non-dairy milk)
1⁄4 cup melted coconut oil
1 teaspoon vanilla extract
1⁄4 cup fresh lemon juice
1 tablespoon finely grated lemon zest
1 1⁄2 cups all-purpose flour
1 teaspoon baking powder
1/4 teaspoon baking soda
1⁄2 teaspoon salt
For the strawberry buttercream:
3/4 cup coconut oil, softened at room temperature
3 1/2 cups powdered sugar
1 teaspoon pure vanilla extract
1 cup fresh strawberries, chopped, stems removed
6 strawberries cut in half for decorating
Directions
1 – Make the cupcakes. Preheat oven to 350 F and line a muffin pan with paper liners.
2 – Vigorously beat together sugar, milk and coconut oil until it resembles applesauce. Mix in vanilla, lemon juice and zest.
3 – Sift in about half the flour, all the baking powder, baking soda and salt. Mix until relatively smooth. Add the remaining flour and mix until smooth and no large lumps remain.
4 – Lightly spray the liners with cooking spray and pour batter into liners, filling 3/4 of the way. Bake 16 to 18 minutes, until a toothpick inserted into the center comes out clean. Transfer to a cooling rack and let cool completely.
5 – Make the buttercream: First, puree the strawberries in a food processor. In a large mixing bowl, using an electric mixer, beat the coconut oil and strawberry puree and gradually add the powdered sugar, scraping the bowl as you go. Add the vanilla and mix until smooth and creamy. If it seams loose then place in the refrigerator to set up a bit, then fluff with a fork.
6 – Spread frosting onto cooled cupcakes using the back of a spoon (or your preferred method). Top with a strawberry half!