Serves 4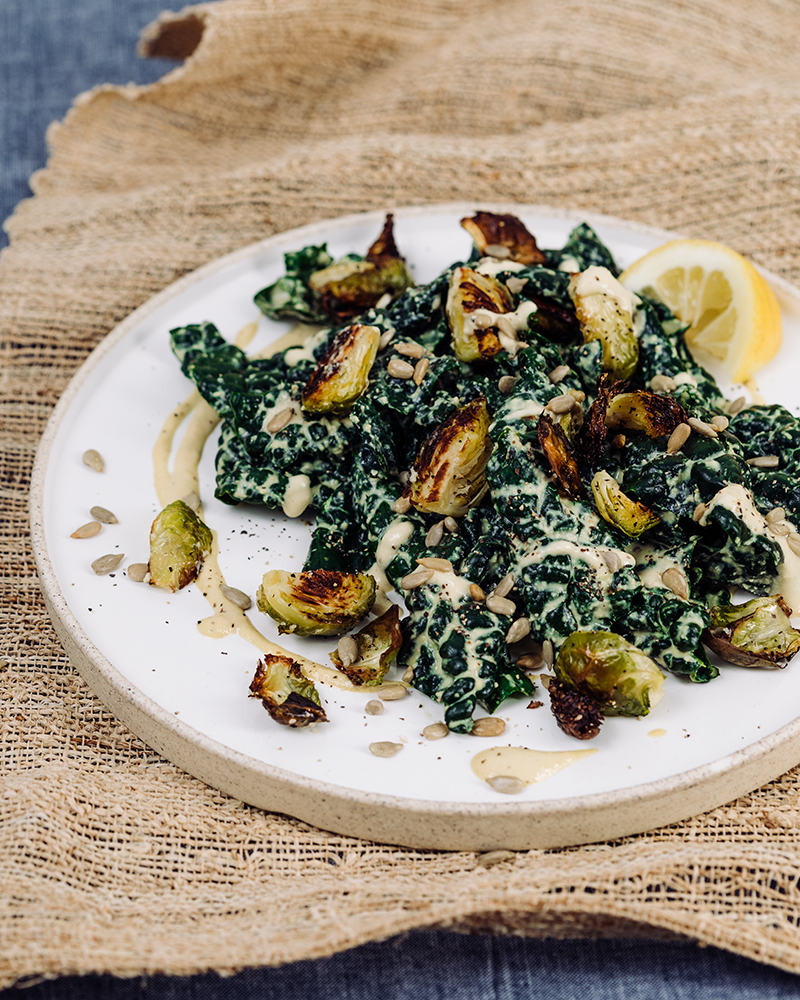 Caesar is the mother of all salads, vegan or not. But especially vegan! Who can deny a briny, lemony, creamy, garlicky dressing? I think the reason that Kale Caesars in particular are so popular (besides the fact that it sounds like "hail, Caesar" I suppose), is that the acidic dressing really breaks down the kale's mask of toughness, revealing its true, velvetty nature. It still retains its crunch and heartiness but after the massage it's, well, relaxed a bit! This dressing uses nori as a seasoning, adding that ocean flavor to the mix. I love roasted Brussels instead as croutons, for their toasty crunch. If you'd like to add protein, toss in some chickpeas or top with tempeh or tofu, a chickpea cutlet or even some storebought fake chick'n sliced up. Avocado, of course, never hurts either. 
This is originally from I Can Cook Vegan. If you buy that book I promise to do only good things with the money.
Recipes Notes
~ Lacinato kale is my fave for salads because its at once crunchy and a little more delicate than other kale varieties. But use what you got!
~ And yeah you can totally just use this dressing on romaine, too. Like, duh, why not. Just skip the massaging part
~ If you don't have a highspeed blender like viamix or blendtec, you can make this using a regular blender. Soak cashews them overnight first, or, if you don't have that kind of time, boil in water for 30 min and drain. You will have to scrape down the sides with a rubber spatula and give your blender a rest from time to time, and it could take like 5 minutes to get it totally smooth. Just be patient.
Ingredients
For the brussels:
1 lb brussels, quartered
2 to 3 tablespoons olive oil
1/2 teaspoon salt
For the dressing:
3 cloves garlic
1 cup whole unroasted cashews
1/2 sheet nori, torn to pieces
1/4 cup tablespoons nutritional yeast
3/4 cup water
1/4 cup fresh lemon juice
1 tsp whole grain dijon mustard
3/4 teaspoon salt
Several dashes fresh black pepper
For the salad:
1 lb lacinato kale, rough stems removed, torn into 2 inch pieces or so
Optional:
Roasted pepitas or sunflower kernels for garnish
Sliced lemon for squeezing
Directions
1 – Preheat the oven to 425 F for the brussels. Line a large baking sheet with parchment paper and set aside.
2 – Toss the quartered brussel sprouts with olive oil and a dash of salt. Bake for 15 minutes, until lightly browned. No need to flip them, just let 'em roast.
3 – Make the dressing. Place garlic in a high-speed blender and pulse to chop up. Add remaining ingredients and blend until completely smooth, about a minute, scraping down the sides with a rubber spatula every now and again.
4 – Pour about 3/4 of the dressing into a large mixing bowl. Add the kale and massage it into the dressing for about a minute. Don't be afraid to really get in there like you're kneading dough.
5 – Top with roasted brussels and drizzle on more dressing. Finish with seeds, a little extra black pepper and serve with a lemon!