Serves 2 hungries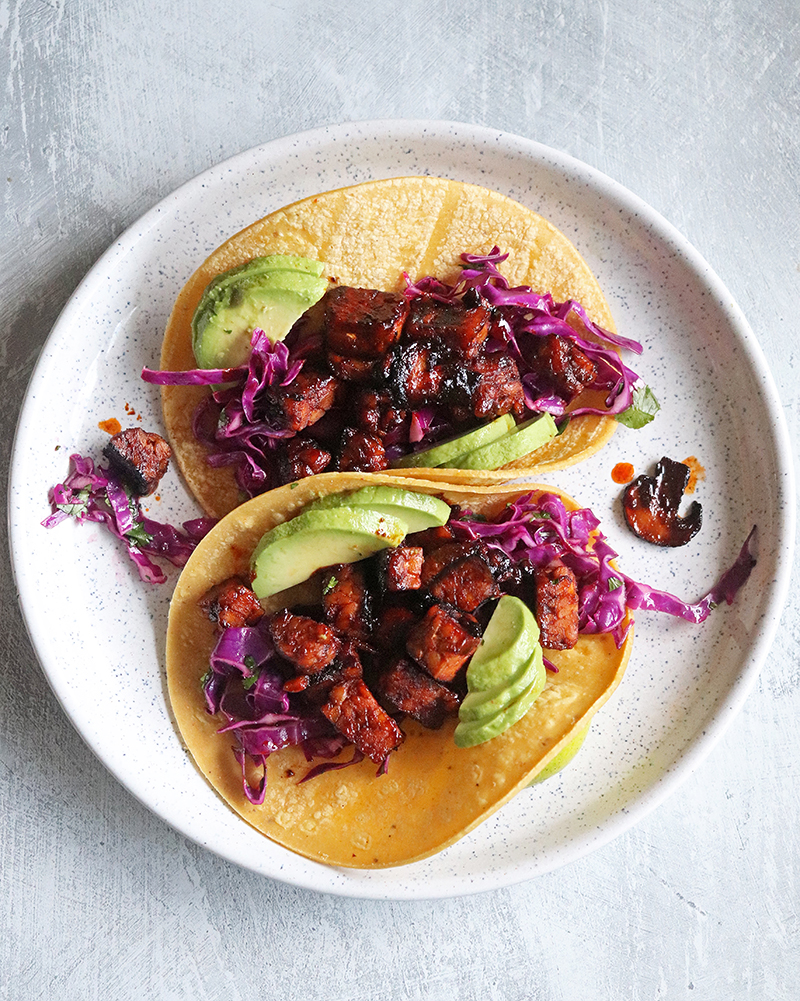 Tempeh and mushrooms get all sticky and charred, burnt ends and everything, in an easy to throw together sauce that is smoky, sweet (but not too) and a little spicy. Some slaw to cool it down and lend some fresh crunch, some sliced avocado for creaminess and because avocado on everything always. Now you've got yourself a taco tuesday on a friday because you don't know what day it is!
Recipes Notes
~ I marinate the tempeh for up to an hour (but not longer than that) but if you've got 15 minutes, no problem, it will still be yummy, just a little less soaked through.
~ This marinade it soooo good for a million things. Try it on baked tofu or even veggies like cauliflower or brussels.
Ingredients
For the tempeh marinade:
3 tablespoons tamari or soy sauce
1 tablespoon sriracha
1 tablespoons sesame oil
1 tablespoon canola oil (plus additional for cooking)
1 tablespoon brown sugar
1 tablespoon smoked paprika
1/2 teaspoon 5-spice
For cooking:
8 oz cremini mushrooms, sliced thin (about 1/8 inch thick, not paper thin)
1 8 oz package tempeh, diced
For slaw:
4 cups thin sliced red cabbage (tough core removed)
2 tablespoons fresh lime juice
1 tablespoon agave
Small glug olive oil
1/4 cup finely chopped cilantro
Pinch salt
To assemble:
Sliced avocado
6 8-inch tortillas warmed up
Directions
1 – Vigorously mix all tempeh marinade ingredients in a mixing bowl. Add the tempeh and toss to coat. Let marinade 15 minutes to an hour.
2 – Mix all the slaw ingredients together and taste for seasoning. Let wilt.
3 – Preheat a large skillet over medium heat. When good and hot, cook mushrooms in canola oil until moisture is released and they've browned a bit, about 7 minutes.
4 – Add the tempeh, reserving some marinade. Cook for about 10 minutes, flipping often, until caramelized on the edges.Add more marinade as needed.
5 – Heat tortillas your preferred way and assemble. Slaw on bottom, then tempeh, then tuck in sliced avocado. Sprinkle avo with a little lime juice and salt if you like. Serve asap!