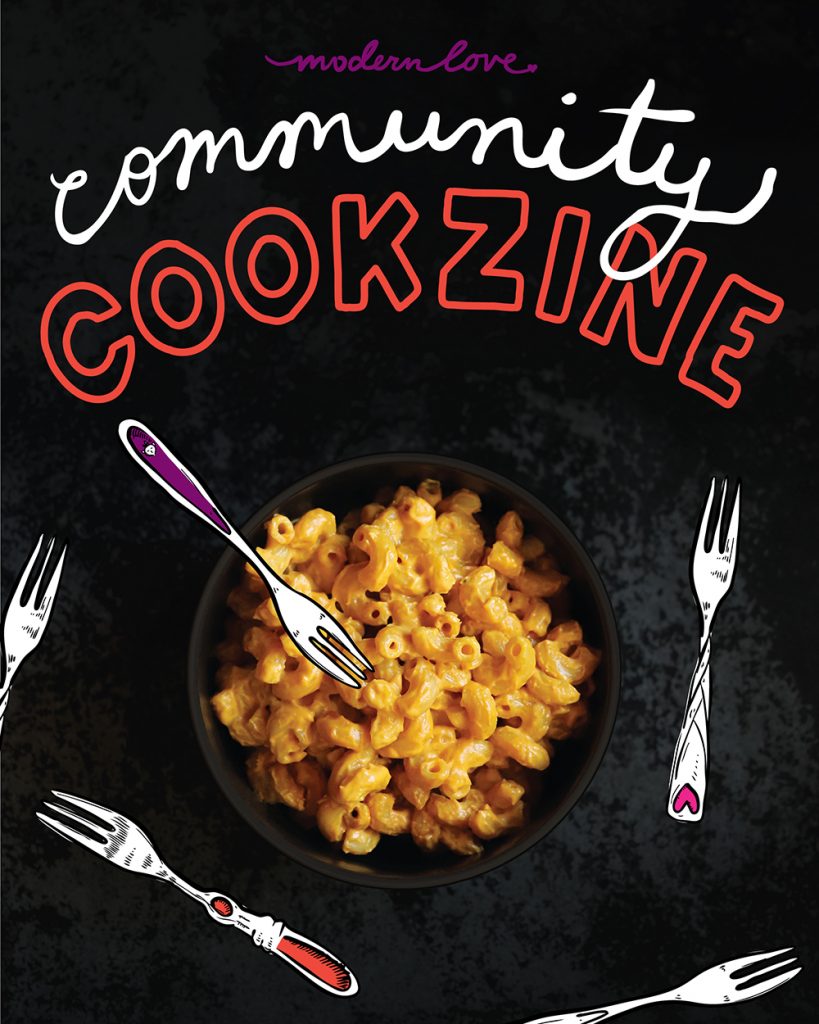 It's our world famous Mac & Shews! With a few caveats. Firstly, this recipe has basically been on the internet for a while now. Also, this isn't the EXACT recipe Modern Love uses. It's simplified for home cooks. But it certainly gets the job done when you're away from Brooklyn or Omaha and need your fix. And finally, this isn't a regular blog post but, then again, these aren't regular blog times.
Now I don't want to make this recipe intro too long because I know that twitter HATES that. But!
I need to tell you about Modern Love Community Cookzine. Well, what happened was, my restaurant — Modern Love Brooklyn — closed at the beginning of the pandemic. We thought we would be done for good. It was heartbreaking, but I have my health and my cats, so ok. I have a lot to be grateful for.
Then, after a few weeks, my business partner and I realized we have this empty restaurant. It's still not safe enough to open. But, we thought, let's get people their jobs back in as safe a way as possible, AND help the community on top of that. Let's cook amazing, free (or dirt cheap) meals. Modern Love Community Meals was born.
On top of feeding hundreds of people a week, we also decided, hey, let's do a Community Cookbook, that seems to be the thing! Easy. No prob. So we started this CookZINE (zine, because I am punk) and gathered together some of the city's best chefs to give us tips, stories and recipes. So now, here we are, and I'm asking you to please buy it.
BUT WHY SHOULD I BUY IT?!!?
Because it will help fund our Community Meals project. And it will help get the restaurant back open. And so we kinda need you to!
BUT I DON'T WANT TO HELP YOU!
Ok we know no one is actually saying that. But in addition to helping us you get all those amazing tips, stories and recipes we mentioned! What a deal. And you can spend anywhere from $5 to $50 to support us. In turn, we will continue to support the community. And be able to open our doors safely for pickup.
STILL NOT CONVINCED? OR READY TO BUY NOW?
Look at some of the gorgeous art! This is by Erica Rosey, for a section called Menuhoods, where a chef creates menus for the neighborhood they're from. This is Greenpoint. (Also featured: Crown Heights and Sheepshead Bay.)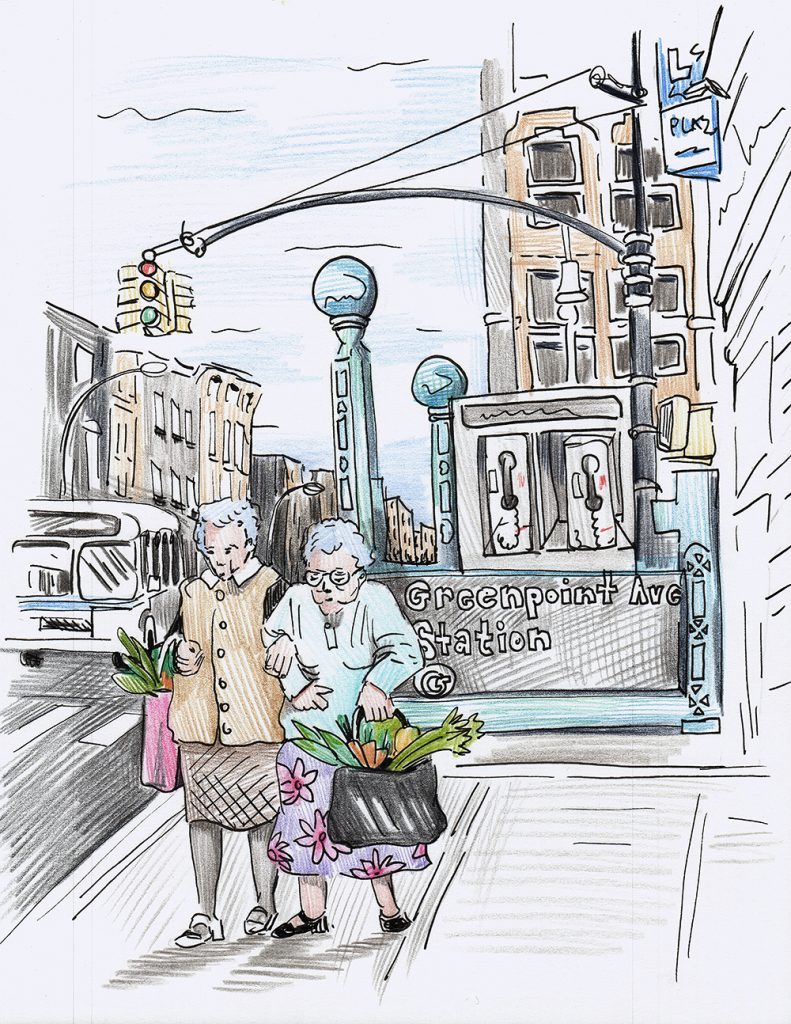 OK. That's the pitch. Thanks for listening! I hope you enjoy the recipe and the zine and we can't wait to feed you again! OH PS, here is the link to buy one.
Recipes Notes
~ If you don't have a high speed blender, do not despair. Just soak the cashews for at least 2 hours (preferably overnight) and proceed with your regular old blender. You can also boil them for 20 minutes if you are super short on time and didn't plan ahead.
~ We use home roasted red pepper at the restaurant, but you can totally use one from a jar. But if you wanna' try it, homemade is way better. I won't write the directions here, just google it.
Ingredients
1 pound macaroni
1 cup whole unroasted cashews
1 cup vegetable broth
1 roasted red pepper, chopped
1/4 cup nutritional yeast flakes
1/4 teaspoon turmeric
1 tablespoon fresh lemon juice
1 tablespoon chickpea miso
1 tablespoon onion powder
1/4 teaspoon salt
Directions
1 – Bring 6 quarts of salted water to a boil in a large pot for the macaroni.
2 – While the water is coming to a boil, make the sauce. Place all sauce ingredients in a high-speed blender (see recipe note if you don't have one) and blend until completely smooth. This can take anywhere from a minute to 5 minutes depending on your blender. Scrape down the sides of the blender with a rubber spatula from time to time.
3 – Once water is boiling, cook pasta. Drain pasta in a large colander and add immediately back to the pot. It should still be piping hot and wet with pasta water. Do not rinse and do not wait. This part is important because you need the wet, hot pasta to get the sauce creamy and awesome and clinging to the pasta.
4 – Add the sauce to the pasta pot and use the rubber spatula to mix. Turn the heat on low and stir for about 2 minutes to get everything warmed through. Taste for salt and seasoning.