Serves 6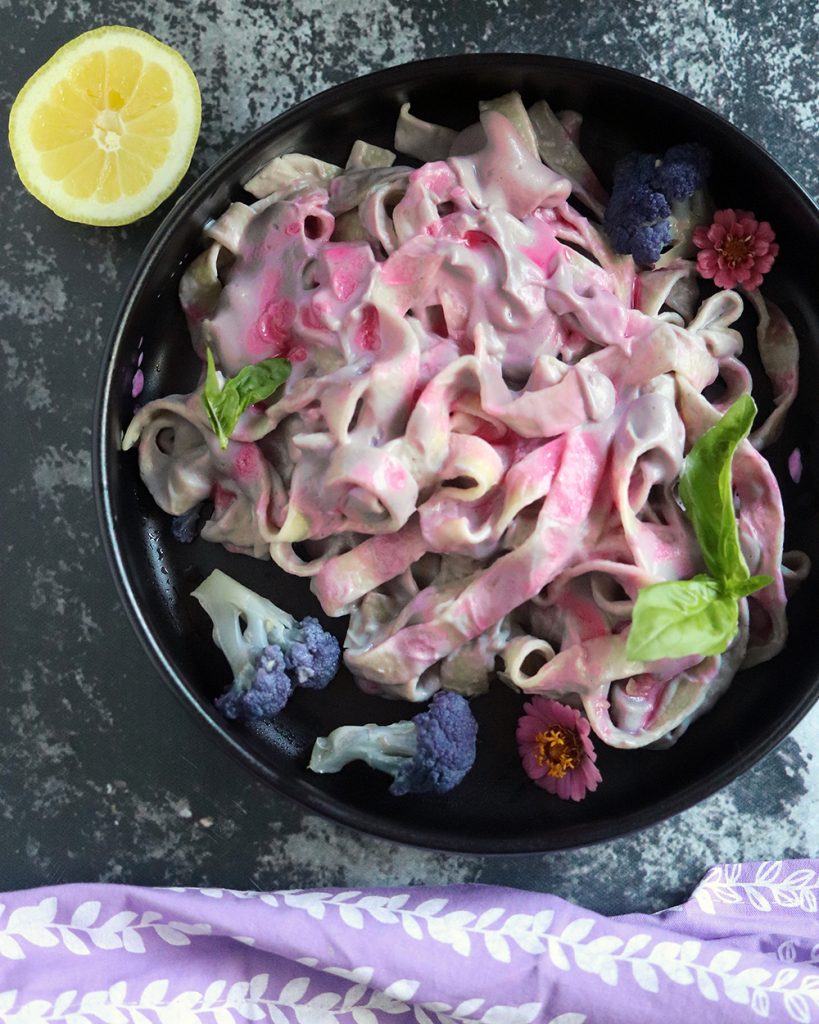 The world is a nightmare, dinner doesn't have to be. What if pasta could be a fantasy dreamworld where our alfredo was tie-dye purple?
But this alfredo is not just pretty, it's so, so tasty! Purple cauliflower is braised just until tender, keeping its color somewhat intact and bringing a deep, cruciferous flavor, plus lots of creaminess, to the sauce.
Note, I said it keeps its color somewhat intact. I had to throw in a non-conventional ingredient to make the lavender pop a bit. Don't hate…it's frozen blueberries! But you really can't taste them and you know you have some laying around for the apocalypse. 
So you'll be left with a pretty lavender sauce to coat your noodles in. But it doesn't stop there! Take a lemon and squirt it over the plate, then watch your lavender deepem into fuschia and magenta streaks, splotches and ribbons of color. You are the greatest artist of your generation. Make sure to do this tableside and get a video of it.
OK, now get yourself on an app, order some purple cauli and whip this up! It's good wholesome entertainment for the whole fam (or your cats) and a relaxing escape that will make you think of a better possible future. Right?
Recipes Notes
~ Some serving ideas: grilled or breaded tofu, tofu balls (recipes for all of those exist on this site, I'm just too world weary to link to them), toasted pine nuts, springs of fresh basil, your favorite fake chick'n.
~ Bottled lemon juice will work, but fresh will taste better!
~ If you don't have purple cauli this won't work out but it will still be a tasty cauliflower recipe. 
~ For best results, trim the white parts of the cauliflower away as much as possible so that you are left with mostly purple floret.
~ Don't use too dark a veg broth. The lighter you go, the less muted your sauce will be.
~ If you don't have a high speed blender, do not despair. Just soak the cashews for at least 2 hours (preferably overnight) and proceed with your regular old blender. You can also boil them for 20 minutes if you are super short on time and didn't plan ahead.
Ingredients


2 tablespoons refined coconut oil
1 cup sliced shallot
6 cloves garlic, minced
3 cups vegetable broth
1 head purple cauliflower in small florets (about 6 cups)
3/4 cups whole unroasted cashews
2 tablespoons fresh lemon juice (plus extra for squeezing)
1/4 cup nutritional yeast
10 frozen blueberries
3/4 teaspoons salt

1 pound fettuccine, cooked according to package directions in salted water
Directions
1 – Boil salted water for pasta and get that whole thing going. By the time you're done making the sauce sauce the pasta should be drained and ready. 
2 – Preheat a large pan over medium heat. Sauté shallot in coconut oil with a pinch of salt for 5 to 7 minutes. Add the garlic to the pan and spoon a little dab of oil on it. Mix in with the shallots and cook another 2 minutes. 
3 – Add the broth, cover pan and bring to a boil. Place the cauliflower in the pan in as much of a single layer as possible. Cover and steam about 4 minutes. Mix cauliflower in the liquid, cover and steam another 4 minutes. It should be fork tender. Remove a few florets to place on the individual pasta plates later, if you like.
4 – In the meantime, place the cashews, lemon juice, nutritional yeast, blueberries and salt in a high speed blender (see note if you don't have a highspeed blender). When the cauliflower is done, transfer it to the blender. Let sit for 10 minutes or so just to stop steaming. At that point, blend until smooth, scraping down the sides
5 – When pasta is ready, drain and pour the sauce over it. Reserve a little bit for dolloping over the plates of pasta. Taste pasta for salt. The saltiness with vary depending on your salted water and the saltiness of the broth.
6 – Place pasta in bowls, spoon additional sauce over noodles. Now take a seeded lemon and squirt it all over the pasta. Voila! Tie dye alfedo.