Makes 6 six-inch pancakes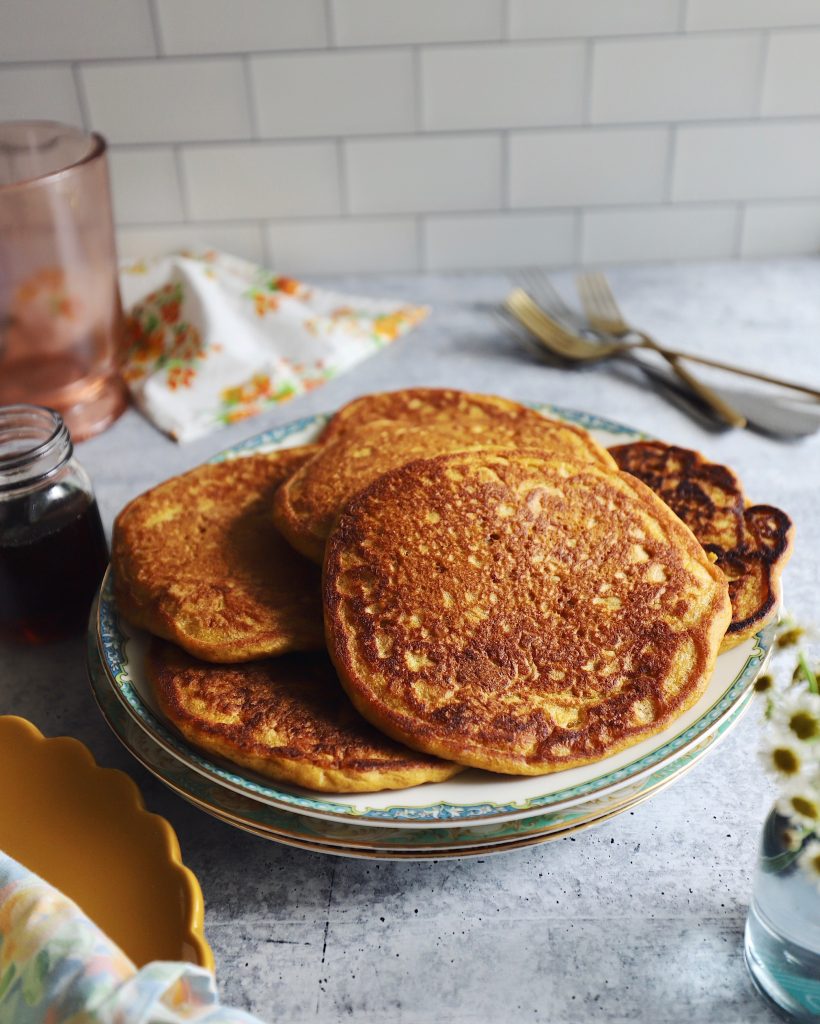 Autumn is so bittersweet in the midwest. The bitter part: knowing In a few weeks you'll be underdressed in your denim jacket no matter how many flannels you've got on. How all the therapeutic lamps in the world can't replace the feeling of a walk on the beach. And this winter there will be no escape as the pandemic rages on. But the sweet part, at least in the midwest right now: the earthy autumn breeze that somehow feels like it's the beginning of something, the way it forces you into the moment, and really, the moment is all we've got. Well, except for I've ALSO got a 6-pack of canned pumpkin puree and a bulk amount of Penzey's Pumpkin Spice. So I am going to make this pumpkin moment count. Today, with pancakes.
Recipes Notes
~ If you have an allergy ok, use a different milk (obviously) but I have to admit that soy milk works best for me in pancakes!
~ This recipe uses 1/2 of a can of pumpkin puree. I did this so that it's easy to double by simply just using the full can! I will also post some recipes for using the other 1/2 of the can, so stay tuned.
~ I have so many "alternative" flours that I got at the start of the pandemic and now need to use. If you don't have spelt flour, AP flour will be just fine. Probably even better, honestly.
Ingredients


1 3/4 cup unsweetened soy milk, divided
2 tablespoons ground flax seed
1 tablespoon apple cider vinegar
3/4 cup canned pumpkin puree
3 tablespoons extra virgin olive oil
3 tablespoons pure maple syrup
1 1/2 cups spelt flour
1 tablespoon pumpkin pie spice
1 tablespoon baking powder
1/4 teaspoon baking soda
1/2 teaspoon salt
Directions
1 – In a large mixing bowl, use a whisk to vigorously mix 1/2 cup of milk with the flax seeds and apple cider vinegar for about a minute. It should be thick and viscous. Add the remaining milk, pumpkin puree, olive oil and maple syrup and whisk until smooth.
2 – Sift in the flour, pumpkin pie spice, baking powder, baking soda and salt. Whisk until relatively smooth, some lumps are okay, be careful not to overmix.
3 – Let the batter rest for about 5 minutes. Preheat a large non-stick skillet over medium heat. Lightly spray the pan with cooking oil. Scoop scant 1/2 cups of batter into the pan, and then, you know, make pancakes.