Makes about 2 cups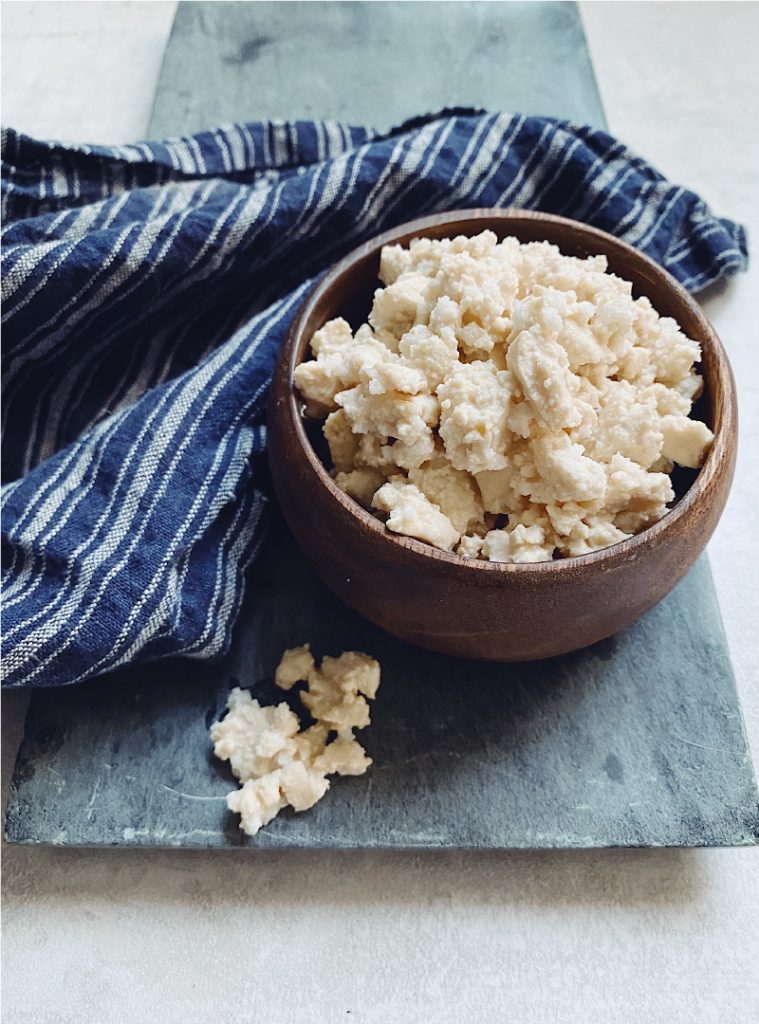 This tofu-based cotija is very easy for the beginner vegan cheesemaker. Tangy and crumbly and even a little melty from coconut oil, cotija is the perfect cheese for topping spicy, saucy things like refried beans, fajitas or tucked into tacos. It adds a beautiful splash of brightness to create contrast, and of course, delicious, cheezy flavor. This recipe is from The Modern Love Community Cookzine, which you can download for free! There is also an amazing Chilaquiles recipe in there to crumble this all over.
Ingredients

14 oz block extra firm tofu, cubed medium
1/3 cup melted refined coconut oil
1/4 cup unsweetened plain rice milk
1 1/2 tablespoons apple cider vinegar
1 tablespoon nutritional yeast
1 1/4 teaspoon fine sea salt
1/4 teaspoon garlic powder
1/4 teaspoon onion powder
Directions
In a medium pot, submerge tofu cubes in water. Bring to a boil for five minutes. Drain and allow them to cool completely.
Once cool, use cheesecloth to squeeze water out and get it as dry as possible. 
Place tofu and the remaining ingredients in a food processor fit with a metal blade and pulse until it resembles cottage cheese.
Lightly grease a 3 cup bowl or pyrex to use as a mold. Transfer cheese to the bowl and press down firmly to make sure there aren't any air pockets. Cover and refrigerate for a minimum of 2 hours. When ready to use, it should crumble nicely in your fingers.