Serves 6 to 8-ish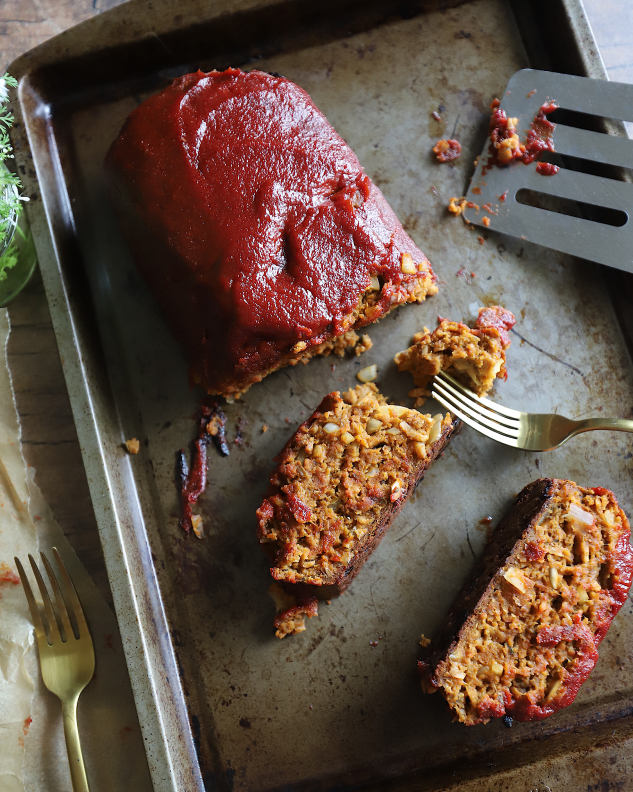 This is for our elite members ONLY. Member that can handle lentils, TVP (textured vegetable protein) and seitan. And if it makes you think of Members Only jackets, that means you are over 40. So let's talk the 80s. It was a time where the only thing we were allowed to eat was meatloaf. And it was specifically this kind of meatloaf: hearty and meaty, not dry but not tooooo juicy, a smoky, sweet glaze (ok sometimes it was just ketchup), and delicately seasoned, straight off the 80s spice rack – paprika, thyme, onion and garlic. We literally had no other spices. And although this very meal was the punchline in lots of Sunday comics, who doesn't crave the hell out of this meatloaf? It's amazing in a sandwich the next day. It's the perfect accompaniment for peas and mashed potatoes. And it's still as comforting as ever, which is just what we need right here and now in 2020.
Recipes Notes
~ The lentils should be overcooked and bordering on mushy! Canned lentils that are drained will work just perfectly.
~ This recipe is easy, but does require some attention so that it cooks correctly. There's about an hour and 20 minutes of baking time total. So just read the directions carefully when it comes to flipping. Basically, you're gonna bake for a bit, flip it once, then flip it again. Then, you're gonna unwrap it and bake for a bit. THEN you're gonna transfer it to parchment, glaze it and bake it again. It's easy but your eyes might GLAZE over while reading the directions.
~ I really suggest storebought breadcrumbs here because moisture content is going to be key. You can try homemade but don't say I didn't warn you.
~ I used Bob's textured vegetable protein and wheat gluten. If you have a wheat and/or soy allergy, this isn't the recipe for you! I love making wheat and soy-free recipes but this just isn't one of them. If, however, you are part of a cult that believes that soy is part of the deep state, please find yourself another chef to harass.
Ingredients
3/4 cup textured vegetable protein
2 bay leaves
1 cup overcooked brown or green lentils (see note)
1/2 cup vegetable broth
2 tablespoons tomato paste
3 tablespoons tamari or soy sauce
2 tablespoons olive oil
1 tablespoon smoked paprika (not spicy)
1 1/2 teaspoons dried thyme
1 teaspoon onion powder
1 teaspoon garlic powder
1/2 teaspoon black pepper
1/4 teaspoon salt
1 cup vital wheat gluten
3/4 cup grated or very finely chopped yellow onion
1/2 cup storebought breadcrumbs
For the glaze:
1/3 cup tomato paste
3 tablespoons water
1/4 cup brown sugar
1 tablespoon smooth dijon mustard
1/8 teaspoon nutmeg
Pinch salt
Directions
In a small pot, bring 3 cups of water to boil with 2 bay leaves. Turn off the heat, mix in the TVP and let it sit for about 10 minutes until soft and spongy. Pour into a fine mesh strainer and let cool. Remove bay leaves.
Preheat oven to 350 F.
In a mixing bowl mash the lentils into a puree then add the vegetable broth. You can also, if you prefer, simply puree lentils with vegetable broth in a blender then add to the bowl. Mix in the tomato paste, tamari, and olive oil and beat until the tomato paste is incorporated. Add the smoked paprika, rub the dried thyme between your fingers and add along with the onion powder, garlic powder, pepper and salt.
When the TVP is cool enough, press it against the strainer to release as much moisture as possible. Add it to the mixing bowl and mix well, mushing it up to make sure it soaks up the liquid.
Lightly mix in the chopped onion and breadcrumbs. Add vital wheat gluten and use your hands to knead for about 2 minutes, then form into a ball. You might want to wear kitchen gloves for that to keep your hands fresh and clean.
Spray an 18-inch sheet of tin foil with cooking oil. Place the ball of meatloaf in the center of the tinfoil, and form it into an 8×3 inch loaf that is rectangular and as flat as you can make it on all sides. Wrap the tin foil around the loaf and transfer to a baking sheet.
Ok, now comes an important part about flipping so pay attention. Bake for 30 minutes then flip upside down and bake for another 20 minutes. Then flip again to the original position. This time, unwrap the tin foil. Bake for 10 more minutes just to get it a little crusty.
While all this baking is happening, make the glaze. Simply vigorously mix all ingredients for the glaze together in a mug, using a fork to do the mixing. Set aside.
After the loaf bakes with the tin foil open, you are going to transfer it to parchment. So place the baking sheet somewhere safe where it won't burn you or anything (on the stovetop works for me) and layout a kitchen towel as close as possible.
Use oven mitts or towels to lift the loaf in the tin foil onto the towel. Now line the baking sheet with parchment and spray it with cooking oil. Use a wide spatula to get the loaf back onto the parchment lined sheet. Pour the glaze all over and use the back of a spoon to make sure you get it good and coated.
Place back in the oven and bake for 20 minutes. Remove and let cool slightly before slicing serving!