Serves 4 to 6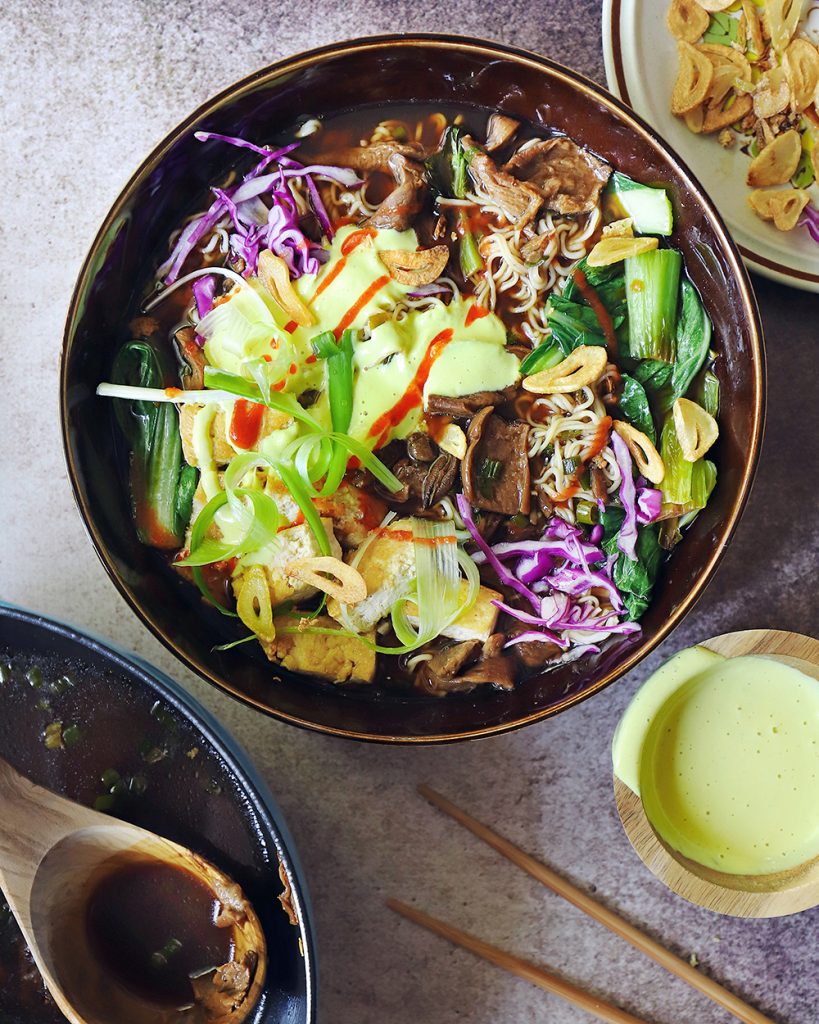 I love a creamy ramen. And yeah, I get little a jealous when I see a runny egg in a bowful of noodles, getting everything all luscious. Like, what an easy way to add creaminess and flavor. But vegans do it better. This cashew sauce is eggy and creamy, so easy and impossible to mess up. It really does hit the spot. It's poured over a ramen made incredibly beefy with porcini mushrooms and a homemade broth. This recipe is semi-epic, but you can certainly use the runny cashew egg idea on a simpler ramen of your choosing.
So here's what's going on: You'll be making a rich, spicy broth from dried porcini mushrooms, miso and peppers. When the broth is strained, you grab all those rehydrated porcinis and cut them into meaty pieces. You'll be freezing tofu, toasting garlic, sauteeing veggies and blanching scallions. Like what, are you auditioning for Top Chef or something? Yes. That is exactly what you are doing.
Ok better stop reading and start cooking.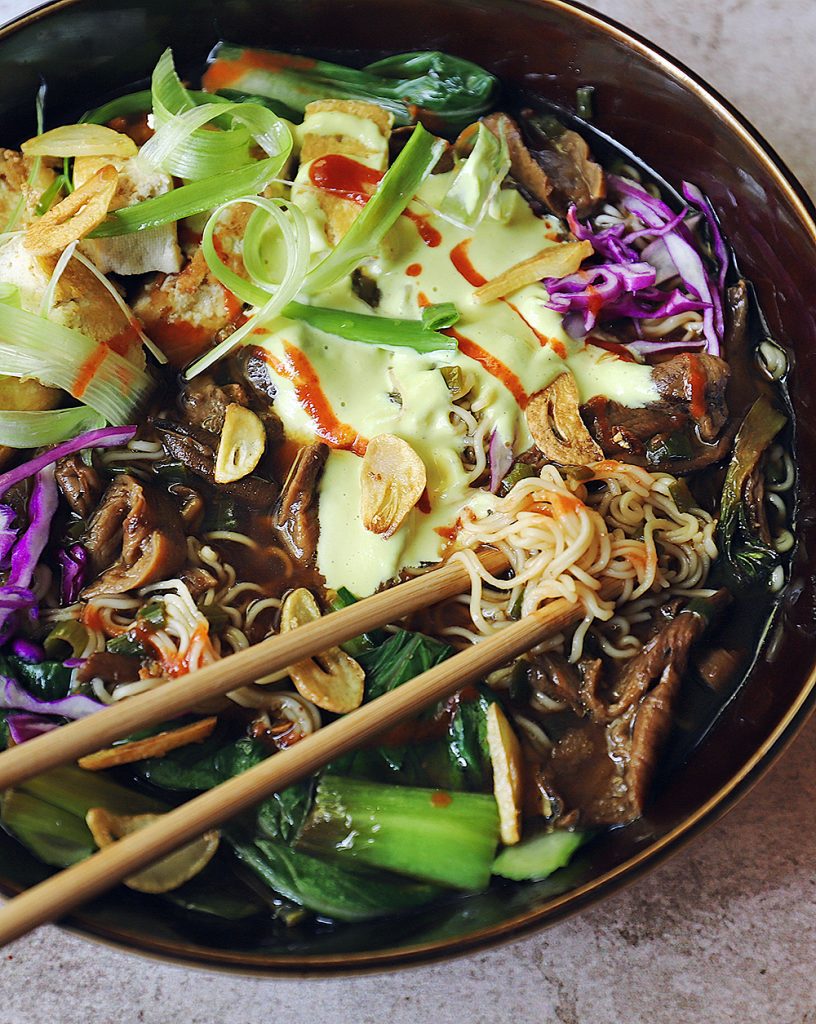 Recipes Notes
~Make the broth a night or two in advance so that it has plenty of time to cool. That way when you get to the actual ramen making, it's really only 3 minutes. Or like 45. But still. Just make the broth on a night where you're making a different dinner and have it cook away, hands free. The kombu gives the broth a sealike umami quality that makes it more of a traditional Japanese dashi, but the broth is yummy with or without it (But yeah, better with it).
~About that tofu: extra firm tofu is frozen then thawed, then pressed. This changes the texture and makes it even chewier, and once thawed it is so easy to press all the water out. It is a whole experience! If you don't do that part, not a big deal, but I do recommend it. Otherwise, just press the tofu and proceed with the recipe. Frozen tofu takes a day to freeze and could take two whole days to thaw. So plan for it! Just let it thaw in the fridge. If it doesn't thaw completely, you won't get the correct, chewy effect so don't try to use tofu that is at all still icy.
~For the peppers, I used serrano because it's what I had. Thai chilis would be great, too. Jalapenos in a pinch. Habanero if you want a lot of heat. But no need to cut them, just poke about 5 little slits in them with a steak knife. This releases some heat, but not too much, and it makes it so you don't have to worry about handling spicy peppers too much. You can also just use some dried peppers or even sriracha.
~To make curly scallions, thinly slice the dark green parts of the scallion, that will go in the recipe to be sauteed. For the remaining light green and white parts, fill a bowl with ice water. Thinly slice the scallion lengthwise and submerge in ice. They will curl up and get cute!
Ingredients
For the Porcini Broth
3 quarts water
6 cloves garlic, smashed
1 piece kombu (optional)
1 inch ginger cut into 3 or 4 pieces (don't peel)
1 oz dried porcini
2 serrano peppers, poked (see notes)
3 tablespoons red miso
For the Runny Cashew Egg
1 cup unroasted cashews, soaked overnight or boiled for 20 minutes (skip this step if you have a highspeed blender)
3/4 cup water
1 teaspoon kala namak
1/8 teaspoon turmeric
For the Ramen
16 oz ramen noodles
3 to 4 tablespoons canola oil, divided
1/4 cup thinly sliced garlic
14 oz extra firm tofu (see recipe note) pressed and cut into small cubes
Dark green scallion, thinly sliced (see recipe note)
6 baby bok choy, white parts sliced off
2 tablespoons mirin
2 tablespoons tamari
For garnish:
Light green and white parts of scallion, curled (see recipe note)
Spicy sesame oil
Thinly sliced purple cabbage
Sriracha
Directions
Make the broth:
Add all ingredients, except for miso, to a large pot and bring to a boil. Lower heat to simmer for about 30 minutes uncovered, until it's reduced to about 3/4. Remove from heat. Stir in miso. Let broth cool until it's easy to handle without burning yourself.
Once cool, strain broth in cheesecloth into a large mixing bowl, squeezing as tight as you can to get as much broth as possible. Open up the cheesecloth and pick out the mushrooms to use. Compost everything else. If you don't have cheesecloth, no prob. Use a mesh strainer and just push the broth out with your regular old hands.
Make the Runny Cashew Egg:
Simply blend everything until completely smooth, scraping down the sides with a rubber spatula to make sure you get everything. This takes about a minute and a half in a highspeed blender but could take 5 minutes in a normal blender.
Now prepare the ramen:
Prepare the noodles in a separate pot according to package directions. Be careful not to overcook.
Preheat a wok or very wide pot over low heat and use 2 tablespoons of oil to toast the garlic until nice and golden. Be very careful not to burn, it should only take 2 minutes or so. Have a plate ready, and use a thin, slotted spatula to transfer the toasted garlic to a plate, leaving as much oil in the pan as you can.
Now turn the heat up, drizzle in a tablespoon or so of oil and saute the tofu cubes until golden brown, about 5 minutes.
Cut reserved porcinis into bite sized pieces. Add to wok and aute an additional 5 to 7 minutes, drizzling in extra oil if needed. Add in green scallions and the white part of the bok choy. Saute 2 minutes. Add mirin and stir for another minute.
Measure broth and make sure it comes to 8 cups. Add to the wok and heat through. If you need to add a little water that's fine. Bring to a boil. Add the green part of the bok choy to wilt. Add 2 to 3 tablespoons of tamari and taste for salt.
Build bowls:
Portion noodles into big bowls. Add all the content of the ramen in broth. Spoon about 1/4 cup eggy sauce in one motion (in other words, don't drizzle it, just pour slowly over one section). Garnish with toasted garlic, sliced cabbage, spicy sesame oil, sriracha and the remaining scallions.