Makes 3 Dozen Cookies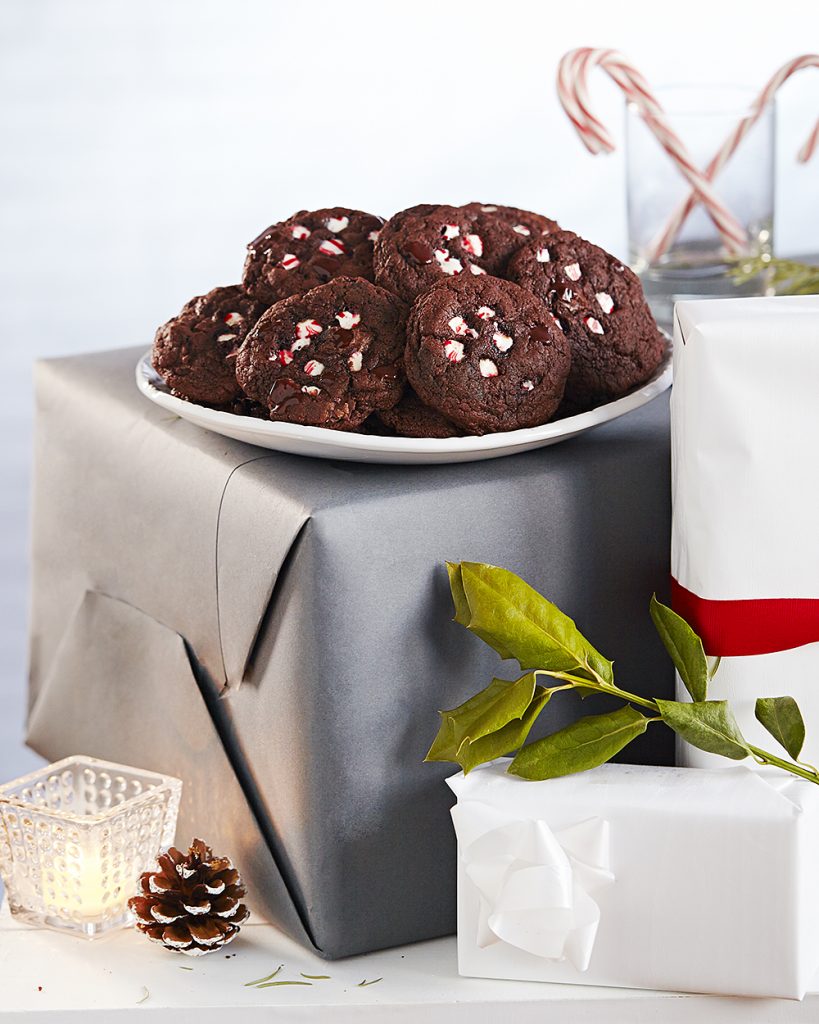 These cookies scream "CHRISTMAS" so loud that you might have to tell them to shut up! Chocolate and melty minty chocolate with crushed candy canes. They are going to be the best thing that happens to anyone this holiday season, even if they get that Cabbage Patch Kid they've been so desperately wanting. You don't have to find peppermint chocolate for these, chocolate chips or regular dark chocolate bars will work, too.  To crush candy canes, place them in a plastic zip lock and pound on them with something heavy (like a rolling pin).
Ingredients
1/2 cup refined coconut oil, room temp
1 1/4 cup sugar
1/2 cup unsweetened applesauce, room temp
1/4 cup plain unsweetened plant milk, room temp
2 teaspoons pure vanilla extract
2 cups all-purpose flour
2/3 cup unsweetened cocoa powder, sifted if clumpy
1 teaspoon baking soda
1/2 teaspoon salt
2 3 oz peppermint chocolate bars, chopped up (6 oz total)
4 crushed up candy canes
Directions
Preheat the oven to 350 degrees
In a large bowl, cream together the oil and sugar until light and fluffy. Add the applesauce and milk and mix gently, it might make the oil clump and firm up a bit but that's ok. Mix in the vanilla.
Add one cup of the flour, all of the cocoa powder, the baking soda and salt and mix well. Mix in the chocolate peppermint chunks and then add the final cup of flour and mix until it firms up. You might need to use gloved hands to get it fully incorporated.
Lightly grease baking sheets. Place a dozen on a baking sheet in 1 1/2 tablespoon scoops. Flatten slightly. Place a pinch of crushed candy cane in the center of each and press gently into the surface.
Bake for 10 minutes. Remove from oven and let cool for 5 minutes, then transfer to wire rack to cool completely.