Makes 16 Biscotti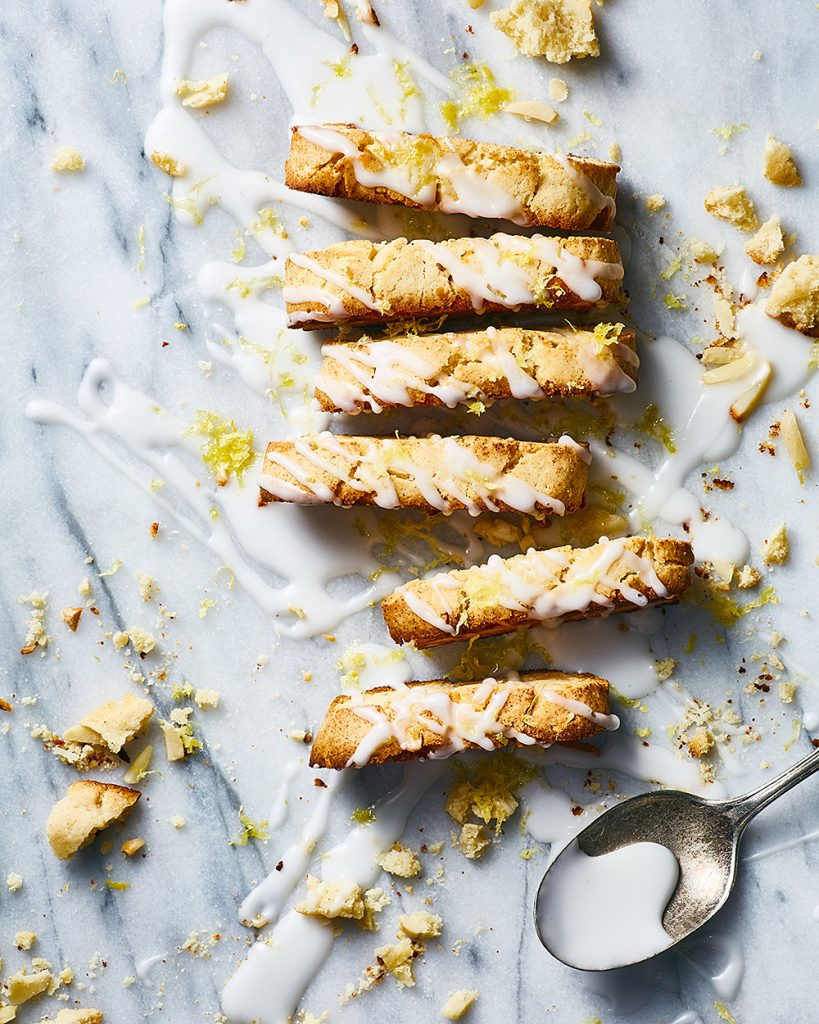 Classic flavors with the the lemon on blast! I used to eat biscotti like these at an espresso spot in Little Italy. Just me and my journal, a coffee and a million honking taxis on a relaxing NYC afternoon. I am sure they loved that someone who spent like 3 bucks was taking up a table, writing her memoir for like 2 hours. This is a fun one where you get to drizzle icing all over everything, so have your inner child or your actual child at the ready. Biscotti seems a little fancy somehow, but I actually make it when I'm lazy because it's like two gigantic cookies instead of scooping out individual ones and the slicing is satisfying in easy.
Ingredients
1/4 cup unsweetened vegan milk
1/4 cup fresh lemon juice
2 tablespoons ground flax seeds
3/4 cup granulated sugar
1/2 cup melted refined coconut oil
2 tablespoons fresh grated lemon zest
1  teaspoon vanilla extract
1/4 teaspoon almond extract
1 2/3 cup all purpose flour
2 tablespoons cornstarch
2 teaspoons baking powder
1/2 teaspoon salt
1 cup sliced almonds
For the lemon glaze:
2 cups confectioners' sugar, sifted if clumpy
1/2 teaspoon pure vanilla extract
2 tablespoons fresh lemon juice
1 tablespoon melted refined coconut oil

Directions
1 – Preheat oven to 350 F. Lightly grease a large baking sheet.
2 – In a large mixing bowl, whisk together milk, lemon juice and flaxseeds. Beat in the sugar, melted coconut oil, lemon zest and extracts. Mix for about two minutes until relatively smooth.
3 – Sift in half of the flour, along with the cornstarch, baking powder, and salt. Stir just until incorporated, a few dry spots are ok.
4- Mix in the almonds, then add the remaining flour and use your hands to form a stiff dough.
5 – Divide dough into two 5-inch by 3-inch logs. Transfer logs to baking sheet.
6 – Bake for 25 minutes until puffed up. Remove from oven and cool for 30 to 40 minutes, until firm and just warm to the touch.
7 – Preheat oven to 350 F again. Transfer the loafs to a cutting board. Use a bread knife to slice into 1-inch slices. Do this in one swift motion, do not saw that the cookies, just press down.
8 – Place each cookie cut side down on cookie sheet. Bake for 20 more minutes, flipping the cookies halfway through.
9 – Remove from oven and place on a cooling rack to cook completely. 
10 – Make the glaze by mixing everything together until there are no lumps.
11 – Place cooling rack of cookies over the sink. Use a spoon to drizzle the lemon glaze over cooled cookies while they are still on the cooling rack, and let the excess fall into the sink for easy cleaning. Let set in a cool room or in the fridge for 30 minutes or so.