Makes 12 cookies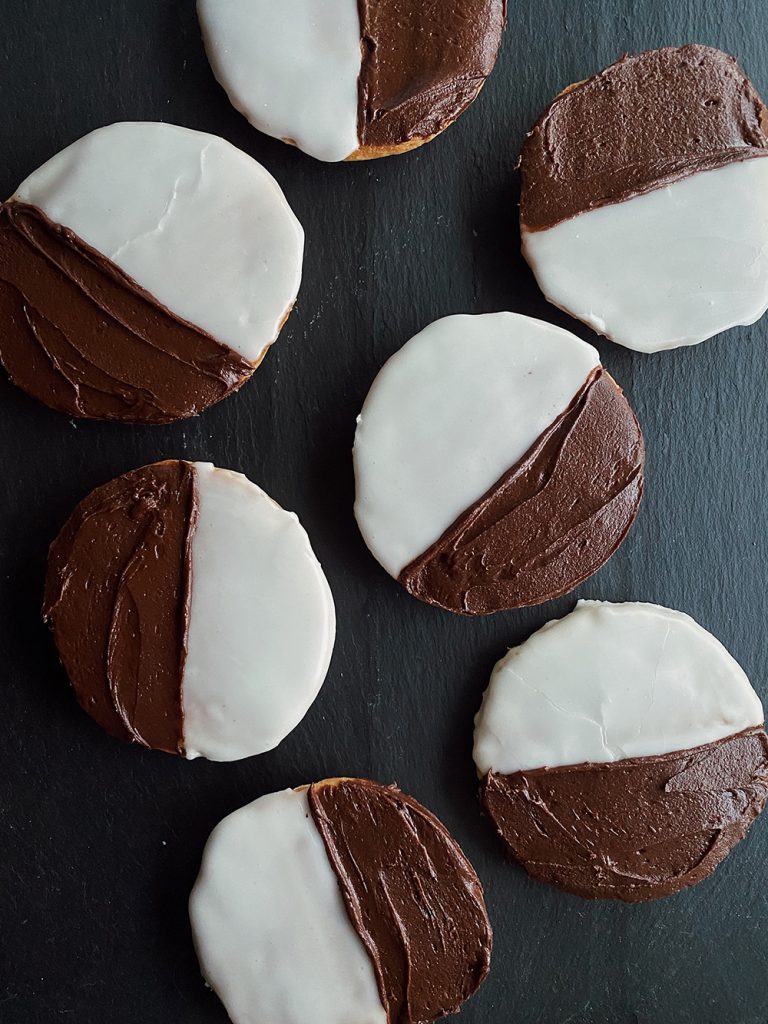 New Yorkers used to have to New Yorksplain these cookies to people, but I think everyone knows them by now. The classic NYC cakey cookie, half chocolate, half vanilla. Nothing special but somehow the most special cookie in the world! These are modified from Vegan Cookies Take Over Your Cookie Jar and currently featured in The Modern Love Brooklyn Community Cookzine. And actually, somewhere in the editing process the directions got messed up and so there's some confusing stuff about cocoa powder in the cookzine directions. Sadface. So this is where I will send people when they yell at me and I'm so sorry about the mistake! In any case, with the proper directions (ahem) these aren't difficult, but probably more of a weekend project, so have a great weekend everyone and I hope you get to make these.
Ingredients
For the cookies:
1 cup unsweetened vegan milk
2 teaspoons fresh lemon juice
1/2 cup melted refined coconut oil
1 1/4 cup granulated sugar
1 1/2 teaspoons vanilla extract
1 teaspoon grated lemon zest
2 1/2 cups all purpose flour
1/4 cup cornstarch
1 1/4 teaspoon baking powder
1/2 teaspoon baking soda
3/4 teaspoon salt
For the icings:
3 1/2 cups confectioner's sugar, sifted if clumpy
1/4 cup hot water
1/4 teaspoon vanilla extract
Pinch of salt
1 tablespoon melted refined coconut oil
2/3 cup semi-sweet chocolate chips
Directions
Preheat oven to 350°F. Line baking sheets with parchment paper and lightly spray with cooking oil.
In a medium bowl combine milk and lemon juice, let curdle for about a minute. Whisk in oil, sugar, vanilla, extracts and zest. In a large bowl sift together flour, cornstarch, baking powder, baking soda and salt. Form a well in the center pour in wet mixture. Use a whisk to mix until smooth.
Scoop batter onto baking sheets using a 1/4 cup measuring scoop about 3 inches apart. Bake until tops are puffed and pale golden, and cookies spring back when touched, 18 to 20 minutes. Remove from oven and let sit for about 5 minutes then carefully transfer to cooling rack to cool completely.
Meanwhile, make the icings:
Sift the powdered sugar into a large mixing bowl. Add hot water, salt, vanilla and oil and stir with a whisk until smooth. Transfer about 1/3 of the of icing to another bowl to use for the chocolate side in a bit.
Turn cookies flat sides up, dust off any crumbs and spread white icing over half the cookies using the back of a spoon or a frosting spatula. Let icing dry while making chocolate side.
In a double boiler or microwave, melt chocolate chips until smooth. Add melted chocolate to leftover white icing and whisk until smooth. Use tablespoons of hot water if it seems
too thick. Spread icing onto other half of the cookie and let set for about 30 minutes. Serve!