Makes around 16 cookies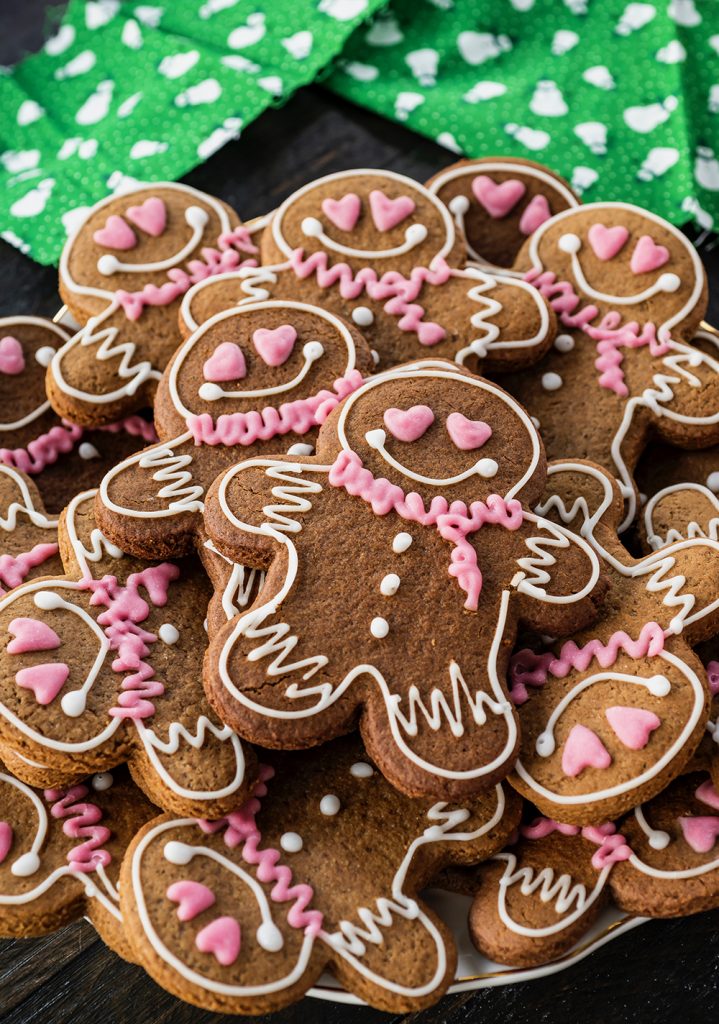 Whether you're going all out with your decorating or you're a part of the gingerbread minimalist movement, this recipe is a surefire winner that will have you singing Christmas carols to your cat. Or at least that one Pogues song.
This recipe has been on the site since the dawn of time, so let me take this moment to suggest that you color your icing with natural stuff simply because it's fun and pretty. There are certainly vegan food colorings out there, too. But it's nice to have these ingredients on hand for other baking projects when you want to slay Instagram.
Pink: beet powder, freeze dried strawberries grated with a microplane
Hot pink/fucscia: dragonfruit powder
Orange: freeze dried mango (it's more peach, not very saturated)
Green: matcha powder
Purple: freeze dried blackberries or blueberries grated with a microplane
Blue: spirulina, butterfly pea flower powder (turns purple with acidic ingredients)
Ingredients
For the cookies:
1/3 cup canola oil
3/4 cup granulated sugar
1/4 cup light molasses
1/4 cup plain unsweetened vegan milk
2 cups all purpose flour
1/2 teaspoon baking soda
1/2 teaspoon baking powder
1/2 teaspoon salt
1/2 teaspoon ground nutmeg
1/2 teaspoon ground cinnamon
1/4 teaspoon ground cloves
1 1/2 teaspoons ground ginger
For the icings:
2 cups confectioner's sugar, sifted if clumpy
2 teaspoons fresh lemon juice
1/4 teaspoon vanilla extract
2 tablespoons warm water

Directions
In a large bowl whisk together oil and sugar for about 3 minutes. Add molasses and milk. The molasses and milk won't really blend with the oil but that's ok.
Sift in half the flour, all the baking powder, soda and salt and all the spices and mix until relatively smooth. Add the remaining flour. Mix until a stiff dough is formed. 
Form the dough into a disd, wrap in plastic wrap and chill for an hour or up to 3 days in advance. If you chill longer than an hour you may want to let it sit for 10 minutes to warm up a bit before proceeding.
Preheat oven to 350 F. Spray two parchment lined baking sheets with cooking oil.
On a lightly floured surface roll the dough out to a little less than 1/4 inch thick. Cut shapes with cookie cutters and use a thin spatula to gently place on cookie sheets. If you are using them to decorate a tree or something, remember to punch a hole in their heads (!) before baking. Bake for 8 minutes if they're small and up to 12 minutes if they're large, but be careful not to overbake. They should be lightly brown on the bottom but still soft.
Remove from oven and let them cool for 2 minutes on the baking sheet then move to a cooling rack. Wait until they are completely cool before icing.
Meanwhile, make the glaze:
Mix everything together until there are no lumps. Let it sit for 30 minutes or so to set up a bit. If it is too stiff to pipe, add water a teaspoon at a time.
Decorate with a piping bag fit with a small, round tip. Be adorable. Look at Pinterest first for ideas 🙂 Let set for at least 30 minutes.