Makes 2 dozen cookies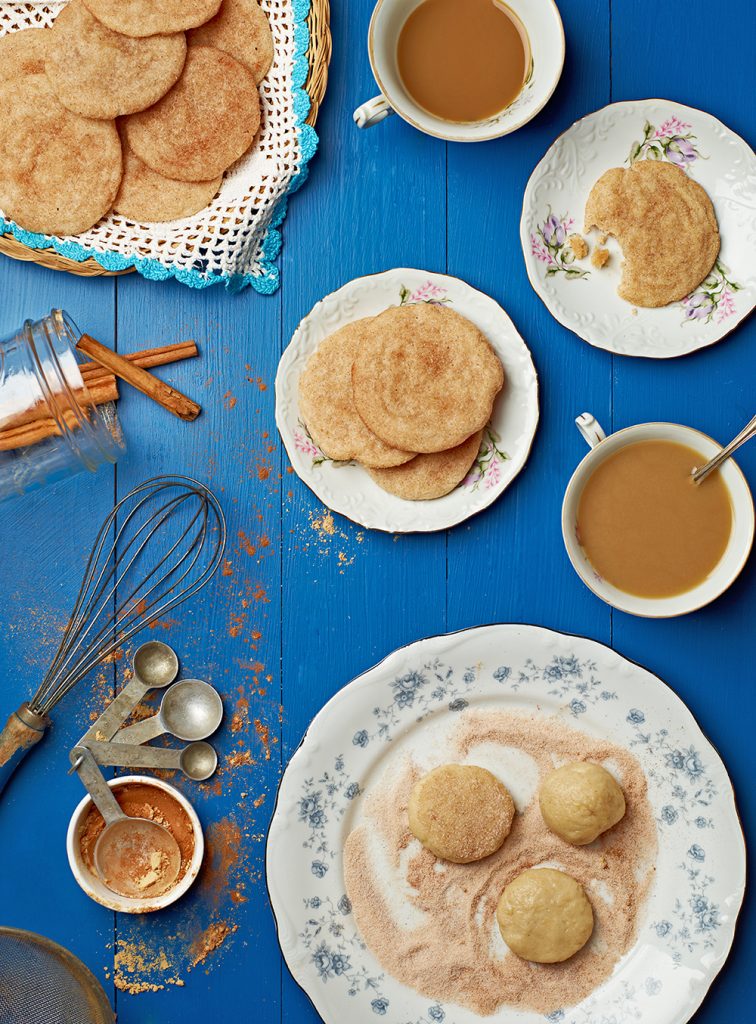 These are an enticing spin on classic cinnamon snickerdoodles, livened up with heavenly Masala chai spices: ginger, cardamom and a hint of cloves. Of course cookies are always fun to eat, but the crunchy, sugary tops on these make them even more so. They don't contain any actual tea, but brew a milky cuppa and prepare to dunk.  There are from Isa Does It. Buy that book, it's great and the author is very beautiful.
Ingredients
For the topping:
1/4 cup granulated sugar
1/4 teaspoon ground ginger
3/4 teaspoon ground cardamom
1/4 teaspoon ground cinnamon
Scant 1/8 teaspoon ground cloves

For the cookies:
1/2 cup canola oil
1 cup granulated sugar
1/4 cup pure maple syrup
3 tablespoons unsweetened plain vegan milk
2 teaspoons pure vanilla extract
2 cups all-purpose flour
1 teaspoon baking soda
1/4 teaspoon salt
1/2 teaspoon cinnamon

Directions
Preheat oven to 350 F. Line 2 large baking sheets with parchment paper.
Mix the topping ingredients together on a dinner plate. Set aside.
In a medium mixing bowl, use a fork to vigorously mix together oil, sugar, syrup, and milk. Mix for at least a minute, until it resembles applesauce. Then mix in vanilla.
Sift in remaining ingredients, stirring as you add them. Once all ingredients are added mix until you've got a pliable dough. Get in there with moist gloved hands to mix, it's the easiest way to get the dough to come together.
Roll dough into walnut sized balls. Pat into the sugar topping to flatten into roughly 2 inch discs. Transfer to baking sheet, sugar side up, at least 2 inches apart (they do spread a little). This should be easy as the the bottom of the cookies should just stick to your fingers so you can just flip them over onto the baking sheet. Bake for 10 to 12 minutes, they should be a bit browned on the bottoms. Remove from oven and let cool for 5 minutes, then transfer to a cooling rack to cool completely.