Makes 8 bars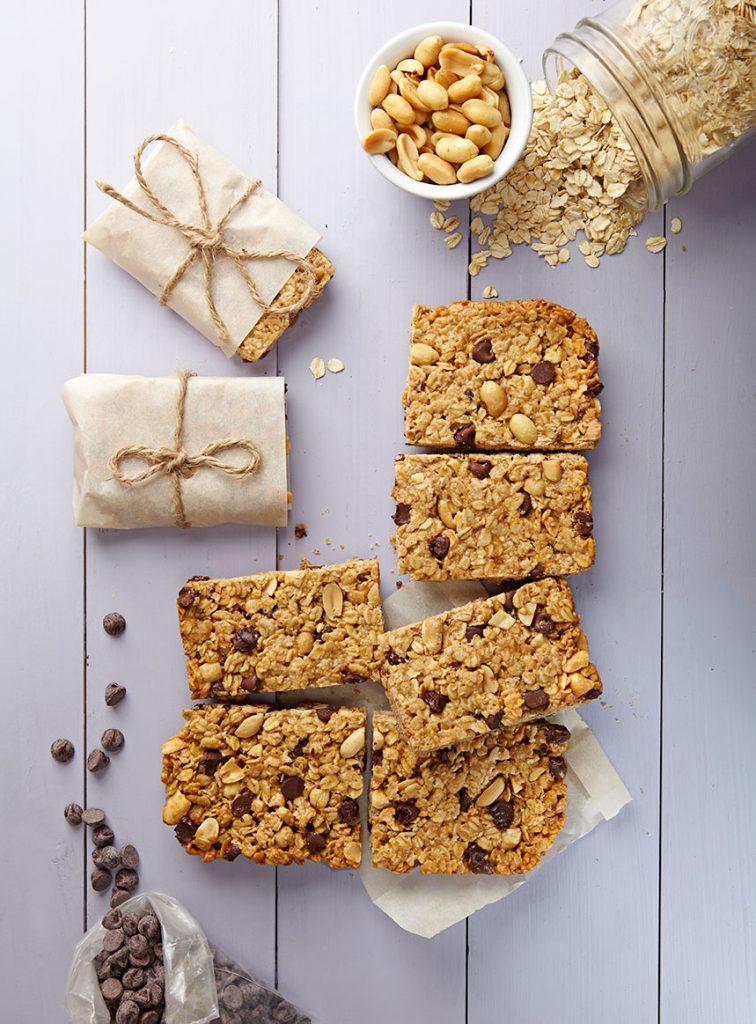 These are the chewy granola bars of your dreams! Totally appropriate for dessert or breakfast or midnight snack. Brown rice syrup gives them the chewy stickiness you're looking for and crispy rice cereal makes them light and crunchy.. If you love a salty sweet combo, you can use roasted salted peanuts here, or increase the salt by a big pinch. You can also make them a little fancier by drizzling in chocolate and then sprinkling with flaky sea salt, like Maldon. Originally published in Isa Does It.
Ingredients
1/2 cup smooth, natural peanut butter
1/3 cup pure maple syrup
1/3 cup brown rice syrup
1 tablespoon melted refined coconut oil
1 teaspoon pure vanilla extract
1/2 teaspoon salt
2 cups rolled oats
1 cup crisp rice cereal
1/2 cup roasted peanuts, chopped
1/3 cup chocolate chips

Directions
Preheat oven to 350 F. Line an 8×8 baking pan with parchment paper and spray lightly with cooking spray.
In a large mixing bowl, stir together peanut butter, maple syrup, and brown rice syrup, until smooth. A strong fork usually gets the job done, pretty well. Mix in the oil, vanilla, and salt.
Mix in the oatmeal and crisp rice cereal. Start with the fork and then wet your hands and knead together well. Be very firm, the cereal should even crunch up a bit as you're kneading, and you should have a compact, slightly crumbly mixture. Add the peanuts and chocolate chips, and once again, knead until well distributed.
Transfer the mixture to the prepared pan, and press very firmly and as evenly as you can.
Bake for 22 to 25 minutes, the sides should be golden. Remove from oven and let cool completely. Remove from pan by pulling up the sides of the parchment. Now slice into 8 squares and serve! The best way to slice is to use a chef's knife, and press down in one firm motion. Do not saw the bars. Store bars in the fridge in individually plastic wrap and they should keep for at least 5 days.