Makes one 8×4 loaf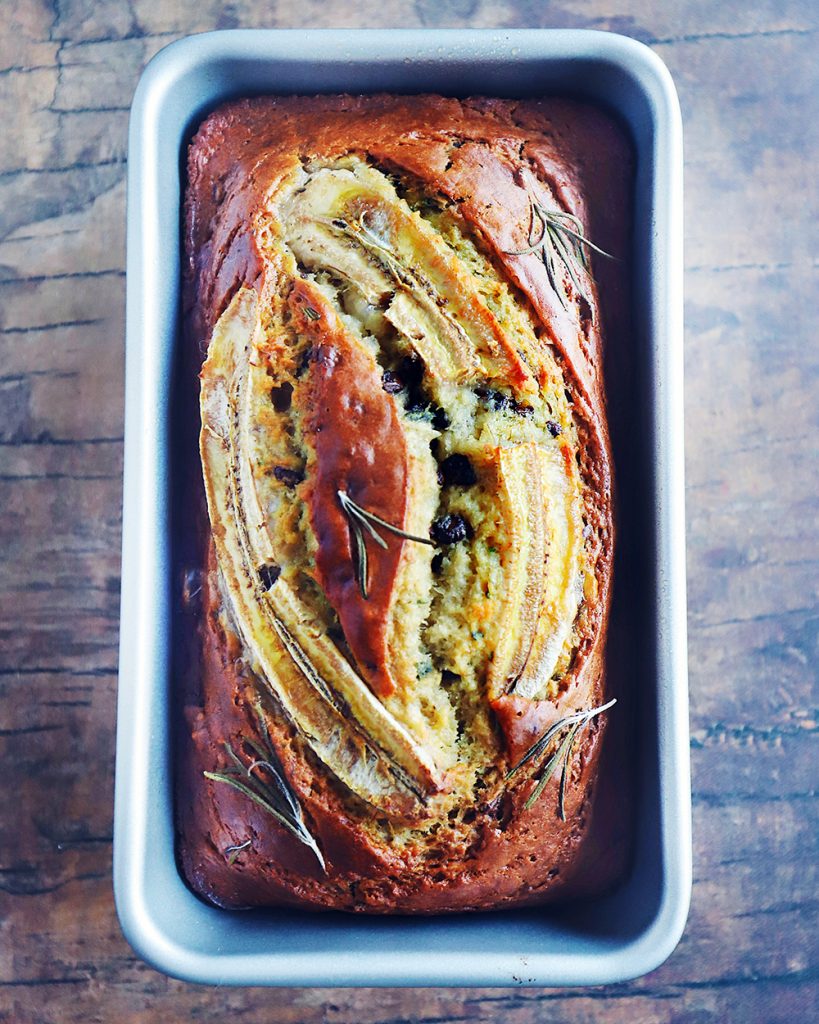 If you know me, you know that I sneak rosemary into chocolate wherever I go. And when I'm not doing that, I'm sneaking chocolate into rosemary. I think one tradition from 2020 that should be carried over into the new year is banana bread. I know everyone has their tried and true, but I rarely make the same recipe twice. It's just such a fun recipe to play with. Anyway, give this a shot. It's mysterious and special but also very familiar and comforting. Works just as well for high tea as it does for morning coffee or midnight snack. And yes, I have high tea now.
Ingredients
1 cup mashed very ripe banana (about 3 average sized)
3/4 cups sugar
1/4 cup olive oil
1 cup unsweetened vegan milk
2 teaspoons pure vanilla extract
2 tablespoons finely chopped rosemary
1 3/4 cups all-purpose flour
3/4 teaspoon baking soda
3/4 teaspoon salt
3/4 cup chocolate chips
To decorate:
Banana sliced lengthwise as best you can (see pic)
Sprigs of fresh rosemary

Directions
Preheat oven to 350 F.
Mash the banana in a large mixing bowl until relatively smooth. It should take 3 average sized ones, but spoon the mashed 'nanas into a measuring cup to make sure, then return to the mixing bowl. Beat in the sugar, olive oil, milk, vanilla and rosemary.
Sift in the half the flour, and all the baking soda and salt and gently mix. Fold in the chocolate chips. Add the remaining flour and mix to incorporate, making sure not to overmix. 
Lightly grease an 8×4 loaf pan. Pour the batter into the pan. If you'd like to decorate, place the banana cut sides up lenthwise over the batter. Scatter a few springs of rosemary over the top.
Bake for 55 minutes. It should be lightly browned and pulling away from the sides. It's kind of hard to test the inside with a butter knife because of the chocolate chips and banana might make it look underdone so hope for the best. Let cool and enjoy!