Serves 4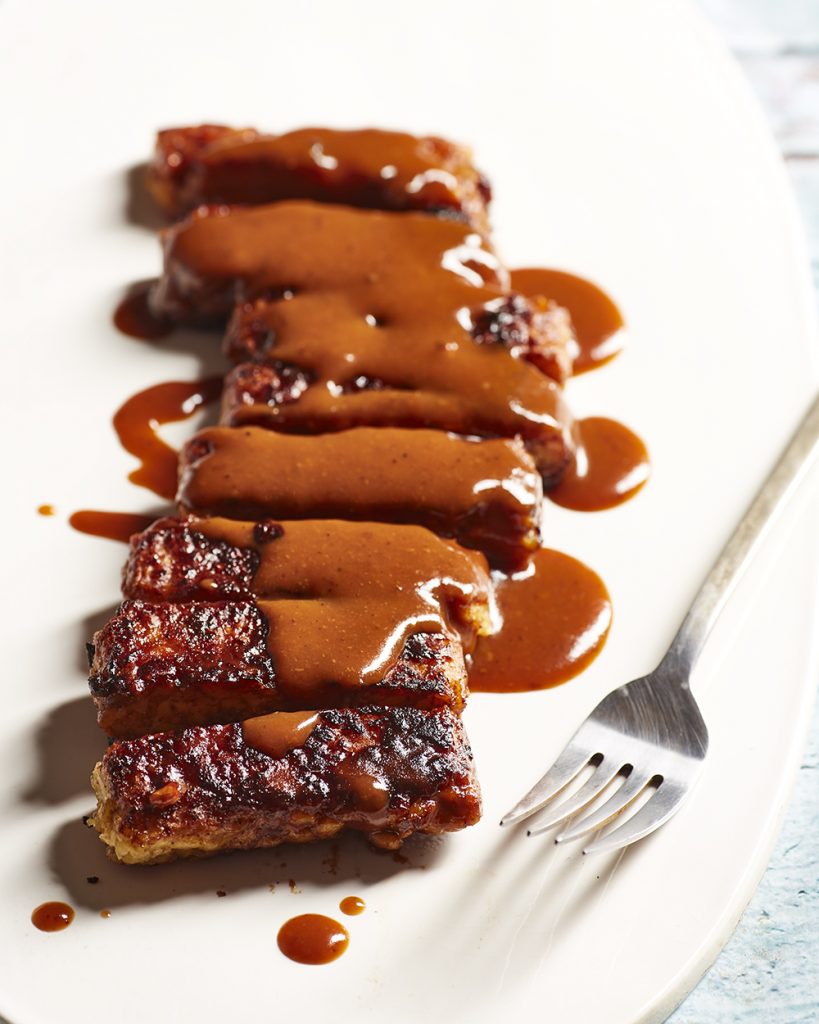 Smoky, sticky sweet finger licking ribs! But be sure to lick YOUR OWN fingers, weirdo. These are inspired by my fave vegan BBQ joint in Portland, OR, Homegrown Smoker. I'm not saying they're as good, but they get me there without the airfare. Serve with cornbread or mashed potatoes or mashed sweet potatoes or rice or coleslaw or potato salad or in a hero or all of the above. This recipe is originally from I Can Cook Vegan.
Recipe Notes
~Often times, I prefer to steam tempeh before using because it removes bitterness and makes the tempeh more succulent. But you can skip that step here for a few reasons. First, I want the tempeh to be crisp and browned. Secondly, if you sear it on high enough heat, it does cook through and remove the bitterness. You're left with nutty, meaty, toothsome bites. Use cast iron for best results!
~To make the tempeh look like one long line of ribs, turn the pieces carefully as you cook them so that they stay pretty much in the same order you cut them in. Does that make sense? OK, look at the pics for reference.
Ingredients
For the BBQ sauce:
2 tablespoons cornstarch
1 cup cold vegetable broth
1 1/4 cups ketchup
1⁄3 cup brown sugar
1⁄3 cup tamari or soy sauce
1⁄3 cup apple cider vinegar
2 teaspoons liquid smoke
1 1⁄2 tablespoons garlic powder
1 tablespoon onion powder
1/4 teaspoon cayenne
For the tempeh:
2 8-oz packages of tempeh sliced into eighths widthwise
2 tablespoons olive oil

Directions
Make the sauce:
In a small saucepot, use a fork to vigorously whisk the cornstarch into the vegetable broth until it's mostly dissolved. Add the remaining ingredients and mix well.
Place over medium heat, stirring occasionally, until it comes to a boil. Once boiling, lower the heat to a low simmer and let the sauce thicken for about 5 minutes. Remove from the heat.
Make the ribs:
Preheat a large skillet over medium heat. Drizzle in 1 tablespoon of oil and a pinch of salt. Fry tempeh on one side till browned, about 5 minutes. Drizzle the remaining oil over the tempeh and sprinkle with salt then flip. Brown that side for about 5 minutes. 
Pour about 1/2 cup of barbeque sauce into the pan and flip to coat. Let it cook and caramelize for about 3 minutes.
Remove from pan and line the ribs up on a plate. Drizzle more warmed barbeque sauce all over them to serve.