Makes 4 sandwiches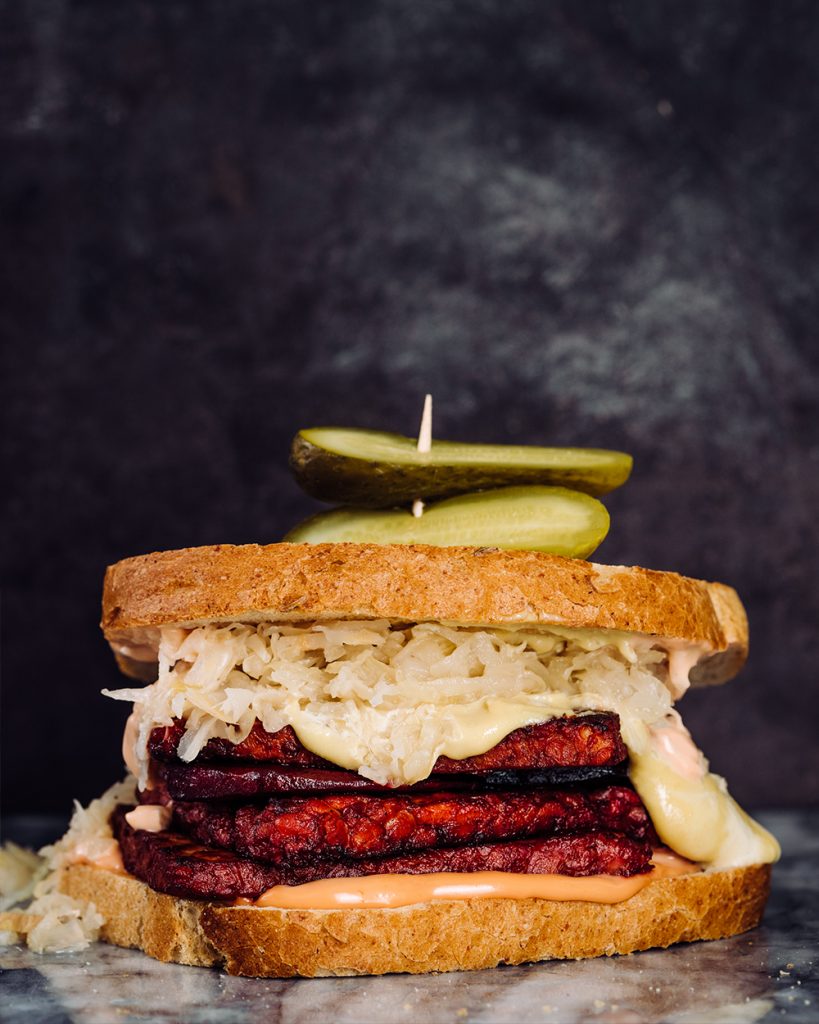 I have to issue a few warnings for this sandwich:
1) you will end up covered in orange dressing
2) some sauerkraut will fall on your cat's head
And if those things don't happen, you're eating it wrong. Tangy tempeh and thin sliced beets lend a cornbeefy Eastern European flair and a gorgeous burgundy hue. With the caraway rye, sauerkraut and russian dressing, you'll definitely be hitting all the right notes! If you'd like to take it a step further, homemade Swizz Cheese drives the point home, but in a pinch some sliced avocado works really well and that's how we did it in the 90s and we loved it. You can also just buy some vegan cheese, who am I to say.
This recipe is originally from I Can Cook Vegan.
Recipe Notes
~This is a prime example of marinating tempeh to have it suck up flavor. The acidic, salty, fatty marinade counteracts the bitterness of the tempeh and brings out its meaty notes. Searing in cast iron seals the deal.
~The Swizz Cheese is so easy! I don't know how I discovered this but truffle oil plus sauerkraut juice = a swissy flavor. If you can't procure truffle oil, it won't be as swissy but it would still be pretty good!
Ingredients
1 1/2 cups sauerkraut (reserve liquid if making Swizz Cheese)
For the Tempeh:
1 pound tempeh, cut into four equal pieces, then cut through the middle so that you have eight thin squares
1 medium beet, peeled, sliced as thin as you can get it
For the Marinade:
1/2 cup vegetable broth
2 tablespoons olive oil
1/4 cup fresh lemon juice
2 tablespoons tamari
Several sprinkles of fresh pepper
For the Swizz Cheese:
1 1/2 cups unroasted cashews (if you don't have a VitaMix blender then soak the cashews in water overnight or boil for 20 minutes and drain)
3/4 cup sauerkraut juice
2 tablespoons nutritional yeast
2 tablespoons mellow white miso
1 tablespoon black truffle oil
2 teaspoons onion powder
1 teaspoon salt
1/4 cup refined coconut oil, melted

For the Dressing:
1/3 cup vegan mayo
2 tablespoons ketchup
1 tablespoon onion powder
1/4 cup finely chopped dill pickles
To cook and serve:
2 tablespoons olive oil
8 slices large caraway rye bread
Dill pickle slices for garnish (garnish with pickles on toothpicks)
Directions
Marinade the tempeh: Combine all the ingredients for the marinade in a large mixing bowl. Add the tempeh and beets and marinate for at least an hour, turning occasionally.
If you're making the cheese: place all cheese ingredients in a high speed blender then blend away until completely smooth. Scrape down the sides with a rubber spatula to make sure you get everything. Chill until ready to use. 
Make the dressing: Mix all the dressing ingredients in a mug. Set aside. 
Now we are ready to rock!
Preheat a cast iron pan over medium heat. Add oil to pan. Use a slotted spoon to transfer tempeh and beets out of marinade and into the pan, shaking off excess marinade. Place in a relatively single layer.
Cook for about 10 minutes, using a thin metal spatula to turn often. When beets are softened and tempeh is browned, it's ready!
Toast bread and spread dressing on all slices. Top with tempeh and beets. If using, pour on a few tablespoons of Swizz Cheese. Add sauerkraut. Close sandwich. Spike with dill pickled toothpicks and serve.