Makes 4 pounds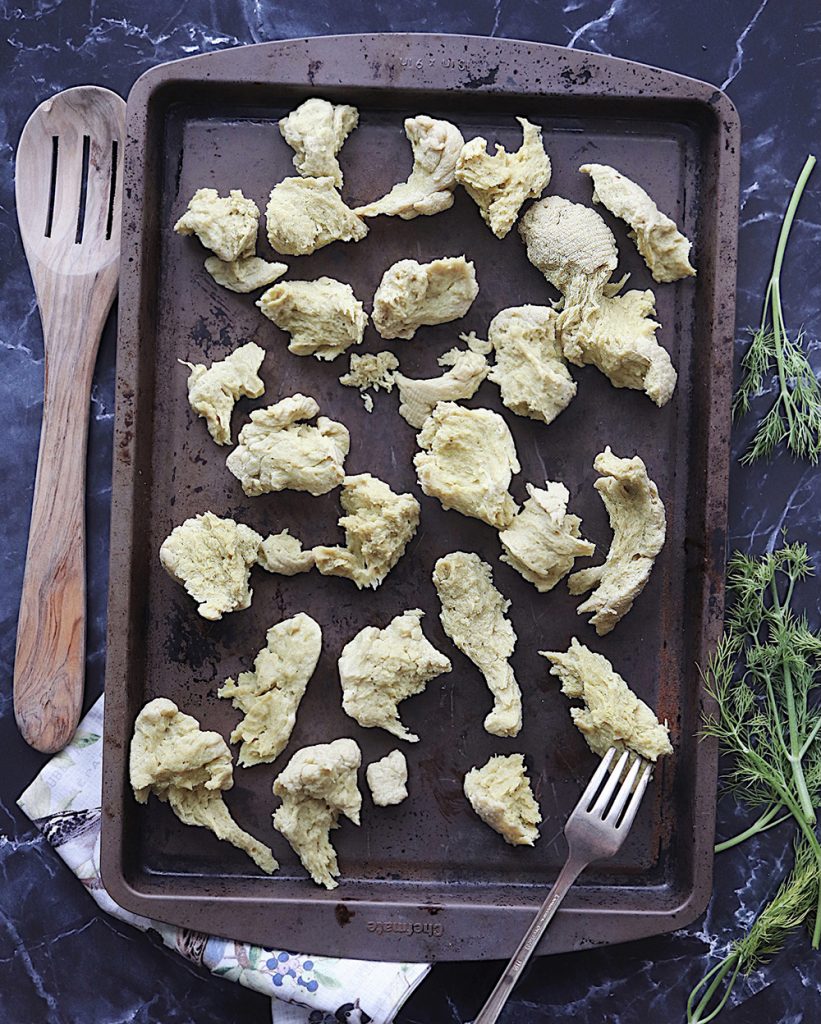 This is the layery, flaky textured vegan chicken of your dinnertime dreams! I wanted something comparable to store-bought vegan chick'n, but like, better? It's just the thing to simmer away on a Sunday then store and use throughout the week. The recipe is not difficult but it does require a few items, such as cheeseclotch and twine, which will only make you feel more cheffy than you already do. The cheesecloth also gives the outer layer a nice pin-prick texture that sears beautifully.
The gist of the recipe is that the seitan dough is processed into a soft dough that is somehow clumpy yet totally holds together. It's then gathered pulled, twisted, bundled and simmered, creating a pull-apart texture that is reminiscent of the finest fakest meat. But it tastes so much better when it comes from your kitchen! The flavoring is subtle and versatile enough for everything from a South Asian stir-fry to an Italian parmesan. There's just a touch of turmeric to lend luster and brighten up the color, pea protein gives it a good nice meatiness and texture. Would it work with something besides pea protein? I don't know! I didn't try it! But I really think the pea is key. For the simmering broth, use a diluted bullion. Just something lightly flavored to keep the flavors mellow.
I'll post more recipes for how to use it. It takes to marinades well and browns beautifully! Grilled, fried, shredded for soups, it's so fantastically versatile and soaks up flavor like a champ.
PS Thanks to Avocado & Ales, the inventor of Chickwheat, which is the shreddiest of shreddy seitan chick'n! I used her method of food processing the seitan to give it a bit of that shreddy texture. If you are looking for realllllly shreddy chick'n, check that one out. But I'm sure you already have. This one is more chunky and pull apart. Like the title says.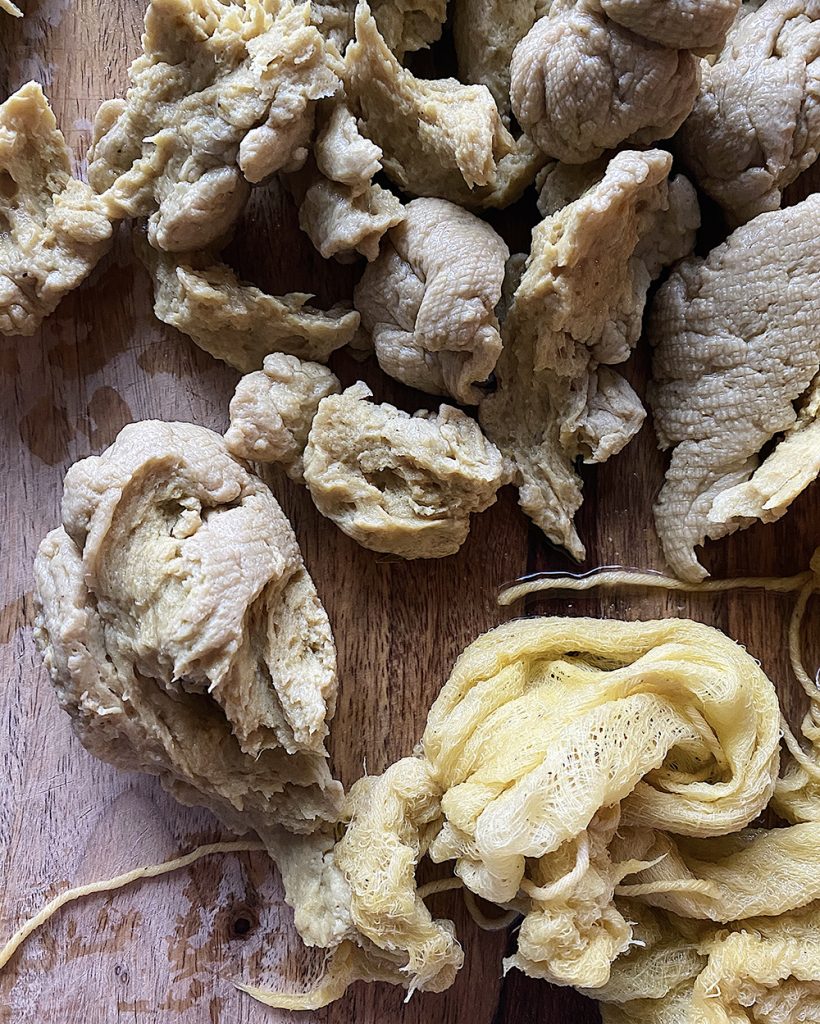 Creating Perfect Simmered Seitan Bundles: A romance era novella
~ This recipe is not difficult. But often when people say something "isn't difficult", are they just talking you off the ledge? If it isn't difficult why would you have to even say that? Thus, in short, what I mean is that it's not difficult IF you pay attention and read the directions, because every step counts. So read this in bed, the night before you make it, and then dream of perfect little seitan bundles.
~ Part 1: Cheesecloth. First of all, make sure you have cheesecloth and twine. Cut the cheesecloth into the proper sizes before beginning and set it aside. When wrapping, don't go too tight or it will make the chick'n denser than intended. It will still be good! But this isn't a boustier. Leave some slack, because the seitan soaks in moisture and plumps up, leading to the layery, light shreds we are going for. If that sounds vague, how's this: make sure you can pull the cheesecloth about 1/2 an inch away from the seitan once it's wrapped. So, snug and secure, with a little room to breath.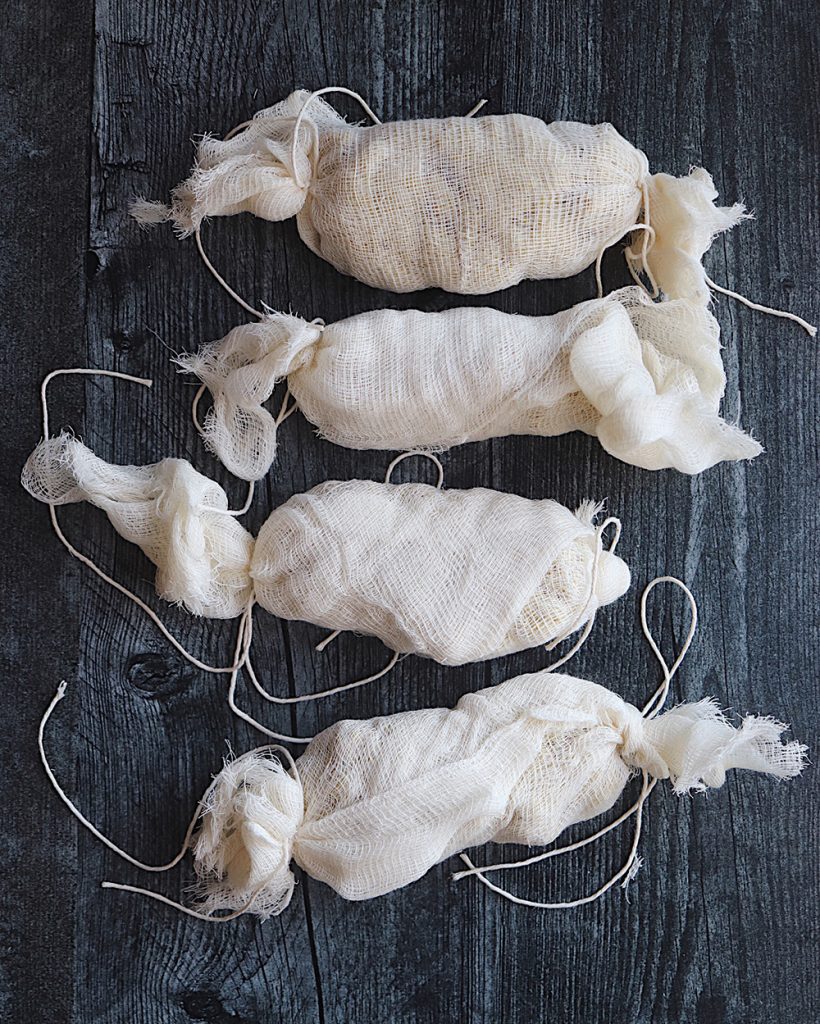 ~ Part 2: Mind your broth temp. If the broth is too hot you can water log the seitan, but this is very easy to prevent. Before adding the seitan, bring the broth up to a low boil, then lower the heat so that it's not boiling at all, just very hot. Then add the seitan bundles. When you add the seitan, the broth temperature will drop even more. Bring the heat up slightly. During this time, the seitan will be developing a "skin" which will protect it from becoming, as they say, "seitan brains." Once it is on this low heat for about 20 minutes, you can raise the heat to a low boil. Now it's really cooking! Cook this way for about 45 more minutes, with the lid ajar, using tongs to rotate the bundles every 15 minutes or so.
~Part 3: Cool it now. The cooling off stage is crucial, as if your seitan is heading from a hot spring to a spa at a ski resort. Turn the heat off and let the seitan cool in the broth. This can take an hour or so, but it's worth it for perfectly cooked fake chicken. If you have a cool place to put it, that's great. An open porch? A safe fire escape?
OK, now that you have attended the Lady's School For Seitan, you should be well prepared to strike out on your own. Have fun and remember: you were made for this!
Ingredients
For the Chick'n Seitan:
2 cups water
1 tablespoon olive oil
2 teaspoons apple cider vinegar
1 1/2 teaspoons salt
2 teaspoons onion powder
1 teaspoon garlic powder
1/2 teaspoon white pepper
1/8 teaspoon turmeric
1/4 cup nutritional yeast flakes
1/2 cup pea protein flour
1 1/2 cups vital wheat gluten
For the broth:
10 cups chicken'y vegetable broth
8 bay leaves
Directions
Have ready 4 nine-inch double layered cheesecloth squares and twine.
In a food processor fit with a metal blade, whiz together water, olive oil, apple cider vinegar, salt, onion powder, garlic powder, white pepper and turmeric. Add nutritional yeast and pea protein and process until smooth, about 30 seconds.
Now add the vital wheat gluten and pulse in. Once it is all incorporated, process on low for about 5 minutes. It will be very stretchy, stringy and pliable. Give the motor a break once in awhile if your processor can't handle it.
Divide the dough into 4 even-ish pieces. From this point, be careful not to overhandle the seitan because you want it to retain it's texture, which will allow it to separate nicely once cooked. Gently roll a glob of gluten into an 8 inch roll. Fold in half, give a twist and pull again so it's about 6 inches long. This creates the layers. Wrap in cheesecloth, snugly but not tightly, it will expand. Tie with each end with twine. Proceed with the remaining pieces and let rest while you prepare the broth.
In a large (8-quart) pot bring broth to a boil. Lower heat. Add the seitan bundles. Let stew very gently without boiling for about 15 minutes. When skin is set, place the lid ajar for steam to escape and low boil for about 45 more minutes. 
Cool completely in broth. Pull apart and use how ever you want! It tastes best if browned in some olive oil first.