Serves 4-6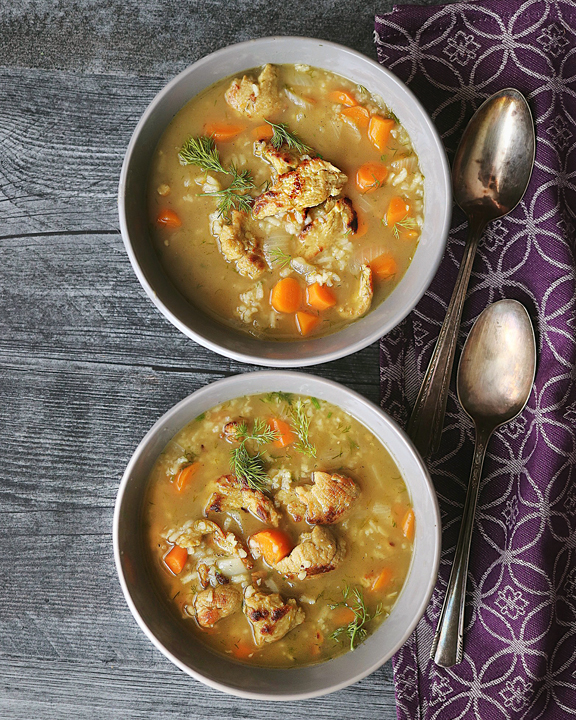 Call me an iconoclast but, but I prefer Chick'n & Rice Soup to Chick'n Noodle! Especially buttery jasmine rice. This soup has all the huggy ingredients: celery, dill, poultry seasoning with sage and thyme and, of course, garlic and onion. As it cooks your kitchen will fill up with the most nurturing aromas, like someone you love is cooking for you. And that someone, dear reader, is you. I used homemade Chick'n Seitan, but you can use whatever vegan chicken you like. Or even thinly slice tofu or yuba. Just make sure to brown it nicely first. I also use some vegan butter here, for body and richness, but use all olive oil if you prefer. It's gonna be good!
Recipe notes:
~ If the pot you're cooking in is wide enough, like a dutch oven, you should be able to brown the chick'n in there before preparing the rest of the soup. Save yourself a dish, plus create little crispy bits that get swept up into the soup when you saute everything else. If you're using a stainless steel pot that is more tall than wide, it's probably wiser to saute the chick'n in a skillet and prepare the soup separately.
Ingredients
1 tablespoon olive oil
2 cups chick'n seitan, pulled into 1 to 2 inch pieces (8 oz)
2 tablespoons vegan butter (I used Miyokos)
1 medium yellow onion, thinly sliced
2 cups carrots, in 1/2 inch chunks
2 ribs celery, thinly sliced
3 cloves garlic, minced
1 teaspoon poultry seasoning
1 teaspoon salt
Fresh black pepper
1/2 cup white jasmine rice, rinsed
8 cups broth
1/4 cup fresh dill, chopped, plus extra for garnish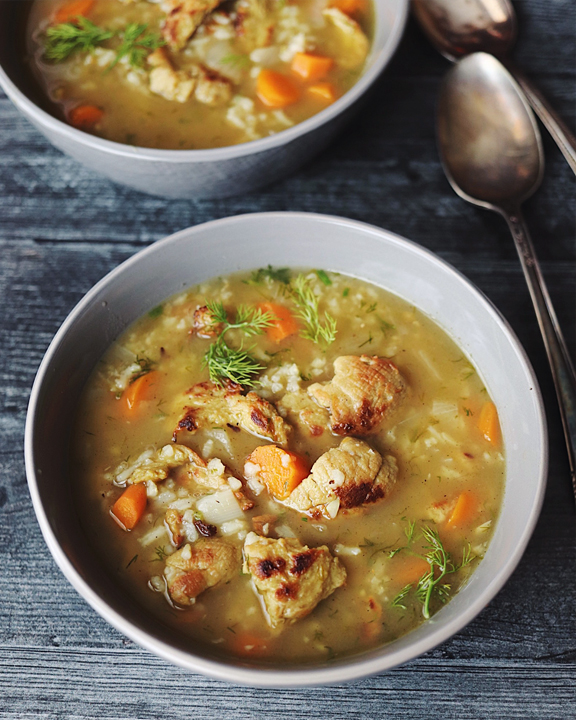 Directions
Preheat a 4 quart pot over medium heat. Saute chick'n in olive oil with a pinch of salt until nicely browned. Remove from pot and set aside.
Saute onion in butter with a pinch of salt for about 5 minutes, until translucent. Add carrots and celery and cook for about 5 minutes. Add garlic and saute until fragrant, about a minute, using a little extra butter if you like. Add poultry seasoning, salt and pepper and saute a minute more.
Add rice and broth. Cover and bring to a boil. Once boiling, bring down to a simmer, and let cook for about 15 more minutes, until rice is cooked and carrot is tender.
Stir in the chick'n and dill and taste for salt and pepper. This definitely tastes better the longer you let it sit, but it can be enjoyed right away, too. Garnish with extra dill and serve!