Makes 6 big pancakes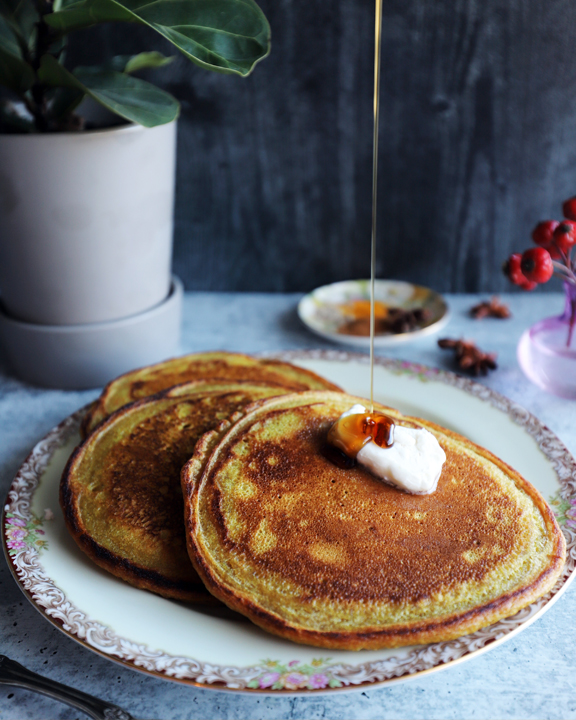 These pancakes have it all! Masala chai spices like ginger, cardamom and black pepper. And although I've made chai spiced pancakes before, this time I thought of adding actual tea. Like wow, how brilliant, since "tea" is what chai is. You can use any black tea you like. I used Earl Gray, which came through with its citrus-y notes. Tea is a difficult flavor to infuse so I made a really super concentrated cuppa. Then I tossed a couple of star anise pods into the steeping tea as well, because that is one of those flavors that can be harder to incorporate into chai spiced recipes, what with those big old pods. So the steeping comes in real handy in multiple ways. It also helps to add the turmeric into the infusion to bloom bright and golden. The final results is a nicely spiced pancake and you can actually taste the tea, too. So add these to your pancake repertoire next time you are craving everything.
Recipe notes:
~ I have a lot of pancake tips all over the site, but I'm not sure I've ever written this one: If your pancakes aren't cooking through, try covering them while cooking.
~ I love cooking pancakes in refined coconut oil! So buttery and yum. But you can cook in oil or vegan butter as well. I recommend Miyoko's Butter for topping them, too.
Ingredients
Boiling water
3 earl gray tea bags
2 star anise pods
1/2 teaspoon ground turmeric
1 1/2 cups all purpose flour
1 tablespoon baking powder
3/4 teaspoon ground ginger
1/2 teaspoon ground cardamom
1/4 teaspoon ground cinnamon
1/8 teaspoon ground black pepper
2 tablespoons sugar
1 teaspoon salt
3/4 cup unsweetened soy milk (or vegan milk of choice)
2 teaspoons apple cider vinegar
3 tablespoons safflower oil (or any neutral tasting oil)
1 teaspoon pure vanilla extract
Refined coconut oil for cooking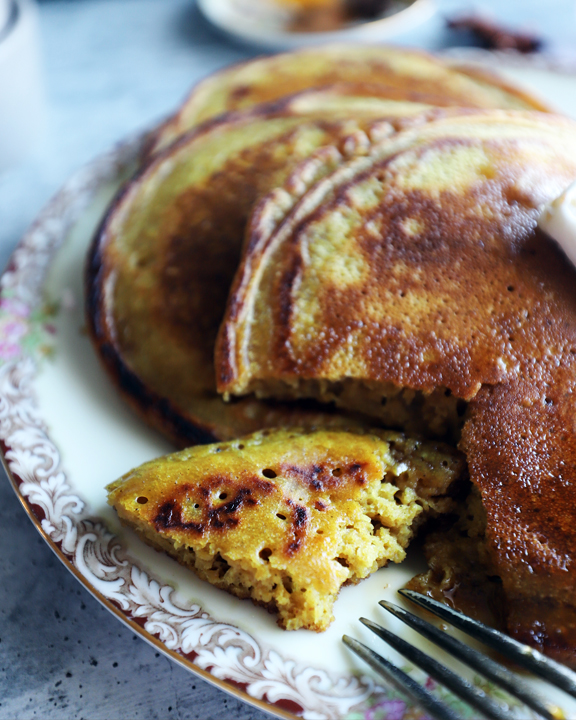 Directions
Place 3 black tea bags in a large mug along with star anise pods and turmeric. Pour water over tea and let steep for 20 minutes or so. It should be cool enough to use by then. Measure out one cup of liquid. 
In a large mixing bowl, sift together flour, baking powder, ginger, cardamom, cinnamon, black pepper, sugar and salt. Make a well in the center.
Measure the milk into a measuring cup. Add the vinegar to the milk and let curdle a minute. Add the milk mixture, 1 cup of tea mixture, safflower oil and vanilla to the well. Stir just until incorporated and no large clumps of flour are left.
Preheat a non-stick pan over medium-low heat and let the batter rest for 10 minutes.
Lightly coat the pan in coconut oil. Add 1/3 cup of batter for each pancake, and cook for about 4 minutes, until puffy, bubbly and matte. Flip the pancakes, adding a new coat of oil to the pan, and cook for another 2 or 3 minutes or so.
Transfer pancakes to a large plate covered with tin foil until ready to serve. To reheat, place pancakes on a baking sheet covered with tin foil in a 300 F degree oven for 5 minutes or so.