Feeds around 8, takes about an hour and a half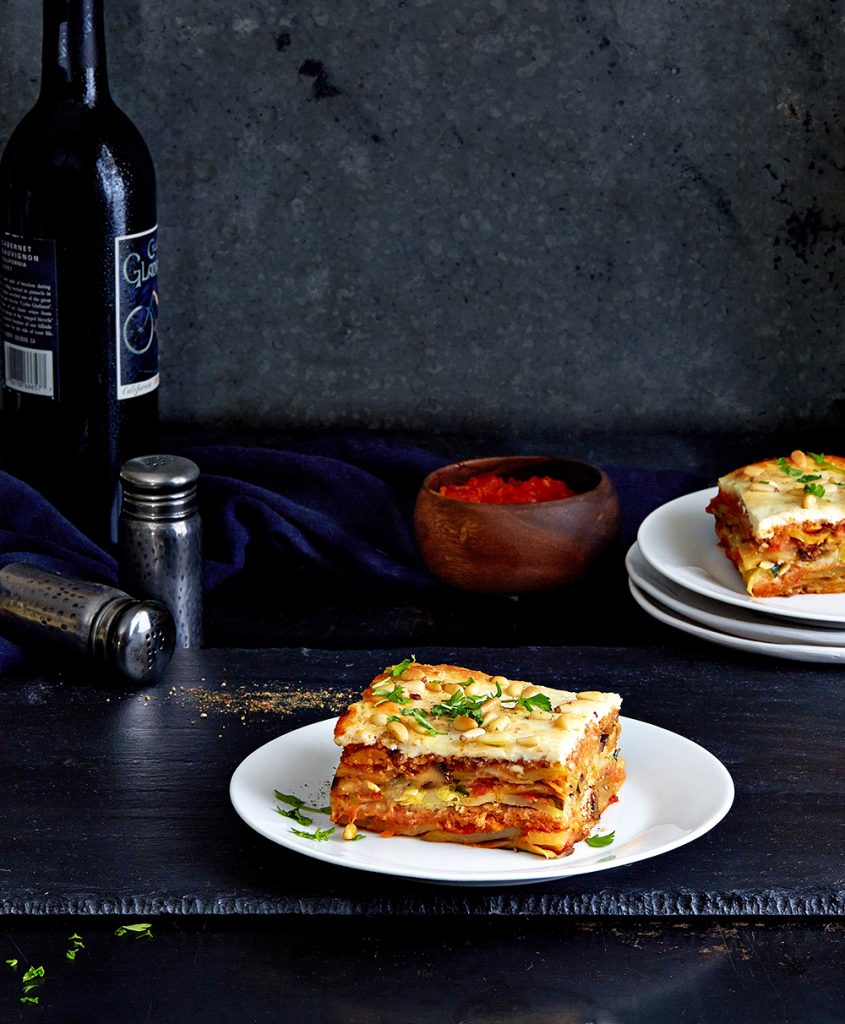 This is a Terry recipe from Veganomicon! Can you even tell when a recipe is mine or Terry's? Hint: Terry is less lazy than me. This recipe is actually on the site but we updated it in the last version of the book to use cashew cream. Did you even know that there's an updated Veganomicon? It's like really nice with new recipes, old faves, photos by Kate Lewis and stuff. Buy it and update your library! Anyway, we are in for a deep freeze this weekend so I thought I'd post a recipe that was a little more involved. It is so satisfying and worth it, and working your oven will keep you nice and warm.
Our idyllically vegan version of this traditional Greek casserole tastes like it was made in a restaurant. A fabulous vegan ancient Greek restaurant nestled in a majestic olive grove at the base of Mount Olympus that's been baking vegan moussaka since the goddess Aphrodite first stepped out into the world in of a cab made of sea foam. This mythical restaurant also delivers via pink flying horses paid a fair and living wage to anyone who reads this recipe aloud three times and clicks their golden winged sandals.
If you have no idea what we're talking about or what moussaka could be, we still think you'll warm up to this gorgeous dish of roasted eggplant, potatoes, and zucchini layered with a subtle cinnamon-spiked tomato sauce blanketed with a creamy cashew and pine nut silken tofu custard (a recipe tester favorite!). This refresh of the original recipe has more tomato sauce and more pine nut cream for a bigger, thicker, even more substantial dish perfect for potlucks or just eating at home all week long.
This reheats beautifully and tastes even better the next day. Serve with slices of crusty peasant bread and a basic salad of sliced ripe tomatoes and cucumbers dressed with lemon and olive oil.
Recipe Notes
~Very fresh zucchini may be watery after roasting. If so, when cool enough to handle, gently squeeze the slices by the handful to remove any excess water. See our tips for roasting summer squash (page 35), for further ­suggestions.
Ingredients
Vegetable ­layer:
1 pound ­eggplant
1 pound ­zucchini
1 1⁄2 pounds russet or large baking potatoes (large, long potatoes work perfectly in this recipe)
3 tablespoons olive ­oil plus more for brushing
Salt
For the Sauce:
2 tablespoons olive oil
1/2 cup finely chopped shallots
3 cloves garlic, minced
3 (15 ounce) cans diced fire roasted tomatoes
2 teaspoons dried oregano
1/2 teaspoon ground cinnamon
2 bay leaves
1 1/2 teaspoons salt
For the Cashew Cream:
1/2 cup unroasted cashews, soaked for an hour or so, then drained
2 tablespoons olive oil
12 ounces soft silken tofu
1 tablespoon fresh lemon juice
1 teaspoon arrowroot powder
2 cloves garlic, chopped
1 teaspoon dried oregano
1/4 teaspoon ground nutmeg
1 teaspoon salt

To assemble:
1/2 cup fine dry breadcrumbs
1/4 cup pine nuts
Olive oil, nutmeg, oregano for dusting top of casserole
Directions
Prepare the ­vegetables: Preheat the oven to 400°F. Line three large baking sheets with parchment paper, and generously oil the sheets with olive oil. Wash the eggplant and zucchini, and trim the stems. Scrub and peel the potatoes. Slice the eggplant, zucchini, and potatoes lengthwise into approximately 1⁄4-inch-thick slices.
Arrange vegetable slices on a separate baking sheets in a single layer: do not overlap slices. Brush slices with olive oil and sprinkle vegetables with little bit of sea salt. Roast the pans of zucchini and eggplant for 15 minutes, or until tender. The potatoes may take longer, about 20 to 22 minutes, until slices can be easily pierced with a fork. Remove from oven and continue make the sauces.
While the vegetables are cooking, prepare the tomato ­sauce: 
Heat olive oil and minced garlic in a large heavy-bottomed saucepan over medium heat. Cook the garlic for about 30 seconds, then add the shallots and cook until soft and translucent, 3 to 4 minutes. Add the wine and simmer to reduce slightly, about 2 minutes. Add the crushed tomatoes, oregano, ground cinnamon, bay leaves, and salt. Partially cover and simmer over medium-low heat for 12 to 15 minutes, stirring occasionally. The sauce should reduce slightly. Turn off the heat and remove the bay leaf.
Make the cashew ­cream: 
In a food processor, blend the cashews and olive oil, scraping the sides of the bowl with a rubber spatula, until a creamy paste forms. Add the remaining cream topping ingredients. Blend until completely creamy and ­smooth.
Assemble the moussaka, opa! Grease a 9 x 13-inch casserole with olive oil and preheat the oven again to 400°F. Spread 1⁄4 cup of sauce on the pan, then add successive layers in order of eggplant, potatoes, sauce, and half the bread crumbs. Spread all the zucchini on top of this. Top with a final layer each of eggplant, potatoes, sauce, and bread crumbs. Use a rubber spatula to evenly spread the tofu nut cream over the entire top layer. Decorate top by scattering with pine nuts and healthy drizzles of olive oil. Dust the top generously with dried oregano and a tiny pinch of nutmeg.
Cover with foil and bake for 45 minutes, uncover and bake another 15, then broil top for 2-4 minutes until browned spots appear (for that authentic Greek homemade casserole touch). For easier slicing, cool 10 minutes to allow the topping to firm up.