Makes 12 ­bars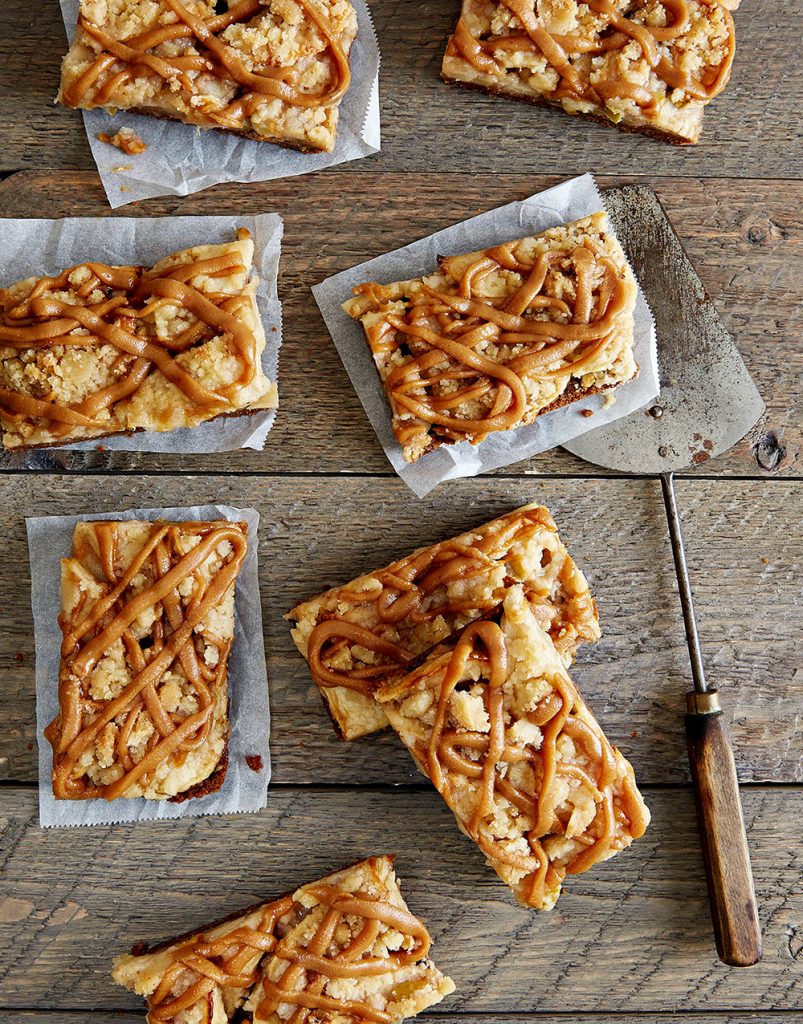 February is baking season and where I am, nothing is in season, so anything goes! But, I ask you: is there a better treat than sliced apples spread with peanut butter?  Not really. But what if you wanted to turn that into a dessert that took much longer? JK. These bars fulfill all your apple peanut butter cravings and then some. An apple pie filling inside a graham cracker crust, with a crumb topping and ribbons of luscious peanut butter ­caramel. The peanut butter caramel is the nicest trick. Not technically caramel, it's just  few ingredients lightly heated that come out all thick and sweet like caramel, but with no chance to mess it up.
This recipe is from Veganomicon. I will be posting some Veganomicon recipes over the next week, but you can totally buy a copy, too. No one is stopping you!
Recipe Notes
~To make cookie crumbs, just blitz the cookies in a food processor until fine. You can actually use different types of wafery cookies here. Vanilla or speculoos or even peanut butter would be nice!
~For a sweet and salty combo, sprinkle some flake sea salt, like Maldon, over the caramel before it sets. 1/4 teaspoon should do it.
Ingredients
For the Crust:
3 cups graham cracker ­crumbs
1⁄3 cup refined coconut oil
3 tablespoons unsweetened vegan milk
1 teaspoon vanilla ­extract
For the Crumb Topping:
1⁄2 cup all-purpose ­flour
3 tablespoons ­sugar
1/4 teaspoon ground cinnamon
1/4 teaspoon ground ginger
1/4 teaspoon ground nutmeg
1/4 teaspoon salt
3 tablespoons refined coconut oil, melted
For the Apple ­filling:
3 pounds Granny Smith apples (about 6), cored and sliced thinly (peeling is optional)
1⁄3 cup sugar
3 tablespoons all-purpose ­flour
1 teaspoon lemon juice
1/4 teaspoon ground cinnamon
1/4 teaspoon ground ginger

Peanut Butter Caramel:
2⁄3 cup well stirred chunky peanut butter
1⁄4 cup pure maple ­syrup
3 tablespoons brown rice ­syrup
Directions
Preheat the oven to 350°F. Grease a 9×13-inch baking ­pan with cooking spray.
Prepare the ­crust: Place the graham cracker crumbs in a mixing bowl. Drizzle with the oil and mix until moistened. Add the soy milk and mix with your fingers; the crumbs should hold together if pinched. Press the crumbs firmly into the prepared baking pan to form a ­crust.
Prepare the ­topping: Combine the flour, sugar, spices, and salt in a mixing bowl. Drizzle 2 tablespoons of oil into the flour and mix with your fingertips until crumbs start to form. Keep tossing the mixture with your fingers; you want the crumbs to be fairly large for crumbs. Add more oil if ­necessary.
Prepare the apple ­filling: Combine all the ingredients in a bowl, coating all the ­apples.
Assemble: Layer the apples onto the crust and sprinkle with the crumb topping. The topping won't solidly cover the entire pan; just sprinkle it randomly over the top so that the apples are peeking through in ­places. Bake for 40 to 45 minutes, until the apples are ­tender.
When the bars are close to being done, start preparing the peanut butter caramel:
Mix all the ingredients very well with a fork, in a small saucepan. Heat over medium heat for about 3 minutes. The mixture should soften and slide off the fork in ­ribbons.
When the bars are done baking, drizzle the caramel in ribbons all over the top. Let cool completely before serving. You can let them chill in the fridge to cool faster. Slice into bars and ­serve.