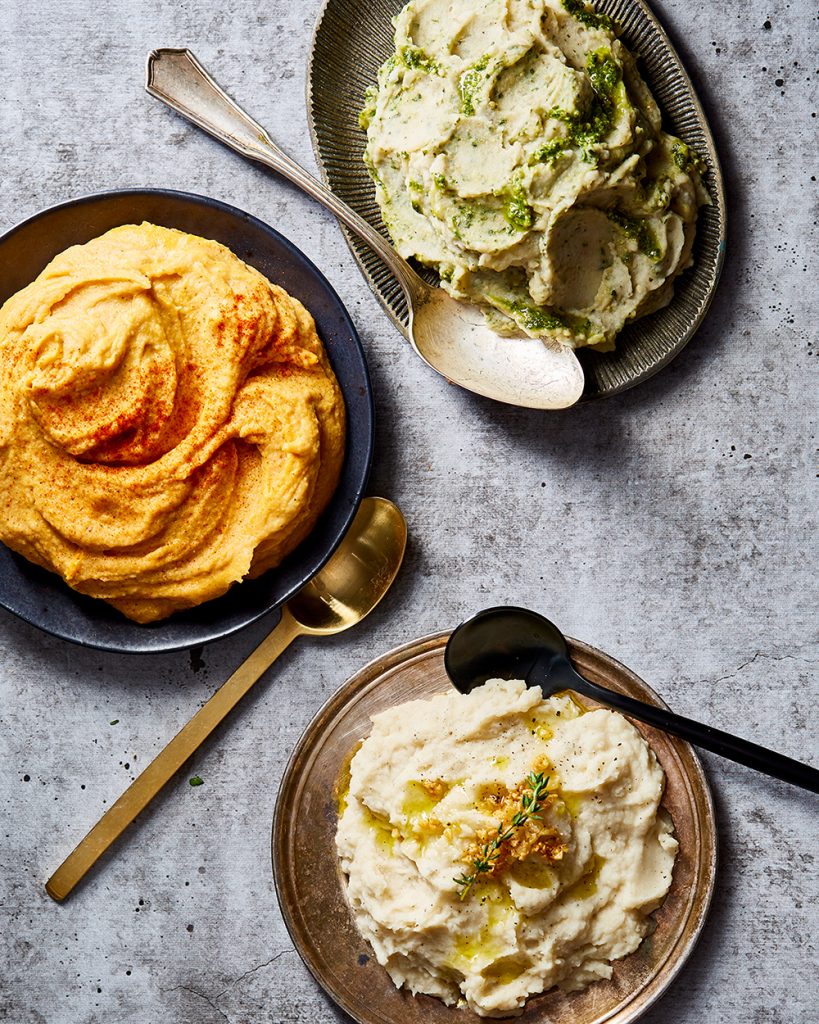 Rich, creamy, BUTTERY mashed potatoes are a necessity in life and these are the creamiest going. I shudder at the thought of you spending the rest of winter without the perfect mashed potato recipe and so here it is. I love that they use simple ingredients that are probably in your pantry, I love that they don't use store-bought vegan butter or milk. But most importantly they taste like they are loaded with butter and cream. And in typical "me" fashion, we achieve that with cashew cream and refined coconut oil. The method is simple: mash then whip with a hand blender. And, you know, even if you don't whip them, they're still pretty great. But whip for maximum fluff.
I am also offering you three variations because one mashed potato recipe would be underachieving. Use these modifications to create a new mashed potato every night of the week! Or three nights of the week, anyway.
For roasted red pepper mash: Add 3 roasted red peppers (from a jar or homemade) to the cashew mixture and blend.
For pesto mash: Add 1/2 cup pesto after you've whipped the original mashed potatoes and stir in. Drizzle with a little extra to serve.
For garlic mash: On low heat, preheat a small pan and sauté 1/4 cup minced garlic in 1/4 cup olive oil for about 2 minutes. Add to original whipped mashed potatoes and stir in. Drizzle a little extra on top.
This recipe is from I Can Cook Vegan.
Recipe Notes
~I love russet potatoes in mashed potatoes and I don't HATE the skin on but I do prefer them peeled. You don't have to do a great job, a little peel left over is nice and rustic. If you use Yukon gold instead, peeling isn't necessary because they are so thin skinned, and that sounds like a win. However, I still think that russets are fluffiest and best!
~I know boiling potatoes sounds easy, but there's a right way to get the best flavor and texture. Submerge in cold slightly salted water and then bring the water up to a low boil, and immediately down to a simmer. This ensures even cooking and prevents water logging the potato, which can make it too loose. No one wants loose mashed potatoes. I mean, I'd eat them, but I wouldn't be that happy about it. Fine, I'd still be happy, but not THAT happy.
Ingredients
2 1/2 lbs russet potatoes, peeled and cut into 1 1/2 inch chunks
1/3 cup whole unroasted cashews (if you don't have a high speed blender, boil cashews for 20 minutes or soak overnight and drain)
1/2 cup vegetable broth, at room temperature
1/3 cup refined coconut oil, at room temperature
3/4 teaspoon salt
Lots of fresh black pepper
Directions
Place potatoes in a pot and submerge in cold water by about an inch. Sprinkle in two teaspoons of salt. Cover and bring to a low boil.
Place cashews in a high-speed blender with vegetable broth and blend until completely smooth, scraping the sides of the food processor with a spatula occasionally to get everything.
When potatoes are boiling, lower heat to a simmer, uncover and cook for about 12 minutes, until fork tender. Drain potatoes, and place back in the pot.
Mash with a potato masher, to break the potatoes up a bit. Add half of cashew mixture, coconut oil, salt and pepper and mash with a potato masher until relatively smooth and no big chunks are left.
Add the remaining cashew mixture, mix it in, and use a hand blender on high speed to whip them. They should become very smooth, fluffy and creamy. Taste for salt and pepper along the way, transfer to a serving bowl, and serve!