Makes 1 9×13 sheet cake or 9-inch round cake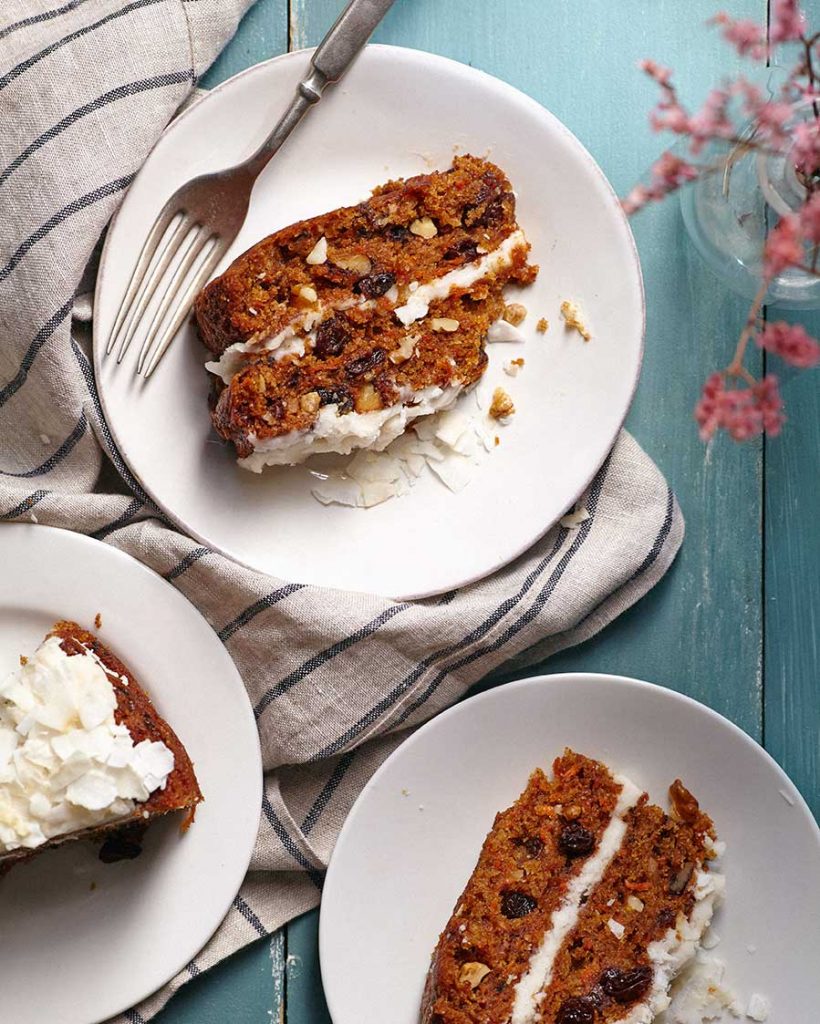 It's almost carrot cake season! Or, maybe if we make a bunch of carrot cake, spring will come early? This is a very classic recipe for the most beloved of desserts. Walnuts, raisins, plenty of spice and, of course, a generous amount of shredded carrot. Olive oil gives the cake a surprisingly buttery flavor that isn't too heavy. The frosting is thick and lemony and lets all of the flavors really shine. It makes a great layer cake, but it's pretty awesome as sheet cake, too. Just pick your poison!
This recipe is from The Superfun Times Vegan Holiday Cookbook! What a great cookbook.
Ingredients
For the Cake:
2 cups all-purpose flour
1 tablespoon ground cinnamon
1 teaspoon ground ginger
1/2 teaspoon ground nutmeg
1 teaspoon baking soda
1 teaspoon baking powder
1/2 teaspoon salt
1 1/2 cups granulated sugar
3/4 cups unsweetened vegan milk
1/2 cup olive oil
1/2 cup unsweetened applesauce
2 tablespoons ground flax seeds
2 teaspoons pure vanilla extract
3 cups shredded carrots 
1 cup coarsely chopped walnuts
1 cup raisins
For the Crumb Topping:
3 cups powdered sugar
1/2 cup refined coconut oil
2 tablespoons lemon juice
2 tablespoons unsweetened vegan milk
1/2 teaspoon pure vanilla extract
pinch salt
3 tablespoons refined coconut oil, melted
For garnish: 3 tablespoons shredded coconut or additional chopped walnuts
Directions
Preheat oven to 350 F. Lightly grease a 9×13 inch or two 9-inch round baking pans.
Sift flour, cinnamon, ginger, nutmeg, baking soda and baking powder and salt into a large mixing bowl.
Beat together milk and flax in a large mixing bowl until frothy. Blend in the olive oil, applesauce and vanilla until well combined.
Add the dry ingredients to the wet ingredients and mix until no large lumps remain. Fold in carrots, walnuts and raisins.
Pour batter into the prepared pan(s) and bake for 40 to 45 minutes in a sheet pan or 32 to 35 minutes in cake pans, or until a knife inserted in the middle comes out clean. Transfer to a cooling rack to cool completely before frosting.
Make the frosting:
Melt coconut oil in a medium mixing bowl. Add powdered sugar, juice and salt and blend with a hand mixer on low speed until incorporated. Turn mixer to medium-high speed and continue to blend until smooth. Chill for 30 minutes.
Remove from refrigerator and whip on medium-high speed with mixer until light and fluffy.
For sheet cake:
Using a spatula, or spoon, spread icing over cake. Sprinkle with coconut. Cut into squares and serve.
For layer cake:
Using a spatula or spoon, frost top of one cake with half the icing. Add the second cake to the top and frost with the rest of the icing. Sprinkle with coconut. Cut into wedges and serve.