Makes about a pound, I think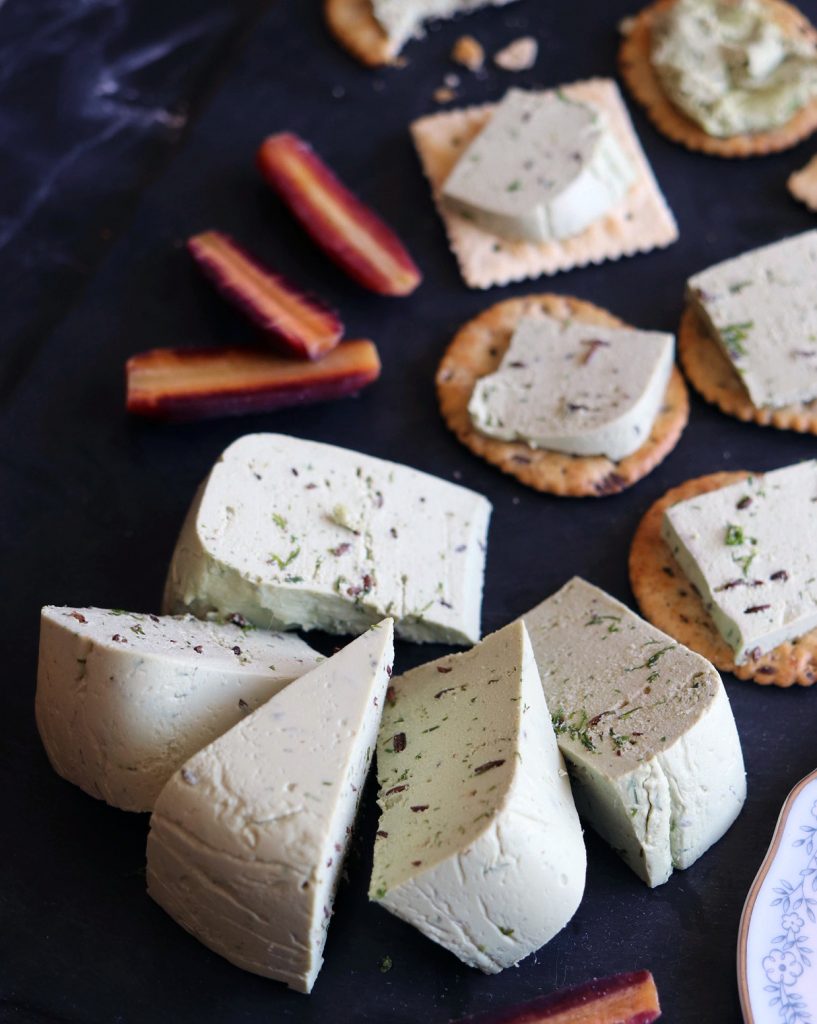 Pepitas have long been my vegan secret weapon. I use them to make cream sauces, to thicken soups and to turn into crumbly parmesan. But here's the dilemma. They're green! And kinda no matter what you do, they always lend a pale green hue. So sometimes that's a little bit of a turn off in a cheese base. But, on the other hand, they make such amazing tasting cheese! So I turned to a cheese that was already a little green from herbs: dill havarti. A semi-hard cheese that slices beautifully with a little crumble. Pepitas don't get as creamy as cashew, they have a little texture left even when vitamixed like mad. But that texture actually works in many cheeses. The flavor has a ripeness to it, which you want, and it's the perfect backdrop for fresh dill and bright flashes of caraway. It really tastes like a slice of springtime in the forest.
I think this cheese is best kept savory, to be enjoyed in sandwiches and the like. But if you had to twist my arm to make a fruit and cheese plate, I might suggest fresh strawberries for the daring palette. Otherwise, I mean, no one will kick you out of bed for eating this cheese straight up with crackers! Oh and I guess I should mention, this recipe is nut-free. So to everyone who yells at me for using cashews all the time, I forgive you. Gluten and soy-free, too, while we are at it. But really I made it cuz it's yummy.
Recipe notes:
~ Carrageenan is easy to use! It's a thickener but it also sets. And another wonderful thing about it is that even if you melt it, it sets again. Like what? So if you aren't familiar with it, just go for it and get some online because it's a really wonderful ingredient that isn't as finicky as, say, agar agar. It sets fast, so make sure you get it from the cheese into the mold immediately or it will set in the pot.
~ You can use any smooth vessel as a mold that can hold 3 cups of liquid. I use a round pyrex. But, you know, use the shape you've got! Silicon molds work great, too. Anything relatively non-stick. 
~ This does melt, but not like really melty melty. I did try it in a grilled cheese and it got soft and tasted good but it still held it's shape for the most part. I think if it was grated it would melt even more. 
~ The flavor gets even better over time! Try it two days after making and you will see a big difference. The flavors marry and settle down a bit while also intensifying I don't know it's magic.
~ I had a few people message me to say the mixture was too thick at first. It is definitely thick but it should not break your blender. If it's really not duding, add water, a tablespoon at a time, up to 1/4 cup. I think it's contingent on how much moisture the pepitas have absorbed. But I tried another variation with extra water to make sure it was still legit and it was! But def start with recommended 1 1/2 cups)
Ingredients
1 1/2 cups raw pepitas
1 1/2 cup filtered water (plus up to 1/4 cup more if needed, see note)
2 tablespoons nutritional yeast
2 teaspoons apple cider vinegar
2 tablespoons safflower oil (or any mild tasting oil)
1 1/2 teaspoons salt 
2 1/2 teaspoons kappa carrageenan
1/3 cup fresh chopped dill
1 1/2 teaspoons caraway seeds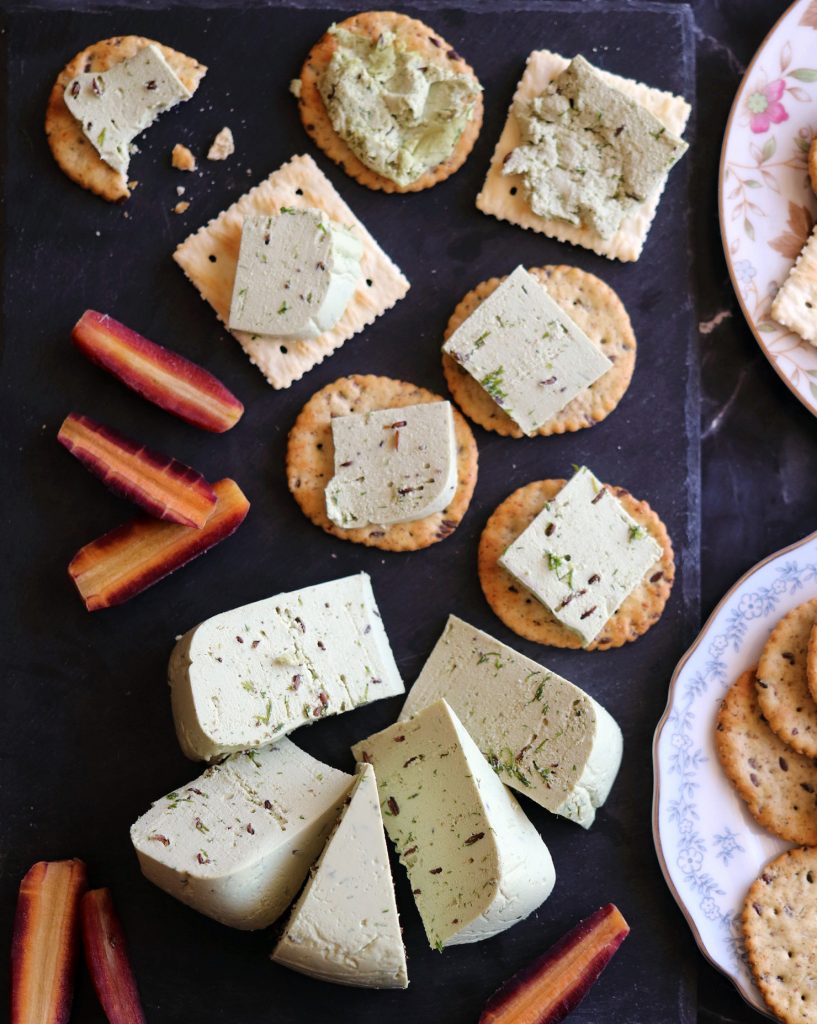 Directions
Boil pepitas to soften. Place pepitas in a saucepan and cover with water. Bring to boil then simmer 30 minutes. Cool completely and drain.  
Blend cooled pepitas, water, nutritional yeast, vinegar, oil and salt until smooth. This could take around 3 minutes, even with a vitamix, so give the motor a rest every once in awhile. If using a regular blender it could take 7 to 10 minutes. The blender will heat everything, so let the mixture cool a bit just so that it's not warm to the touch, that way the carrageenan doesn't activate yet. Place in fridge to cool if you like. Then add the carrageenan and blend 20 more seconds. 
In a sauce pan over low heat, cook for 8 to 10 minutes, whisking constantly. Alternate between a whisk and a rubber spatula to make sure you scrape the sides of the pot. It will get thick and begin pulling away from the sides. You'll know it's done because it's thick and holding its shape as you stir it. 
Fold in caraway and dill. Pour into mold immediately and smooth the top with a spatula. Cool 30 minutes at room temp. Cover and refrigerate for at least 4 hours to set completely. Invert onto a cutting board and go wild. It tastes best the next day, and even better the day after that!