Serves 4-ish (or two really hungries)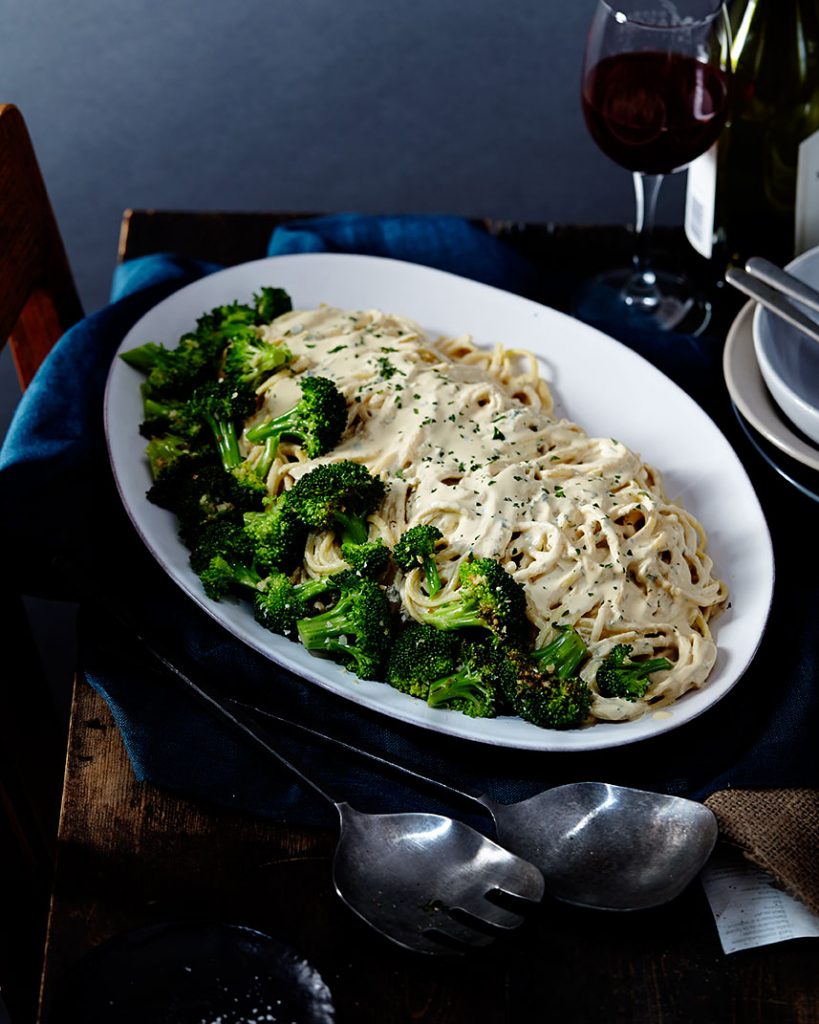 This alfredo is deceptively simple, but totally creamy with a hint of nuttiness. The almonds act a little bit different than cashews when blended, because they retain some of their texture reminiscent of hard cheese. Which is, of course, a must for Alfredo. Combined with a lil' lemon and nooch, it gets the job done!
I love to serve it with really really REALLY garlicky broccoli. The secret to getting it good and garlicky is adding the garlic at the end. That way the garlic doesn't burn but you can take your time getting the broccoli cooked just right.
This recipe is originally from Isa Does It.
Recipe Notes
~Slivered almonds are great here because the skin is removed, and it makes the sauce a bit smoother, and keeps the sauce looking creamy and pristine.
~Truffle oil gives this pasta an allure that screams "Fancy day!" Even if it's just you on the couch watching "Bridgerton" for the third time. Or is it the fourth? It's a fun ingredient to have around, and, although it's a little pricey, it ain't nothing compared to the cost of an actual truffle.
~It will take about 1 1/2 pounds of broccoli to make 6 cups. That means it should weigh 1 1/2 pounds when you pick it up from the store and once you've butchered it and discarded the rough ends, it will equal about 6 cups.
Ingredients
For the Alfredo:
1/2 lb linguine
1 cup slivered almonds
1 1/4 cups vegetable broth
1 tablespoon fresh lemon juice
1/2 teaspoon salt
1/4 cup nutritional yeast
2 tablespoons black truffle oil
Fresh black pepper to taste
2 tablespoons fresh chopped parsley
For the Broccoli:
6 cups broccoli florets and thinly sliced stems
1 tablespoon plus one teasoon olive oil, divided
Big pinch salt
6 cloves garlic, minced
Directions
Boil a pot of salted water for your pasta. Prepare the pasta according to package directions.
In the meantime, place all sauce ingredients in a blender. Blend until relatively smooth. I usually blend for about 5 minutes, giving the blender a break every minute or so so that the motor doesn't overheat. If you have a high speed blender it will be faster.
Make the broccoli:
Preheat a large heavy bottomed pan over medium heat. Saute the broccoli in one tablespoon of olive oil and a pinch of salt for about 5 to 7 minutes, tossing often, until it is a bright green. Add a few splashes of water if it seems dry.
Now push the broccoli to one side of the pan, and add the garlic. Immediately drizzle the one teaspoon of olive oil over the garlic and toss to coat, then integrate the garlic with the broccoli and cook for another minute.
Assemble:
Drain the pasta and add it immediately back to the pot you boiled it in. Add the sauce and parsley and toss to coat. Taste for salt and seasoning. Serve with broccoli!