Makes 6 big pancakes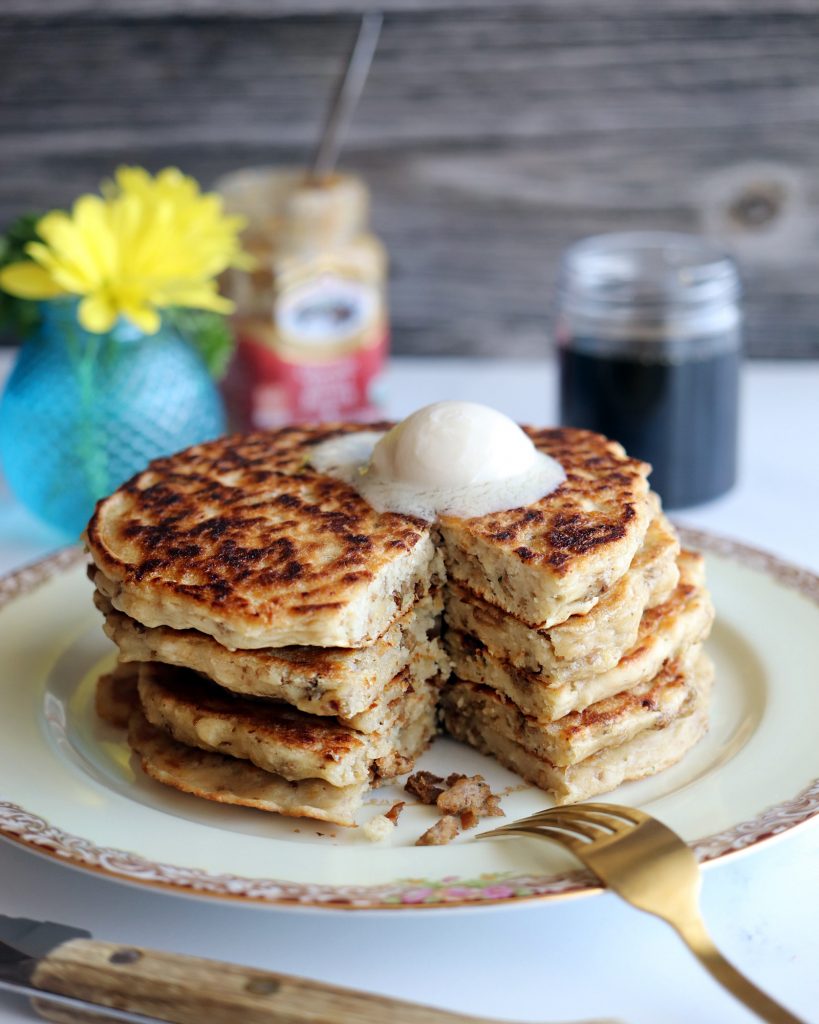 Some recipes make you question everything you thought you knew. Who am I? How did I get here? Is it a good place to be? The answer seems simple. I love pancakes. I love oatmeal. I love vegan sausages. But combining a million good things doesn't always mean you will end up with a good thing. I mean, I love oil and I love water but you know the rest. So I fucked around and found out. And I am here to tell you: combining all these things leads to an even better thing. Pancakes that are savory, with a fluffy yet hearty texture. The most filling delicious breakfast! A steady stream of maple syrup poured over the top doesn't hurt one bit. I also sprinkled with a little flake sea salt to up that sweet and salty combo. Without further ado, Oatmeal Sausage Pancakes. Your new favorite breakfast.
Recipe notes:
~I do have a recipe for homemade breakfast sausages but I'm not giving it to you yet. I would recommend either Field Roast Maple Breakfast Links or Beyond Sausage. Field roast is a little more on the sweet side so whatever floats your boat!
~ I have a lot of pancake tips all over the site, but I'm not sure I've ever written this one: If your pancakes aren't cooking through, try covering them while cooking.
~ I love cooking pancakes in refined coconut oil! So buttery and yum. But you can cook in oil or vegan butter as well. I recommend Miyoko's Butter for topping them, too.
Ingredients
7 oz vegan sausages
1 1/4 cups all-purpose flour 
1/2 cup quick cooking rolled oats 
2 1/4 teaspoons baking powder
1/4 teaspoon salt 
1 1/2 cups unsweetened soymilk (or fave vegan milk)
1/4 cup unsweetened applesauce
1 tablespoon safflower (or any mild vegetable oil)
1 tablespoon sugar 
1/2 teaspoon vanilla
Refined coconut oil for cooking

Directions
Refined coconut oil for cooking
In a non-stick pan over medium heat, cook the sausages in a little oil. Once cooked, set them aside to cool completely. When they are cool enough to handle, tear them into tiny pieces. No need to wash the pan, you will be using it for pancakes in a bit and the sausage oil will taste good! Pop them in the freezer to cool completely while you make the pancake batter.
Combine flour, oats, baking powder and salt in a mixing bowl. Make a well in the center and add milk, applesauce, oil, sugar and vanilla.
Use a rubber spatula to stir the wet a bit to combine, then incorporate it with the dry, mixing just until everything is moistened.
Fold cool, crumbled sausages into the batter. Let batter rest 10 minutes.
Preheat pan over medium heat. Melt coconut oil for each pancake. Scoop a scant 1/2 cup into the pan and cook until bubbly, then cover with a lid for another minute or two so it cooks through. Flip and cook on the other side till lightly brown. Proceed with the rest of the pancakes!
When serving, sprinkle with flake sea salt after pouring the syrup if you love sweet and salty. I also threw on some maple butter, yum.