Makes 16 wings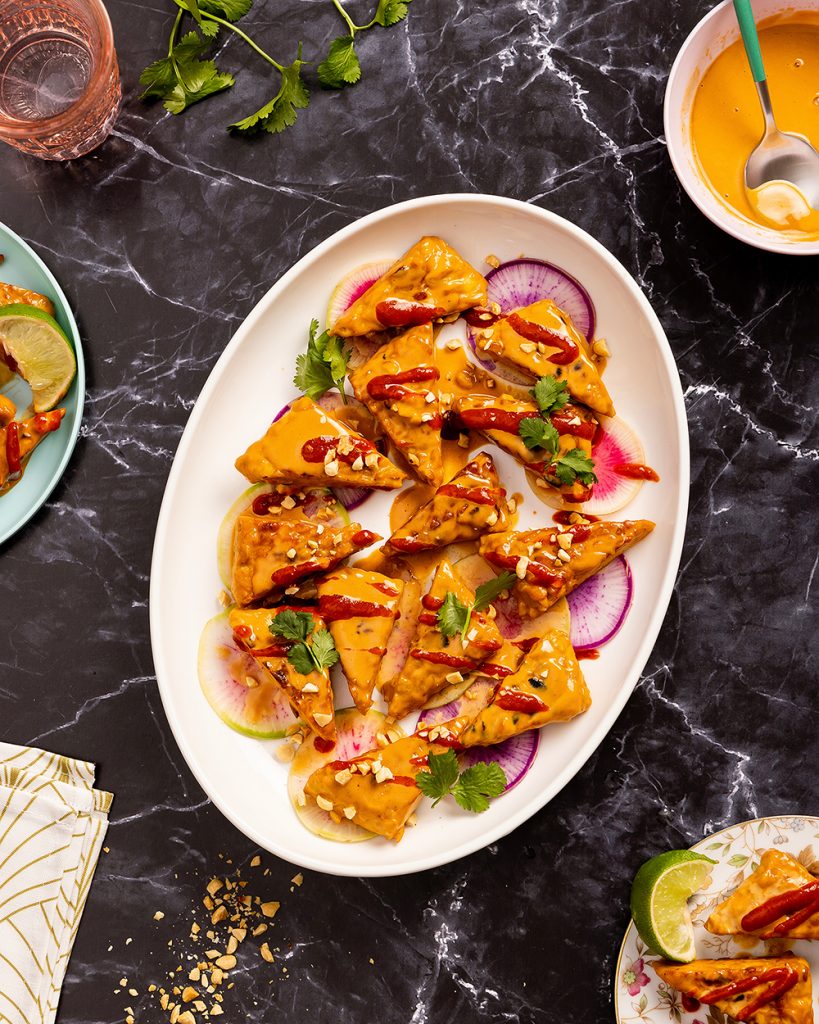 It's wing season! Any vegan ingredient I look at becomes a wing in my mind. Tempeh wings are magical not just because they're so yummy, but also because breading isn't necessary! They crisp up nicely when shallow fried all on their own, then just need to be smothered in sauce. If I were a wing sommelier, I would have a lot to say about the combination of tempeh and peanuts. Something like "tempeh's funky and nutty flavor is contrasted yet enhanced by this sweet, tangy, surprisingly savory peanut sauce." This recipe comes together quickly, in about 30 minutes; while the tempeh wings are cooking, the sauce comes together in the blender and then you're at the finish line.
Recipe notes:
~If I were to serve these in a restaurant, I would shallow fry in cast iron. However, on a weeknight, if I have no one to impress, tempeh is a prime candidate for air frying. You should still, coat them with a little coconut first to crisp the edges and and sprinkle with a little salt to enhance the flavor. About 15 minutes on medium should do it!
Ingredients
16 oz tempeh (2 8-oz blocks)
3 tablespoons refined coconut oil, and more as needed
1 teaspoon salt
For the peanut sauce:
1 teaspoon minced fresh ginger
1 teaspoon toasted sesame oil 
3 cloves garlic, minced
1/2 cup warm water, plus more to thin
1/2 cup natural peanut butter
1/4 cup fresh lime juice
2 tablespoons tamari
2 tablespoons sriracha
3 tablespoons agave
1/2 teaspoon salt 
To serve:
Extra sriracha for drizzling to taste (optional)
1 cup thin sliced radishes
1/2 cup roasted salted peanuts, chopped
Fresh cilantro sprigs
Lime wedges

Directions 
Cut each tempeh block into 8 triangles. The best way to do this is cut it in half widthwise, then cut those halves in half widthwise. Now you'll have 4 stout rectangles. Cut each rectangle corner to corner to form the triangles. 
Preheat a cast iron pan over medium high heat. Sprinkle 1/4 teaspoon salt into the pan, followed by about 3 tablespoons of coconut oil, or enough to form a thin layer. 
Place tempeh triangles in the oil. Let fry for about 5 minutes, until nicely crisped. Place a little coconut oil, about a teaspoon, on the top side of each tempeh wing. Sprinkle with the remaining salt, flip and cook for 5 more minutes
Make the sauce by blending all sauce ingredients in a small blender until completely smooth. 
Transfer peanut sauce to a large mixing bowl. 
While the wings are still hot, place them in the sauce and use tongs to toss until fully coated. 
Place radishes artfully on a serving tray. Transfer wings to the tray. Drizzle on any remaining sauce from the bowl. Drizzle with sriracha, sprinkle on peanuts, and top with cilantro sprigs. Serve with lime wedges for squeezing.